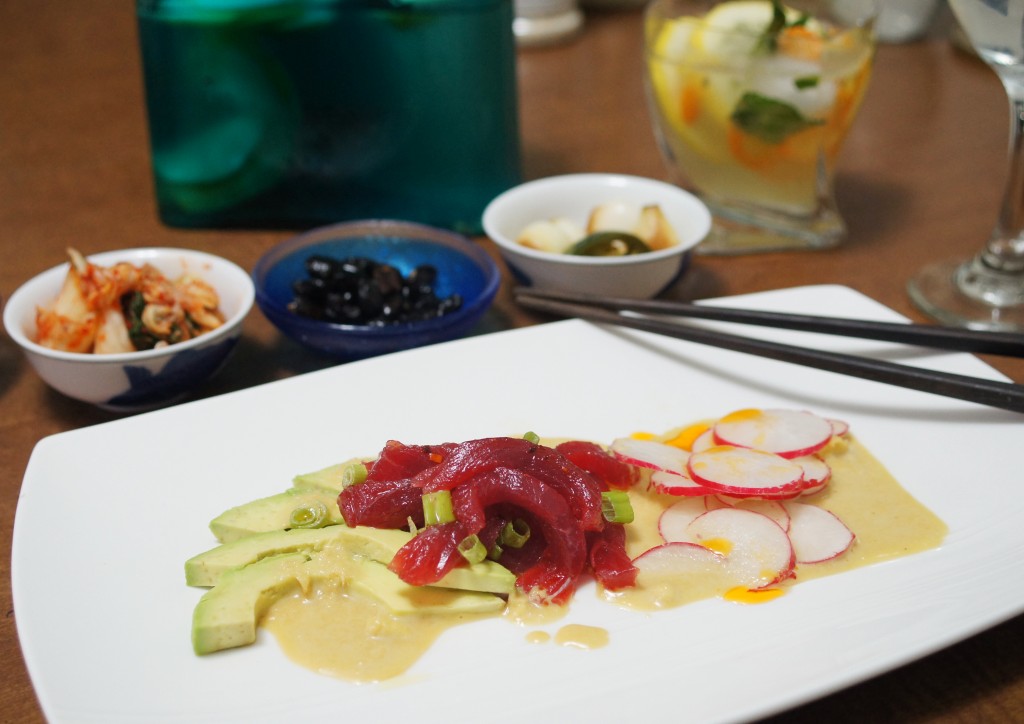 Korean-Style Tuna Tartare with Avocado and Radish Slices and Ginger Dressing
Before I talk about this fresh and vibrant Korean-style tuna tartare, I'd like to share what fuels my passion for food. The sheer pleasure of it certainly plays a part, but it's not the heart of the matter.
People, places, cultures, and connections inspire me to seek out world cuisines. Through food, one can gain insight into another culture and share an experience with the people who live there: "Food is a central activity of mankind and one of the single most significant trademarks of a culture." – Mark Kurlansky
My hope is that, through cooking and blogging about my culinary adventures, I will inspire others to try new things, experience other cultures, and share the result. After all, the most important thing about a meal is who you have it with.
Now back to the tuna …
Korean-Style Tuna Tartare with Banchan
This Korean-style tuna tartare recipe comes from The Kimchi Chronicles: Korean Cooking for an American Kitchen. The author, Marja Vongerichten, was born in Korea but raised in America. As an adult, she reconnected with her Korean family and learned about their cuisine. She's married to French Chef Jean-Vongerichten.
While the cookbook features many authentic Korean dishes—kimchi (spicy fermented vegetables), bibimbap (mixed rice bowl), and miyeokguk (beef seaweed soup), among others—she also draws from her experiences with French and American cuisine to offer some fun fusion recipes, like hot dogs with kimchi relish, Korean baeckeoffe (a French Alsatian dish with a Korean twist), and grilled Korean lobster rolls.
This tuna tartare combines Korean flavors with Japanese and French cooking techniques, resulting in a delicious, fresh meal. The fish is served raw, resembling Japanese sashimi. The tuna is sprinkled with gochugaru—Korean red pepper powder, a quintessential ingredient in Korean cooking—thinly sliced scallions, and a little bit of olive oil.
The rich avocado complements the tuna nicely. Crisp radish with chili oil and gochugaru give the dish a subtle heat. But what really brings the dish together is the ginger dressing! Its contrasting tastes work beautifully together: it has hints of sweet, salty, and a bit of tang. I could eat this by the spoonful. It actually reminds me of a ginger salad dressing that was served at a Japanese restaurant where I used to work. Even if you're not a fan of raw fish, you should at least make this sauce to use as a dressing or marinade. It's so good!
Try experimenting with the plating of this dish. I did a deconstructed approach to tuna tartare because I wanted each ingredient to stand out. If you want a more classic take on tuna tartare, however, layer the ingredients atop each other, starting with the avocado, then the tuna, radish, and chile oil. Pour the ginger dressing around the tuna tartare to finish the dish.
Served alone, this would make for a nice lunch or light dinner. However, I recommend pairing it with banchan (Korean side dishes) or a fresh garden salad. I hope you enjoy this Korean-style tuna tartare!
* A special shout-out to Frank and Teresa, who gave me The Kimchi Chronicles and have inspired many of my culinary adventures!
If you enjoyed reading this post, like my Facebook page and subscribe to my blog to follow my cooking adventures and flavorful journeys!
Korean-Style Tuna Tartare

Print recipe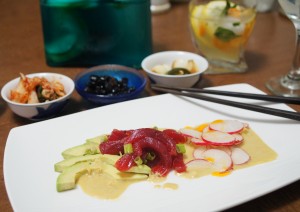 This Korean-style tuna tartare combines Korean flavors with Japanese and French cooking techniques, resulting in a delicious, fresh meal.
Ingredients
1/2 pound sushi-grade tuna, cut into thin strips (like noodles)
2 scallions, thinly sliced
1 tablespoon extra-virgin olive oil
1/4 teaspoon gochugaru (Korean red pepper powder)
1/4 teaspoon salt
1 avocado, thinly sliced
1-2 red radishes, thinly sliced
Optional
hot chile oil, for serving
ginger dressing
1/2 cup extra-virgin olive oil
1/2 cup coarsely chopped fresh ginger
1/4 cup rice vinegar
1/4 cup soy sauce
1/4 cup honey
Note
The recipe makes more dressing than you need for this dish. It keeps covered in the fridge for up to a week and is great on salads. It also makes a great marinade for chicken or fish.
Directions
Ginger dressing
Step 1
Make the ginger dressing: combine 1/2 cup oil, the ginger, vinegar, honey, and soy sauce in a blender and puree.
Step 2
Place the tuna in a bowl set over a larger bowl filled with ice (this helps keep it as cold as possible). Toss the tuna with the scallions, 1 tablespoon of olive oil, the red pepper powder, and salt.
Step 3
Divide the avocado among 4 plates and evenly distribute the tuna on top. Drizzle 2 tablespoons of the ginger dressing around each portion and top with the radish slices. Drizzle a bit of hot chile oil over the radishes, if you'd like.