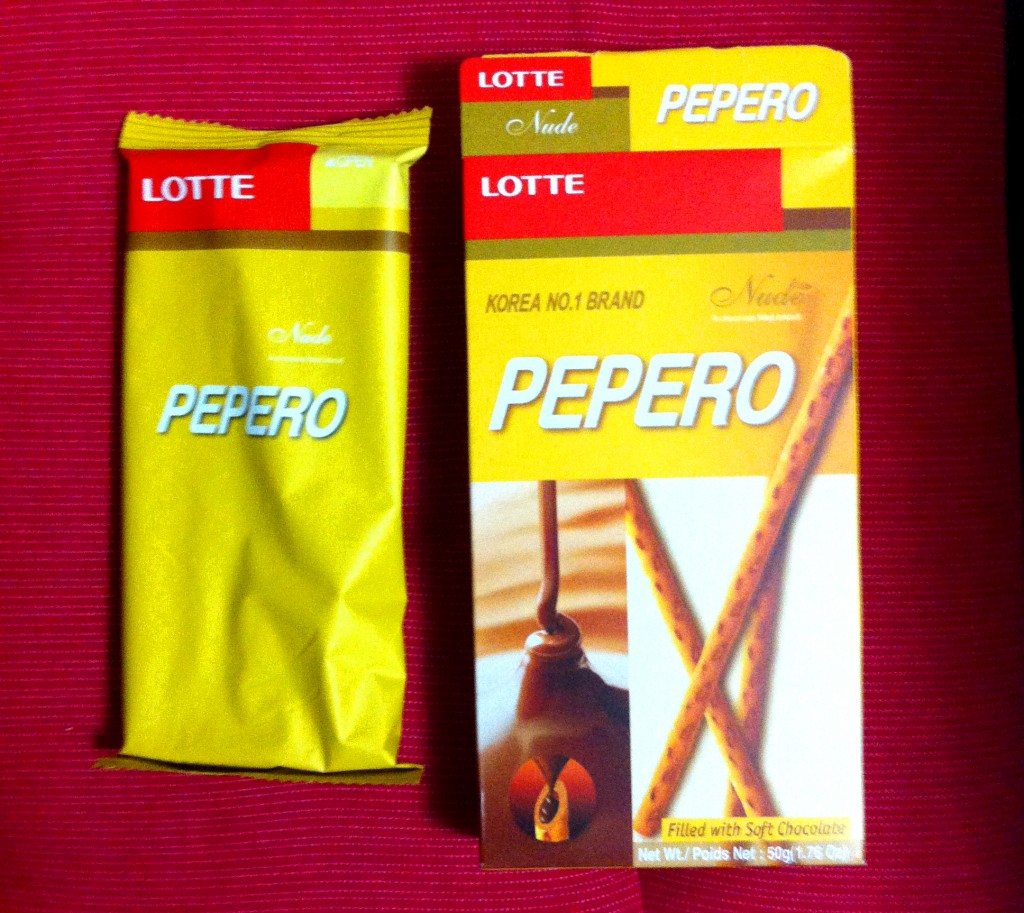 Pepero—a popular South Korean Snack manufactured by Lotte Confectionary
I thought it would be fun to do a snack series on Flavorful Journeys, where I feature different snacks from around the world and discuss their history and cultural significance. After all, who doesn't like snacks, right? In today's busy world, we don't always have time to sit down and eat three meals a day; sometimes snacks play a critical role in tiding us over until our next meal and getting us through a long, hectic day.
This past week, I visited the Korean spa and stopped by H-Mart (a large Asian grocery store specializing in Korean food) on the way home. I didn't have any set ingredients to buy; instead I just wondered the aisles picking up some of my usual items and any foods that sounded interesting: Japanese seaweed salad, Korean stir-fried black beans, shrimp crackers, Calpico (a Japanese non-carbonated soft drink), a couple different varieties of ramen noodles, kimchi, Korean bbq, and a box of Peperos.
Little did I know that I was choosing a snack that has its own holiday in South Korea and coincidently enough I was buying it on the actual day of the holiday, November 11th or 11/11 (I'll discuss this holiday more, right after I describe peperos).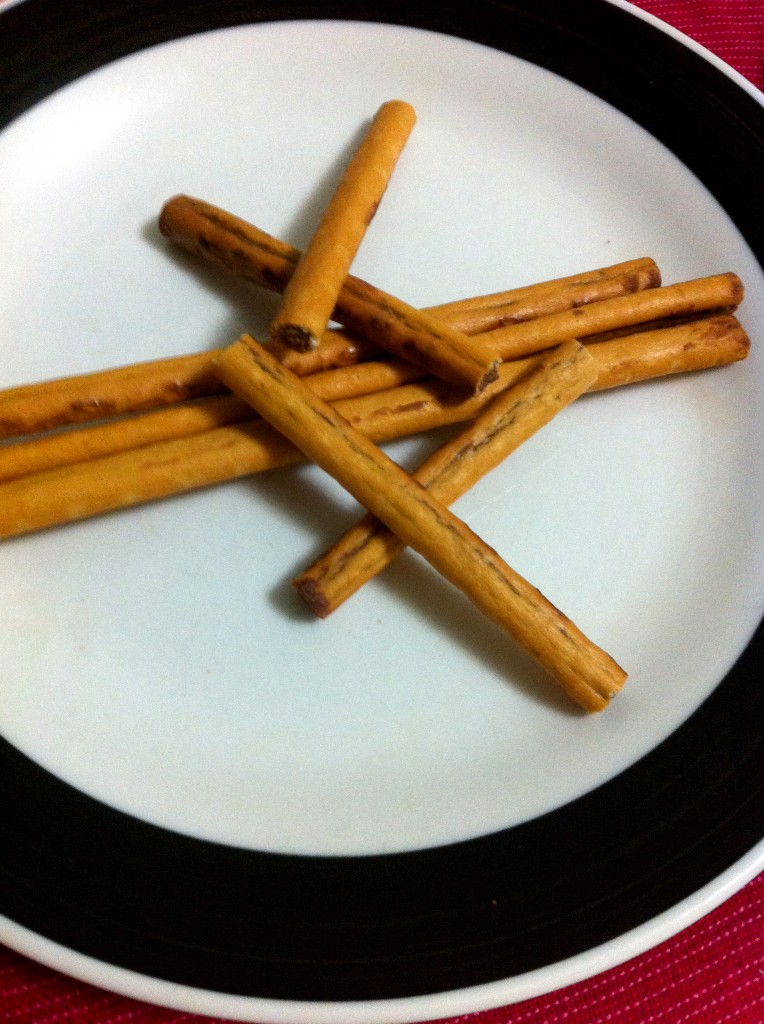 Nude Pepero (two sticks are broken in half to show the interior)
What are Peperos?
Peperos are long thin cookie-like sticks that are covered in chocolate or in this case filled with chocolate. There are many different varieties of Peperos including:
regular (chocolate-covered Pepero)
nude (chocolate-filled Pepero)
almond and chocolate (chocolate-covered Pepero with almond pieces)
peanut and chocolate (chocolate-covered Pepero with roasted peanuts)
white cookie (white chocolate-covered Pepero with cookie pieces)
strawberry (strawberry-flavored–chocolate-covered Pepero)
melon (melon-flavored–chocolate-covered Pepero)
and more
Peperos remind me of Pepperidge Farms' chocolate Pirouettes, except Peperos are much thinner and the exterior shill is harder and denser, more like a cookie than a wafer. The filling is similar, chocolate, creamy, and smooth.
So What is Pepero Day All About?
Pepero Day is a holiday similar to Valentine's Day where friends, co-workers, and significant others give each other Pepero sticks. Kyeong-Jin  in the video below provides insight into Pepero Day:
Pepero Day has also influenced Korean pop culture, inspired a Pepero kissing game, and in a very popular holiday among the youth. Check out this cute video of the Pepero Song by Megan Lee–a Korean-American artist and singer. It's a sweet, romantic song about Pepero Day.
Are you curious about how the Pepero kissing game works?
Two people play the game; they each put one end of the Pepero in their mouths and then slowly bite their way towards the center. The goal is to get as close to the other persons lips without their lips actually touching. The couple with the shortest remaining piece of Pepero wins (if playing against other teams) or the individual who doesn't break the kiss first wins. Sometimes this game results in a kiss, accidently or purposely, hence the name Pepero kissing game.
Here's a video of Exo—a South Korean-Chinese K-Pop Band—playing the Pepero kissing game at the China Love Big Concert.
Okay, you can see that learning about Peperos and Pepero Day made me go on a bit of a YouTube watching frenzy! I hope  you enjoyed these videos.
Where to buy  Peperos:
If you're in the Chicago area, you can buy them at H-Mart in Niles. If you're not in Chicago, you can purchase Peperos at H-Mart online or on Amazon.
Corey and I shared a packet of Peperos and I sure wished I'd bought more than one packet! They were gone wicked fast. Next time, I'll know to buy more.
I hope you enjoyed this post on the popular South Korean snack Pepero! If you have tried Pepero before, let me know which flavor is your favorite!
If you enjoyed reading this post, like my Facebook page and subscribe to my blog. That way, you'll never miss a post!