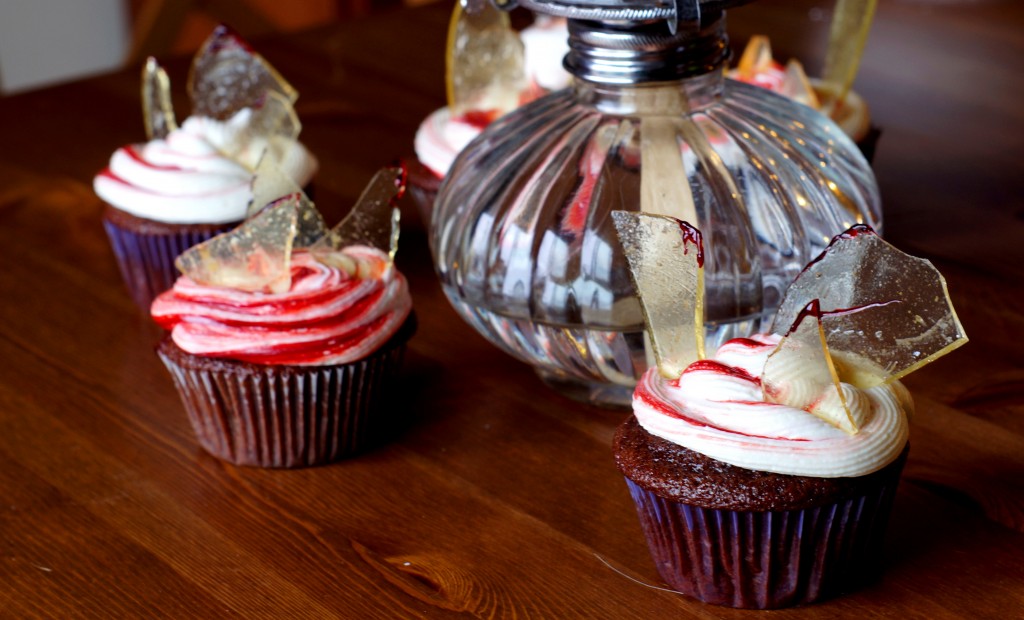 Chocolate-Raspberry Glass Cupcakes with Buttercream Icing
Halloween has always been one of my favorite holidays. I love its spookiness, as this allows me to embrace morbid concepts in fun ways. For example, these chocolate raspberry cupcakes play on hyelophobia, or fear of glass. The sugar glass–its jagged edges covered in red food coloring–looks very much like broken shards of glass smeared with blood. The buttercream icing with red swirls further plays on this theme.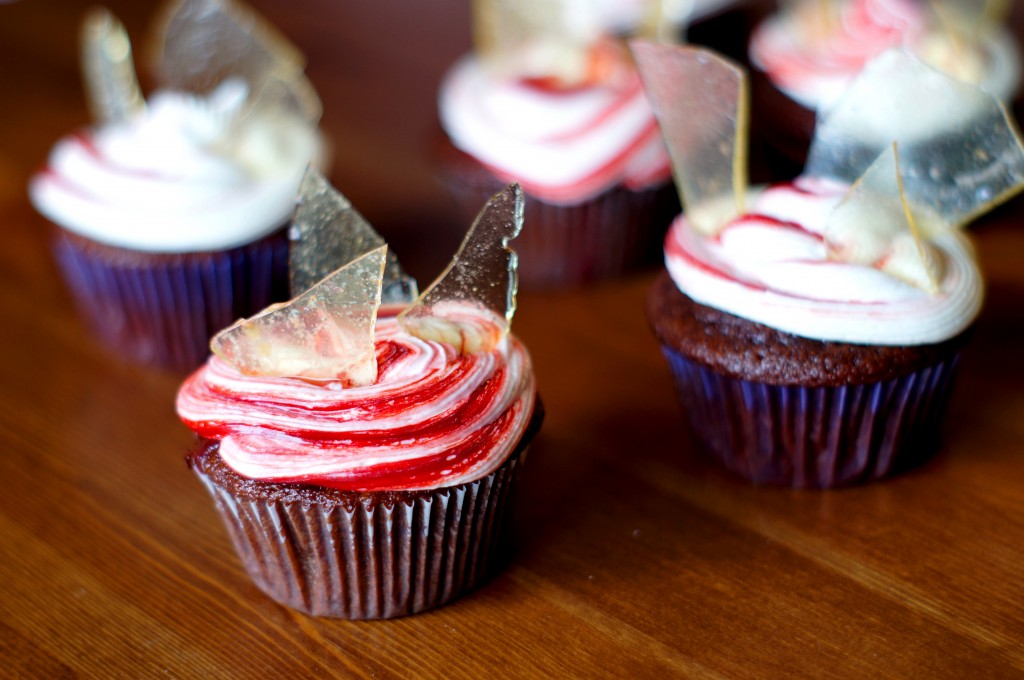 Glass Cupcakes Topped with Buttercream Red Swirl
These chocolate-raspberry glass cupcakes are as tasty as they are ghastly. The chocolate cupcake base is filled with homemade raspberry curd. Rich, decadent chocolate goes well with the sweetly tart raspberry curd. I chose raspberry curd because I think raspberry and chocolate are the best dessert combination ever, but also because it goes well with the "glass" and "blood" cupcake theme. When you bite into this cupcake, you see red raspberry filling–it's a nice gory touch. But you could also try lemon curd or another fruit-flavored curd.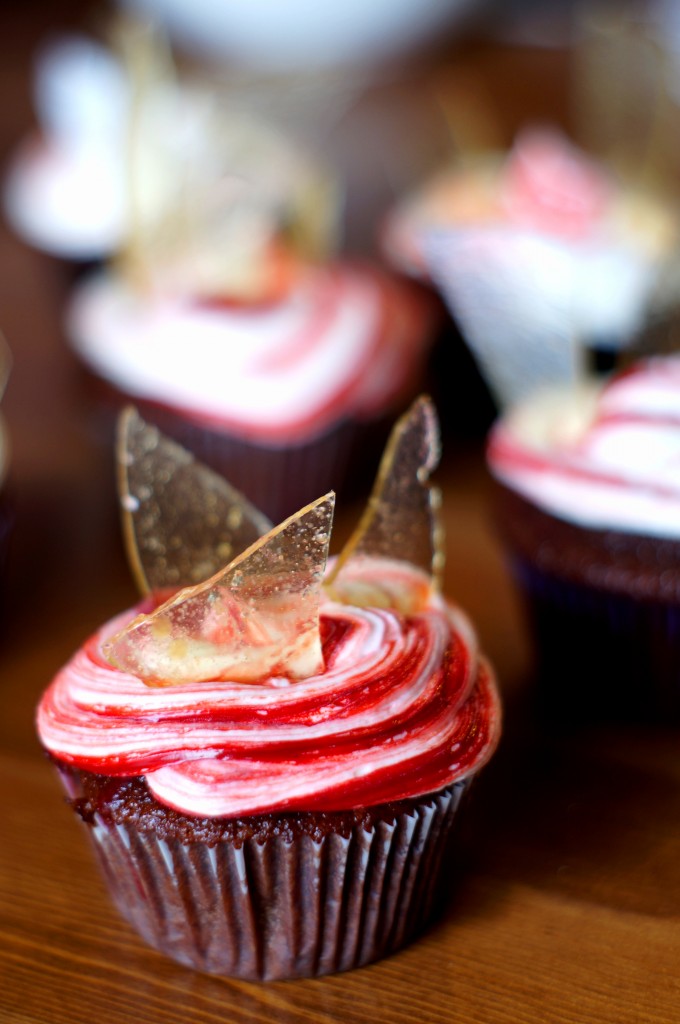 Chocolate-Raspberry, Curd-Filled Glass Cupcakes
If you don't have time to make these cupcakes from scratch, you can always buy cupcakes and just make the sugar glass; they will still look absolutely wicked. The sugar glass is made by boiling sugar and water until it reaches the "soft-crack stage" (270° F). You really need a candy thermometer for this to work, preferably a digital one. As soon as 270° F is reached, pour the sugar syrup onto a lightly greased cookie pan. Shake the pan from side to side to spread out the syrup. Then allow the sugar glass to harden–which will take 30 minutes to 1 hour–before breaking it into shards.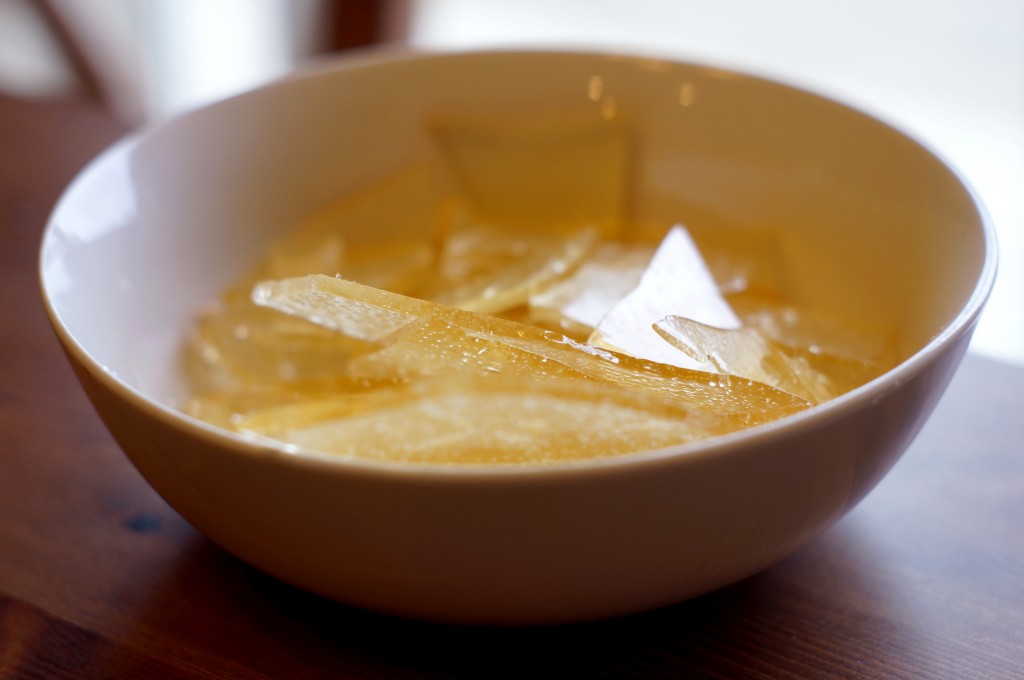 Freshly Broken Shards of Sugar Glass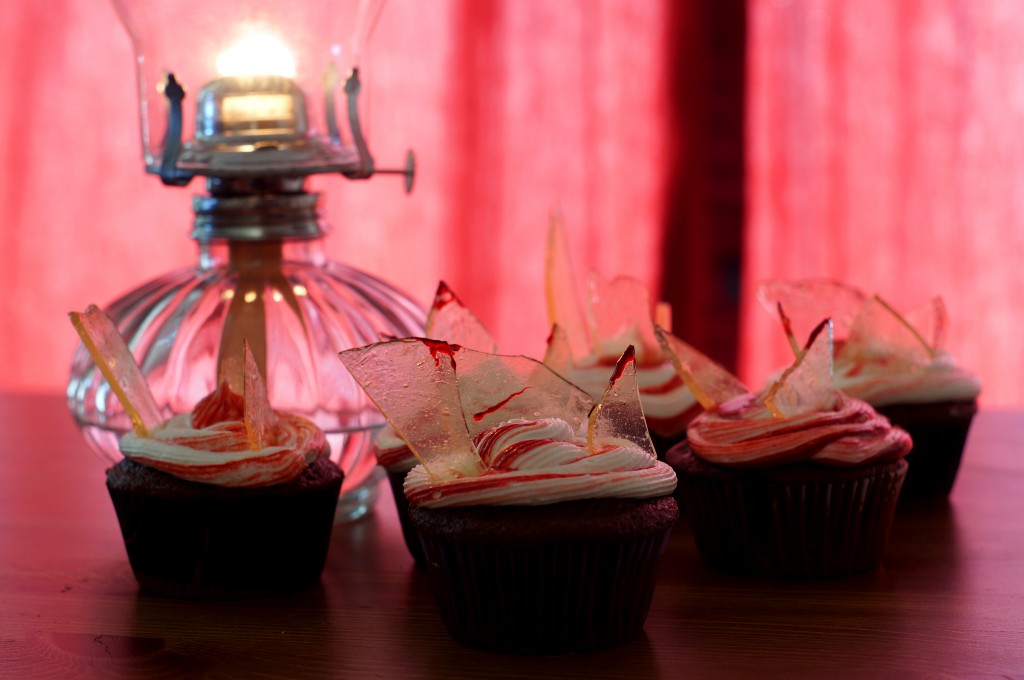 You can enhance the goriness by covering the sugar glass's edges with Wilton's no-taste red icing color using a toothpick. I also spread the icing color in vertical lines in a pastry bag before filling the bag with the buttercream icing. This is what gives the buttercream icing its red swirl.
If you're looking for another creepy Halloween desert, check out these blood-splattered cookies. Also, if you have any Halloween recipes or craft ideas, please share–I'm always looking for new ideas.
If you enjoyed reading this post, like my Facebook page and subscribe to my blog. That way, you'll never miss a post!
Raspberry Curd
A sweetly-tart raspberry curd made with real raspberries. Perfect with scones or as a filling in cupcakes. This raspberry curd recipe is easy and delicious
Ingredients
1 stick unsalted butter
2 1/2 Cups fresh or frozen raspberries
6 egg yolks (lightly beaten)
3/4 cups sugar
1/8 teaspoon salt
2 Tablespoons lemon juice
Note
Do not let the curd rise above 170°F as this could cause the eggs to scramble.
Directions
Step 1
Melt butter in a medium sauce pan over medium heat. Once the butter has melted, add the sugar, raspberries, egg yolks, and salt. Heat until the sugar has dissolved and the raspberries have broken down. Stirring constantly.
Step 2
Cook at a low simmer for 10 minutes or until the mixture has thickened. The curd is done when a candy thermometer registers 170°F.
Step 3
Stir in the lemon juice. Pour the mixture through a fine mesh sieve set over a large bowl. Try to press out as much of the juice as you can from the pulp and seeds.
Step 4
Cover the curd and place in the refrigerator. Allow to chill for at least 4 hours before using. The refrigerated curd will keep 2-4 weeks.
Chocolate Raspberry Curd Filled Cupcakes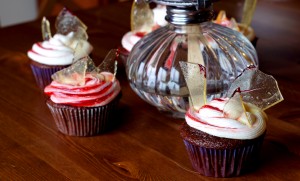 These chocolate cupcakes are filled with homemade raspberry curd. The rich, decadent chocolate goes well with the sweetly-tart raspberry curd.
Ingredients
1/2 cup strong brewed coffee
1/2 cup heavy cream
2 Sticks unsalted butter
1/2 cup cocoa powder
1 teaspoon vanilla extract
2 Cups all-purpose flour
2 Cups sugar
1 1/2 Teaspoons baking soda
3/4 teaspoons salt
2 Large eggs
2/3 cups sour cream
Raspberry curd homemade or store bought (see recipe on blog)
Directions
Step 1
Preheat the oven to 350°F. Line cupcake pans with paper cases.
Step 2
In a medium sauce pan, melt the butter over medium-low heat. Once melted, whisk in the cocoa powder until smooth. Add the heavy cream, brewed coffee and vanilla extract. Heat until just barely simmering. Remove from heat and allow to cool as you prep the other ingredients.
Step 3
In a large bowl, whisk together the flour, sugar, baking soda and salt. Set aside.
Step 4
In a medium bowl, whisk together the sour cream and eggs.
Step 5
Slowly pour the slightly cooled chocolate mixture into the sour cream and egg mixture; whisk until smooth. NOTE: Make sure to slowly add the chocolate mixture to the sour cream and egg mixture to prevent the eggs from cooking. Do not add it all at once.
Step 6
Make a well in the middle of the flour mixture. Add the chocolate mixture to the flour in three parts, whisking after each addition until just combined. Scrape the sides of the bowl to ensure everything is incorporated. Whisk batter until smooth, about 20 strokes.
Step 7
Fill the cupcake cases three-quarters full. Bake 17-19 minutes or until a toothpick comes out clean. Leave to cool for a few minutes before turning them out on to a wire rack.
Step 8
Core the center of each cupcake using a paring knife or an apple corer. Using a spoon, fill each cupcake with raspberry curd.
Vanilla Buttercream Icing with Red Swirls
This vanilla buttercream icing with red swirls is perfect for festive occasions, such as Valentine's Day and Halloween. The icing is smooth and creamy.
Ingredients
2 Sticks unsalted butter (room temperature)
4 Tablespoons cream cheese (room temperature)
2 Pounds powdered sugar (sifted)
1/4-1/2 cup heavy cream
1 tablespoon pure vanilla extract
1/8 teaspoon salt
Optional
Wilton no-taste red icing (for red swirls)
cupcakes
Directions
Icing
Step 1
Using a stand mixer or electric beater, beat butter and cream cheese on medium-high speed. Add the sugar, 1 cup at a time, and beat until smooth. Add the vanilla extract and beat until incorporated. Add 1/4-1/2 cup cream and beat on high for 3-4 minutes until light and fluffy. Mix in the pinch of salt.
Assembly
Step 2
Using a toothpick, add the Wilton no-taste red icing color in vertical stripes up the insides of a pastry bag fitted with a decorative tip. Add the buttercream to a pastry bag. Pipe frosting onto each cupcake.
Sugar Glass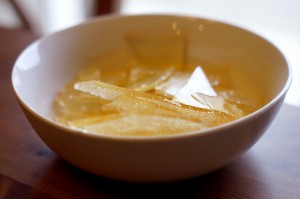 Sugar glass is a cool decorative technique. The sugar glass is made by boiling sugar and water until it reaches the soft-crack stage (270° F).
Ingredients
3/4 cups sugar
6 Tablespoons water
candy thermometer
small saucepan
cake release spray
rimmed cookie tray or baking sheet
Directions
Step 1
In a saucepan add the sugar and water together and set on the highest heat.
Step 2
Prepare a rimmed cookie sheet by spritzing lightly with cake release.
Step 3
Stir the sugar mixture occasionally and leave to bubble until the sugar mixture reduces and reaches around 132 degrees C or 270 degrees F. You should start to smell a faint burnt caramel scent. The mix may also begin to turn a slight champagne gold color.
Step 4
Remove the pan from the heat. Quickly pour your sugar mixture onto the rimmed cookie sheet. Quickly spread the mixture to the edges by tilting the sheet. Don't worry if the mixture doesn't reach the edges; sometimes the cake release spray will stop it from spreading too much. Leave to cool and harden (this takes between 30 minutes to 1 hour).
Step 5
Don't leave your 'glass' for too long, however. Sugar glass is hygroscopic, which means that it quite readily absorbs moisture from it's surrounding atmosphere. As soon as the mix has cooled and hardened, quickly smash it in the required jagged shards before it loses that lovely brittle and hard quality!
Cupcake Assembly
Step 6
Place a glass shard or shards on top of the red swirl buttercream icing for each cupcake.