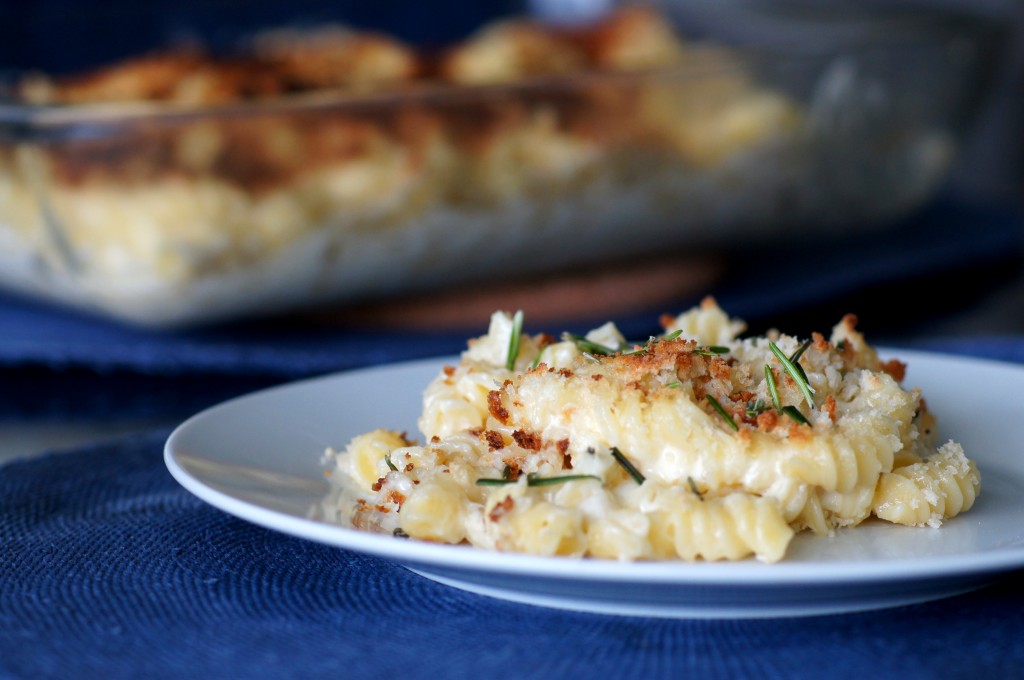 White Truffle Oil Mac and Cheese with Rosemary
My first experience with truffle mac and cheese was at Clusters & Hops, an excellent restaurant in Tallahassee that features unique dishes like Parmesan-crusted ostrich filet and espresso-crusted filet mignon with wild mushrooms and Cognac caramelized onions. But my favorite dish of theirs (and one of their signature dishes) is truffle mac and cheese. A blend of cheeses and truffle oil–the exact varieties and proportions of which they jealously guard–gives it a silky smooth texture, a wonderfully intoxicating truffle taste, and leaves you craving more as soon as you take the last bite.
When we moved from Tallahassee to Chicago, I set out to re-create this dish in my own kitchen. I thought it might help us survive Chicago's brutal winters. I've played around with many different recipes since then and I've finally found a winner–one that approaches the truffle oil mac and cheese found at Clusters & Hops.
My white truffle oil mac and cheese is made with equal parts Parmesan and fontina cheese. The parmesan is sharp and earthy, while the fontina is soft, creamy, and tangy. Combined, they work wonders on the palate. But the truffle oil is what really takes this dish to the next level. Its intense aroma and earthy flavors make this a truly indulgent meal. A fresh rosemary garnish finishes the dish and make the luxuriant flavors pop.
A Note about Truffle Oil
Much controversy surrounds truffle oil; some chefs love it, others abhor it. Let's take a look at the reasons for this polarization. First, truffles are the most expensive food in the world, with the European white truffle selling for as much as $3600/pound. Truffles are thus a coveted commodity in the cooking world, but many restaurant-goers cannot afford to pay for the "real thing," so chefs turn to truffle oil to capture the flavors and aromas of truffles.
The reason some chefs scorn truffle oil is because most truffle oil is chemically synthesized, without the use of any actual truffles. It's made with a chemical called 2,4 dithiapentane, which is the primary component that gives truffles their aromatic smell. However, there are some truffle oils made with actual truffles. You can tell if truffle oil is made from truffles or with 2,4 dithiapentane by checking the ingredient label. If you see "truffle aroma" or "truffle essence," it's chemically made.
Personally,  I like truffle oil and believe it allows people to experience the taste of truffles without the prohibitive expense. So if you want to try a truly delicious meal, try this truffle oil mac and cheese!
If you enjoyed reading this post, like my Facebook page and subscribe to my blog. That way, you'll never miss a post!
White Truffle Oil Mac and Cheese

Print recipe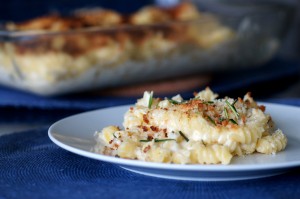 This white truffle oil mac and cheese is made with Parmesan and fontina. The truffle oil's intense aroma and earthy flavors tastes delicious.
Ingredients
3 Cups heavy cream
9 Ounces dried short pasta (should yield about 4 1/2 cups cooked pasta)
3 Tablespoons white truffle oil
salt (to taste)
8 Ounces fontina cheese (freshly grated)
8 Ounces Parmesan cheese (freshly grated)
3/4 cups panko bread crumbs
Optional
Directions
Step 1
Put a large pot of water on to boil. Once boiling, add a liberal amount of salt and pasta; cook according to package instruction until al dente. Drain and set aside.
Step 2
While the pasta is boiling, butter a 9 by 13 inch baking dish.
Step 3
In a large saucepan, bring the cream to a boil over medium heat. Once it comes to a boil, cook for an additional 30 seconds.
Step 4
Add the pasta, truffle oil, and salt to the cream, and cook for an additional 2-3 minutes.
Step 5
Add both cheeses and stir until the cheese is just melted. If the consistency seems too thin, just add more cheese. If it seems too thick, add more cream.
Step 6
Pour the pasta mixture into the baking dish. Sprinkle the breadcrumbs evenly over the top.
Step 7
Broil until brown, about 2 minutes.
Step 8
Remove from oven. Top with the fresh rosemary. Serve and enjoy!