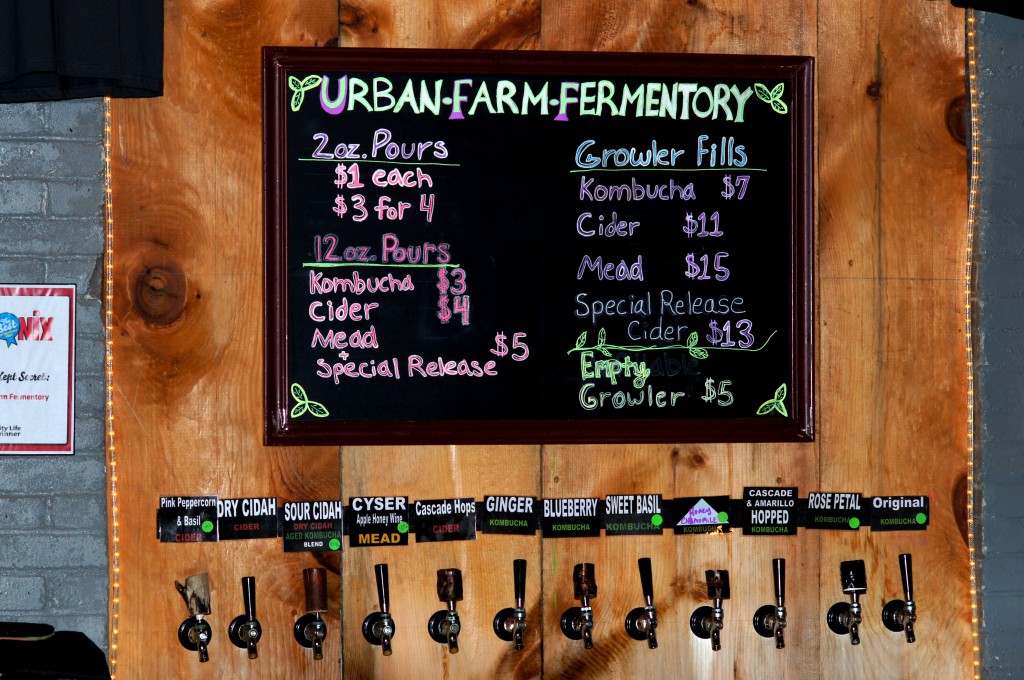 Urban Farm Fermentory Taproom
While traveling in Portland, Maine, with Corey and his family, I visited Urban Farm Fermentory, which is a brewery that specializes in kombucha and cider. You may be wondering what kombucha is exactly. If you had asked me a few weeks ago, I wouldn't have known either.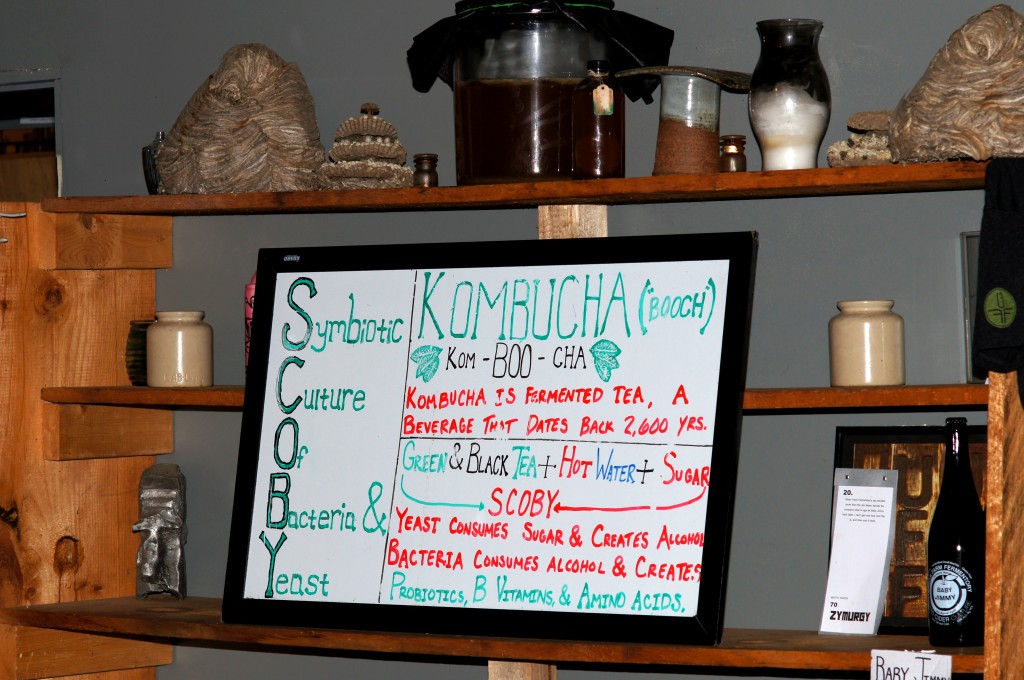 Urban Farm Fermentory's Description of the Kombucha Process
What Is Kombucha?
Kombucha is a fermented tea made with a SCOBY (Symbiotic Culture of Bacteria and Yeast). Once the kombucha has finished fermenting, this SCOBY is removed, then the kombucha is strained—though some is sold unfiltered—and bottled. Kombucha can be flavored when bottled by adding chopped fruit, fruit juice, flowers, herbs, or a combination thereof.
The next step after bottling is carbonation. This can be achieved through a second fermentation process, which occurs when bottles of kombucha are left at room temperature for 1 to 3 days.  Once the desired carbonation level is reached, the kombucha is strained, rebottled, and refrigerated. Cooling slows down the rate of fermentation. Kombucha can also be carbonated through forced carbonation.
Kombucha is slightly alcoholic, usually containing 0.5 to 3 percent alcohol, which in 2010 induced government regulation and caused Whole Foods to pull kombucha from their shelves due to the lack of proper labeling.
So now that you know the basics of kombucha, let's get back to Urban Farm Fermentory.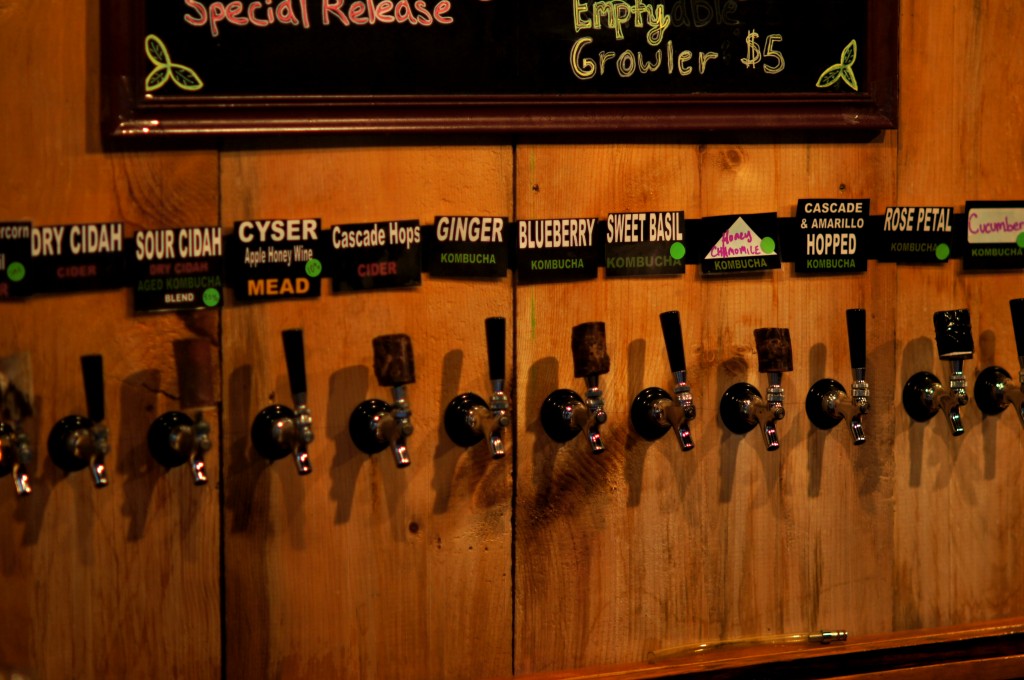 Kombucha and Cider Offerings at Urban Farm Fermentory Taproom
We visited Urban Farm Fermentory with a Groupon that included a cider and kombucha tasting, a brewery tour, and a 32-ounce growler of your pick. I highly recommend getting this Groupon if it's still available, as it allows you to explore many different kombucha flavors and gives you a look into the kombucha-making process.
Urban Farm Fermentory tries to source all its ingredients locally. This not only makes their kombucha very fresh but also means that their flavors and offerings vary seasonally.
Urban Farm Fermentory Kombucha Flavors on Tap:
Original

Cucumber

Rose Petal

Cascade & Amarillo Hopped

Honey Chamomile

Sweet Basil

Blueberry

Ginger
Urban Farm Fermentory Cider Flavors:
Pink Peppercorn and Basil

Dry Cidah

Sour Cidah (dry cidah and aged kombucha blend)

Cyser Apple Honey Wine (mead)

Cascade Hops
The cucumber kombucha was my favorite. It was cool and refreshing, slightly tart and bubbly. It was like drinking from a garden in summertime. I also really enjoyed the honey chamomile kombucha—deliciously smooth, sweet, and calming, with very little tartness. The ginger kombucha was also very tasty. It was an interesting take on ginger tea; similar to ginger beer (not ginger ale), but not as sweet and carbonated.
The bartender let us to taste our favorite flavors again and make our own blends. Ginger and blueberry went together nicely, as did sweet basil and cucumber.
Urban Farm Fermentory's kombucha contains 1.5% alcohol (though their ciders are much stronger). I like that they don't sacrifice quality to meet government regulations but choose instead to have their product labeled as alcohol. A quote from their website: "Our potent, probiotic Kombucha (fermented tea), with its 1.5% ABV and tart, acidic bite, is one of the few true examples of the form left after the infamous kombucha crackdown of 2010."
Kombucha is a refreshing, ostensibly healthy drink. Some people drink it as a hangover cure, while others tout its health benefits. If you want to learn more about kombucha, check out this article.
Urban Farm Fermentory Brewery Tour
The tour guide was friendly and casual. He showed us some of the equipment and fielded our questions. The brewery isn't very big (10,000 ft2), so it was a short (but interesting) tour.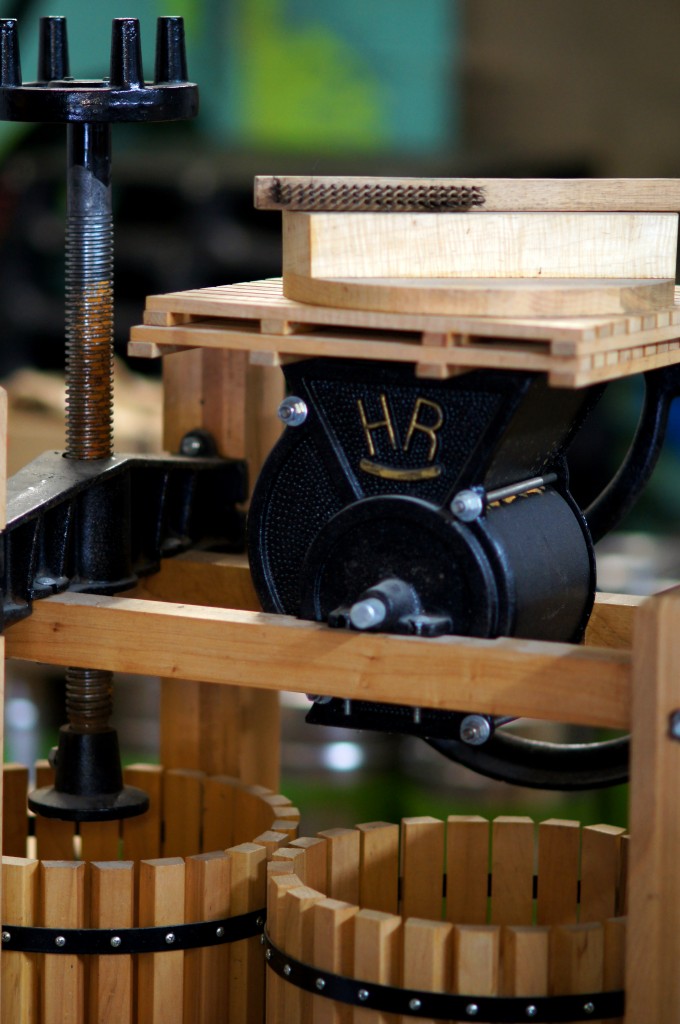 Cider Press at Urban Farm Fermentory Brewery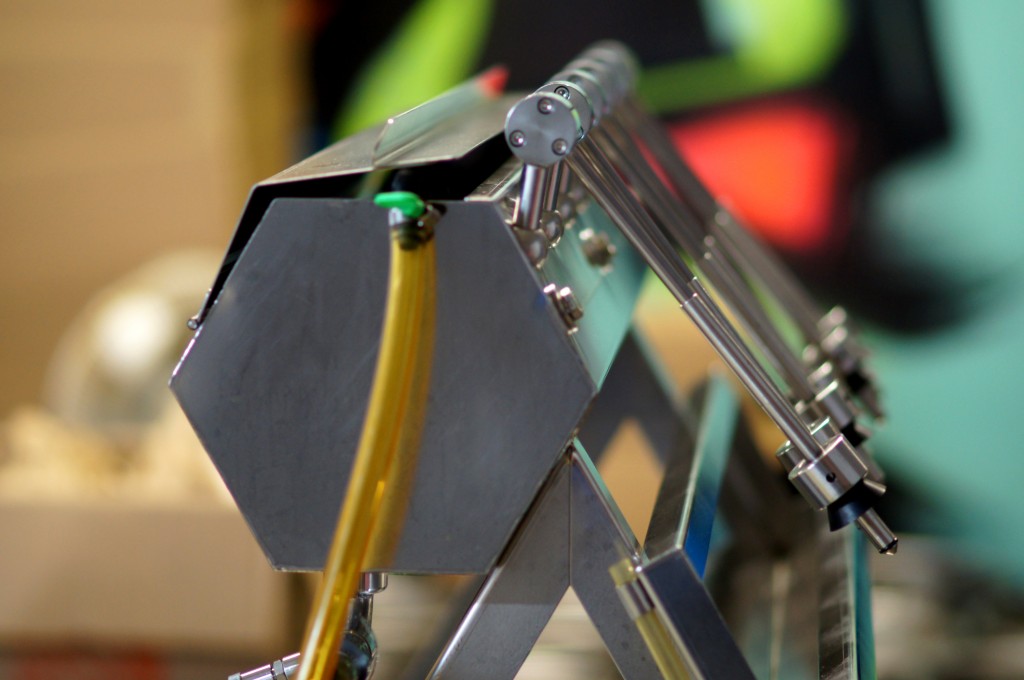 Syphon Filler Machine for Bottling Kombucha and Cider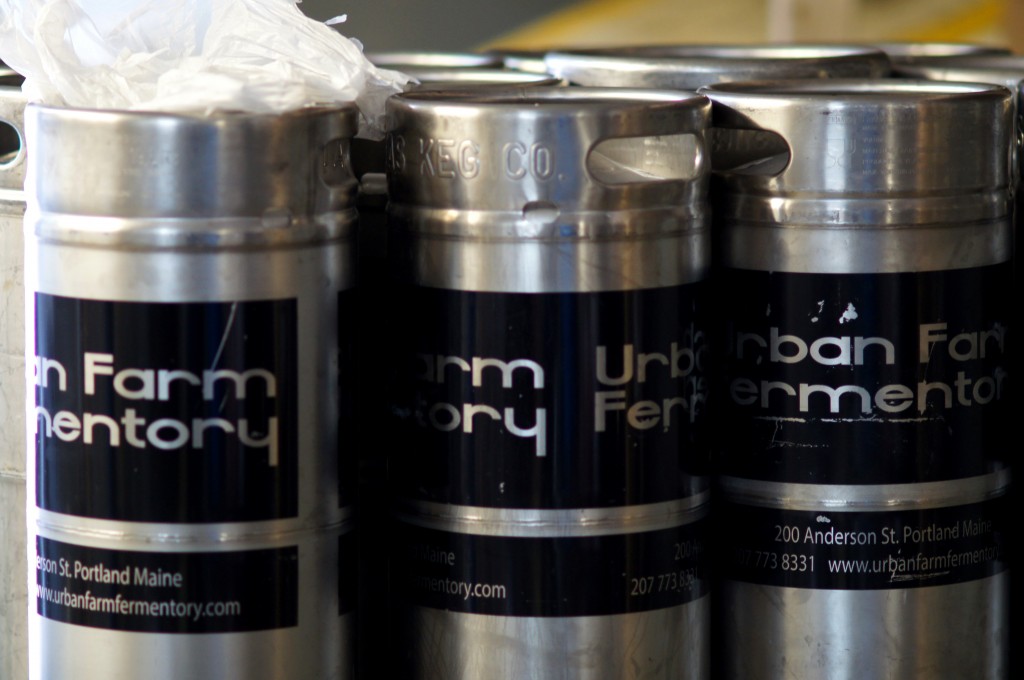 Urban Farm Fermentory Kegs
We weren't allowed to photograph the kombucha tanks due to proprietary knowledge. So if you want to see that, you'll just have to visit!
Staff Murals at Urban Farm Fermentory

There are also a number of wall murals (reminiscent of street art) in Urban Farm Fermentory. Our tour guide said that the young people who work here want to make the space visually exciting and fun. Almost every room in the brewery has one or more murals, most of which were created by the employees or their friends.
Info about Visiting Urban Farm Fermentory:
Address:
200 Anderson St
Portland, ME 04101
Phone: (207) 773-8331
Hours: 12 PM – 7 PM, Tuesday – Saturday
Website: http://www.urbanfarmfermentory.com/
Cost: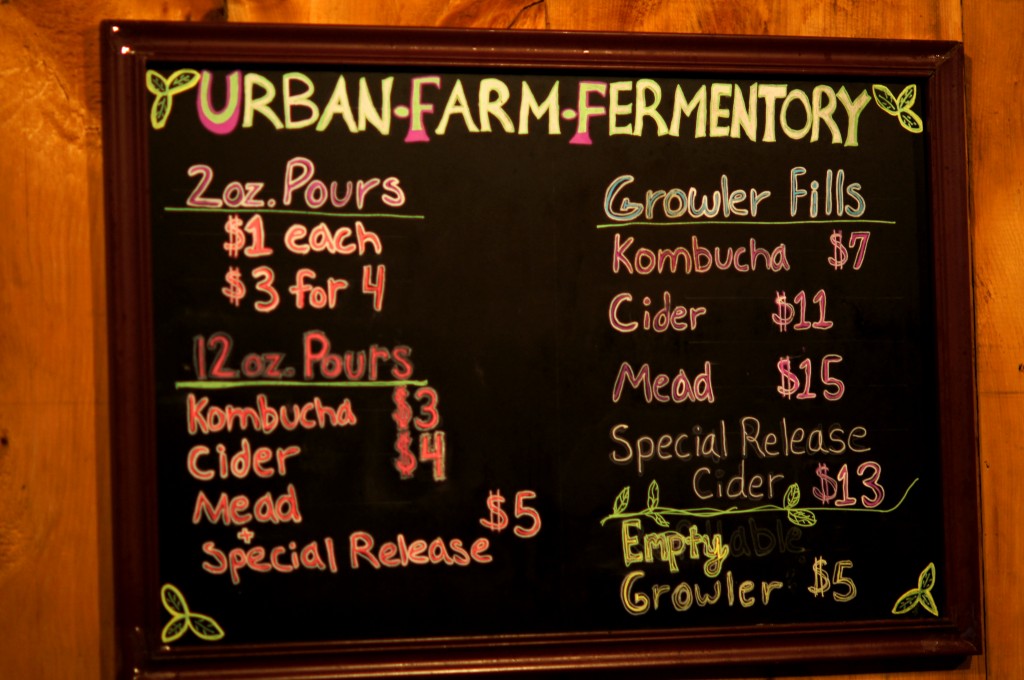 Prices at Urban Farm Fermentory
Note: Unfortunately, Urban Farm Fermentory doesn't currently ship its kombucha or cider to individuals outside of Maine (though they do have distributorships in various northeastern cities).

If you're curious about kombucha and happen to be in or near Portland, Maine, check out Urban Farm Fermentory. It's a great introduction to kombucha and they're always brewing up delicious new flavors.
If you've made SCOBY or kombucha before, please share your experience. Also, if you're looking for other things to do in Maine, Chauncey Creek Lobster Pier is worth a visit!
If you enjoyed reading this post, like my Facebook page and subscribe to my blog. That way, you'll never miss a post!