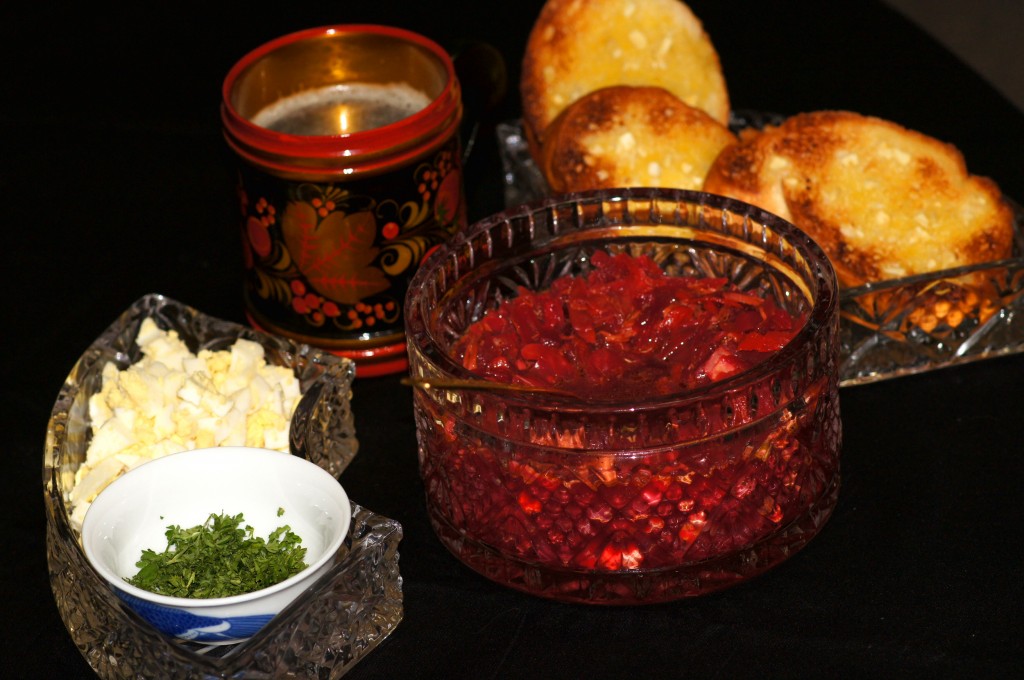 Russian Borscht Soup with Fresh Dill, Diced Hard-Boiled Egg, and Toasted Bread
Though it's technically spring, it's still quite cold here in Chicago and in much of the Northeast, which has kept me cooking all kinds of delicious soups. Last week, I made a Portuguese kale soup with chorizo, a creamy Thai coconut curry, and this robust Russian borscht soup.
Borscht is a very vegetable-heavy soup that features beets, cabbage, onion, carrot, and garlic. This combination results in a very earthy, sweet, and tangy soup. Some versions of borscht are completely vegetarian, while others incorporate beef, pork, or chicken. I like to add a little meat to borscht because I think it provides a nice textural contrast, but it's great without it, so omit it if you prefer.
Here's a process for creating your own chicken broth and cooking the meat (if you choose to add it): first, poach the chicken breasts in water seasoned with salt, whole black peppercorns, several cloves of smashed garlic, fresh herbs, and carrot and onion peels (left over from prep work). Then, strain that liquid into a bowl and reserve it for the borscht broth, supplementing it with additional chicken broth as needed. Finally, shred and chop the chicken, then wait to add it until the borscht is a few minutes from completion.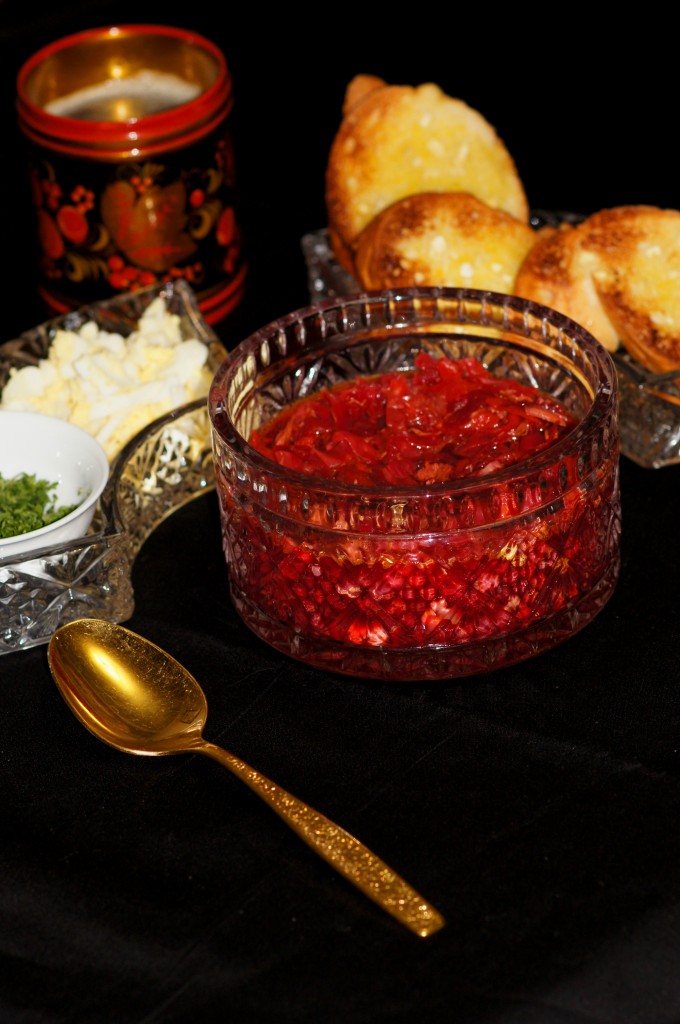 Russian Borscht Soup with Toppings
Beets are the star ingredient in Russian borscht. They give the soup its distinctive red color and lend a savory earthiness. And remember that beet juice stains (don't find out the hard way)! Make sure to take appropriate precautions.
I serve my Russian borscht soup with toasted bread, fresh dill, sour cream, and diced hard-boiled eggs. I hope you enjoy this humble, vegetable-laden soup!
If you enjoyed reading this post, like my Facebook page and subscribe to my blog. That way, you'll never miss a post!
Russian Borscht Soup Recipe

Print recipe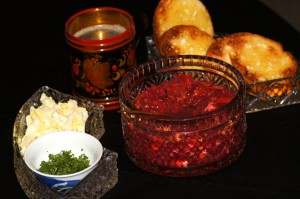 Cook Russian borscht soup at home with this delicious recipe! The beets are the star ingredient in borscht and give the soup its distinctive rich red color.
Ingredients
3 beets, peeled and grated (about 5 1/2 cups)
1 large carrot, peeled and grated (about 1 cup)
1 onion, peeled and chopped (about 3 cups)
2 tablespoons olive oil
2 cloves garlic, minced
1 tablespoon white vinegar
1 tablespoon sugar
1 teaspoon paprika
1 bay leaf
salt and freshly ground pepper
8 cups chicken broth (or vegetable broth)
1/2 head of cabbage (about 8 cups)
Optional
2 cups cooked chicken, shredded and chopped
hard-boiled eggs, diced
fresh dill (for serving)
toasted bread
sour cream (for serving)
Directions
Step 1
Heat the oil in a large Dutch oven and sauté the onion and garlic over a low heat for about 3 minutes, stirring occasionally. Add beets, carrot, vinegar, sugar, bay leaf, salt, paprika, pepper and three cups of chicken stock. Bring to a boil, reduce the heat, partially cover and simmer for 10-15 minutes, stirring from time to time.

Step 2
Add the rest of the stock to the beet mixture and bring to a boil. Add the cabbage and cook until soft, about 10 minutes. Then add the cooked chicken, if using. Adjust the seasonings and cook for a few more minutes. Ladle the borscht into bowls and serve with fresh dill, diced egg, sour cream and toasted bread.