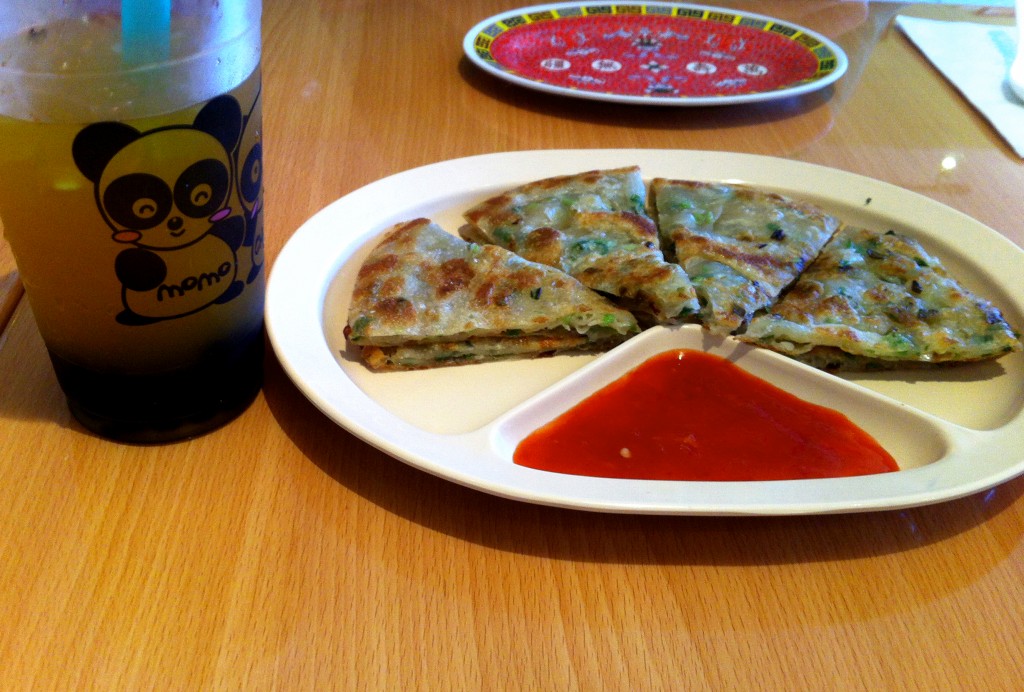 Green Onion Cake with a Sweet and Spicy Sauce at Dumpling King
Dumpling King was our last restaurant adventure in Miami before returning to Chicago. It came highly recommended by one of Corey's colleagues and fellow foodies, so we were eager to squeeze it in before we left. We're so glad that we did! We'd been craving some authentic Chinese food (which there isn't much of in Miami), and this sure hit the spot.
From the outside, Dumpling King didn't look too impressive; it's located in a strip mall in which building repairs were underway. But we didn't let that stop us, and neither should you! After all, one of my favorite restaurants, Raku in Las Vegas, is located in a strip mall. I still dream of their homemade tofu and crispy shrimp, and I can't wait to go back to Las Vegas to eat at Raku (among other things).
The day that we went to Dumpling King was a real scorcher, and when we arrived I was craving a refreshing beverage. Luckily, they had a wide selection of bubble teas: sweetened teas with tapioca pearls. I ordered the pineapple green tea. It was the perfect drink for a hot summer day, and I loved the cute panda graphics on the cup!
We started off with the green onion pancakes. They were crispy on the outside and soft and chewy on the inside. The dish was served with a sweet-and-spicy dipping sauce that paired well with the mild green onion pancake.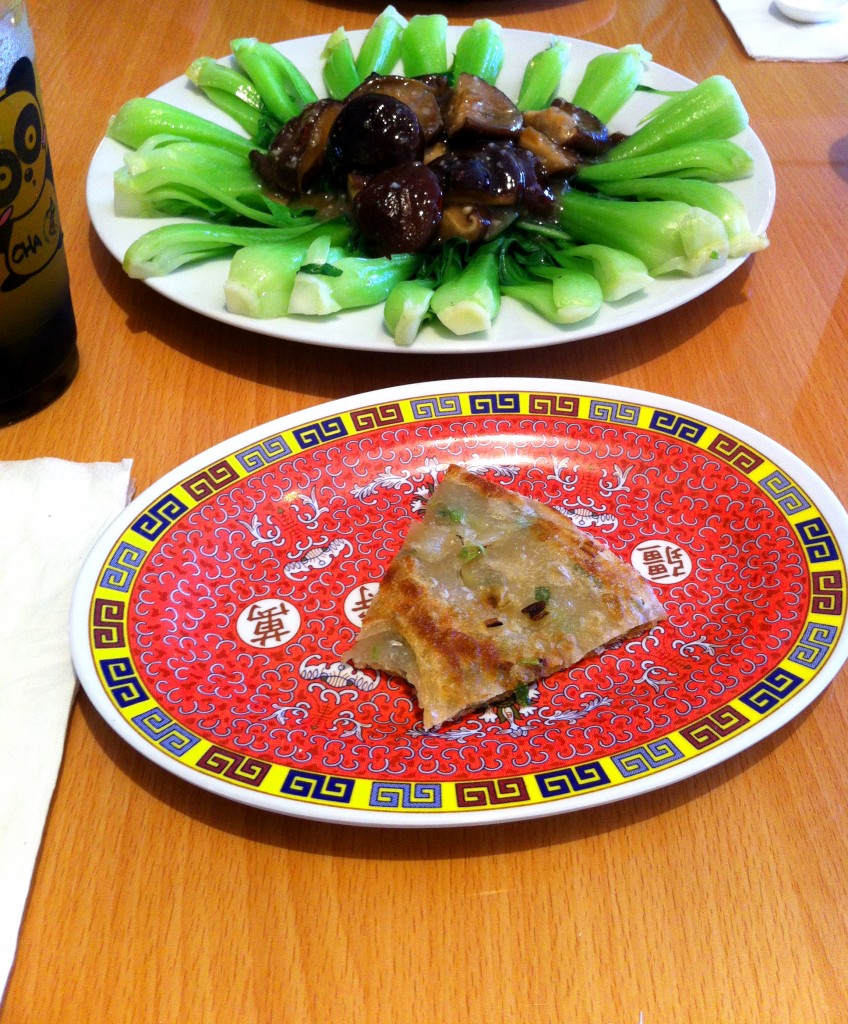 Fried Pak Choi with Mushrooms and Green Onion Cake at Dumpling King
We then ordered the fried pak choi (bok choy) with mushrooms. The  name is deceiving, as the baby pak choi is sautéed rather than fried. I think this method of cooking is preferable, since it lets the natural flavors of the vegetables shine. The pak choi was the perfect texture: tender yet still somewhat firm. The mushrooms soaked up the delicious cooking sauce, so when you bit into the mushrooms, flavors of garlic, soy, and ginger were released.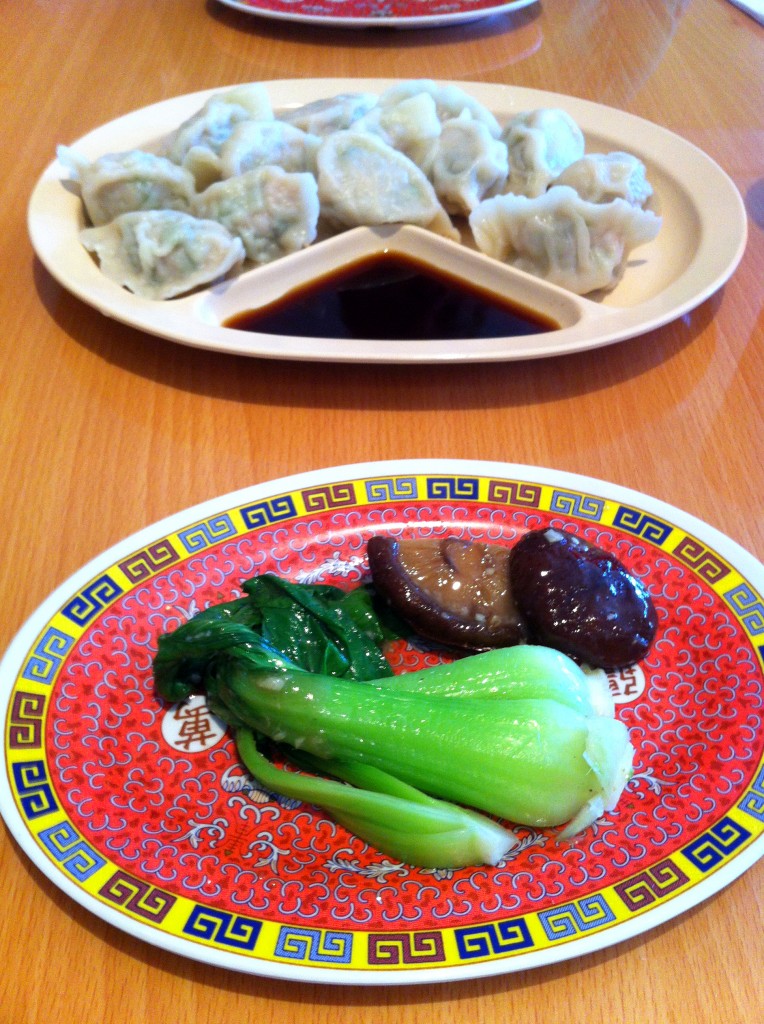 Pork and Celery Boiled Dumplings with Fried Pak Choi and Mushrooms
Of course, a trip to Dumpling King wouldn't be complete without an order of dumplings! But this is where the language barrier caused a mix-up (the server spoke very little English, a testament to the establishment's popularity with Chinese residents of Miami), so read on to get the inside scoop. Our friend had recommended the soup dumplings (also known as xiao long bao). Soup dumplings are made by wrapping chilled gelatinous broth into a dumpling skin; when they are heated, the inside defrosts and becomes soup. This results in a truly remarkable dumpling experience—or so I'm told, as I have yet to try them.
We did not see "soup dumplings" or xiao long bao on the menu. We asked the server if they had soup dumplings, and she pointed to the soups on the menu. We tried explaining that we didn't want soup, but rather dumplings that contained soup. She said that they didn't have that, but fear not—they do! They're just listed on the menu as "Shanghai Style Steamed Dumplings."
Not knowing this at the time, we ordered pork and celery boiled dumplings. The dumplings came out piping hot. The dough was fresh and the filling was hearty. The quantity was quite impressive for the price: 12 generous dumplings for $6.50!
This is a great restaurant for authentic Chinese food, especially dumplings. It would be a good casual spot to visit with friends or family (they also do take-out). What it lacks in atmosphere and location it makes up for in tastiness!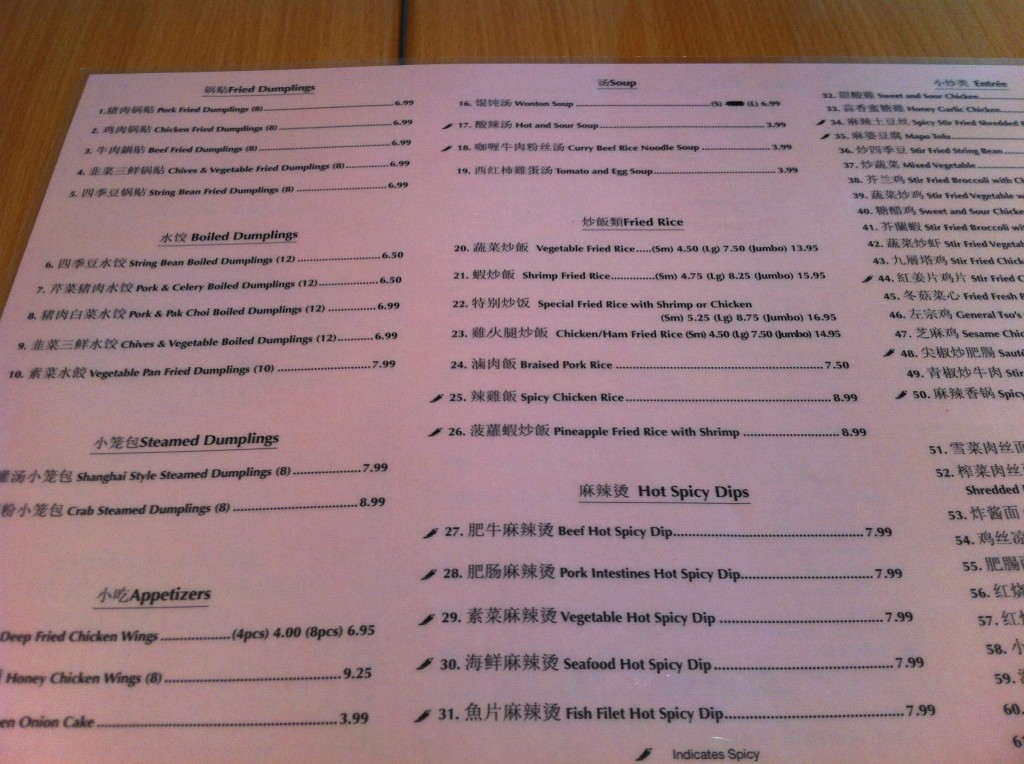 Dumpling King's Menu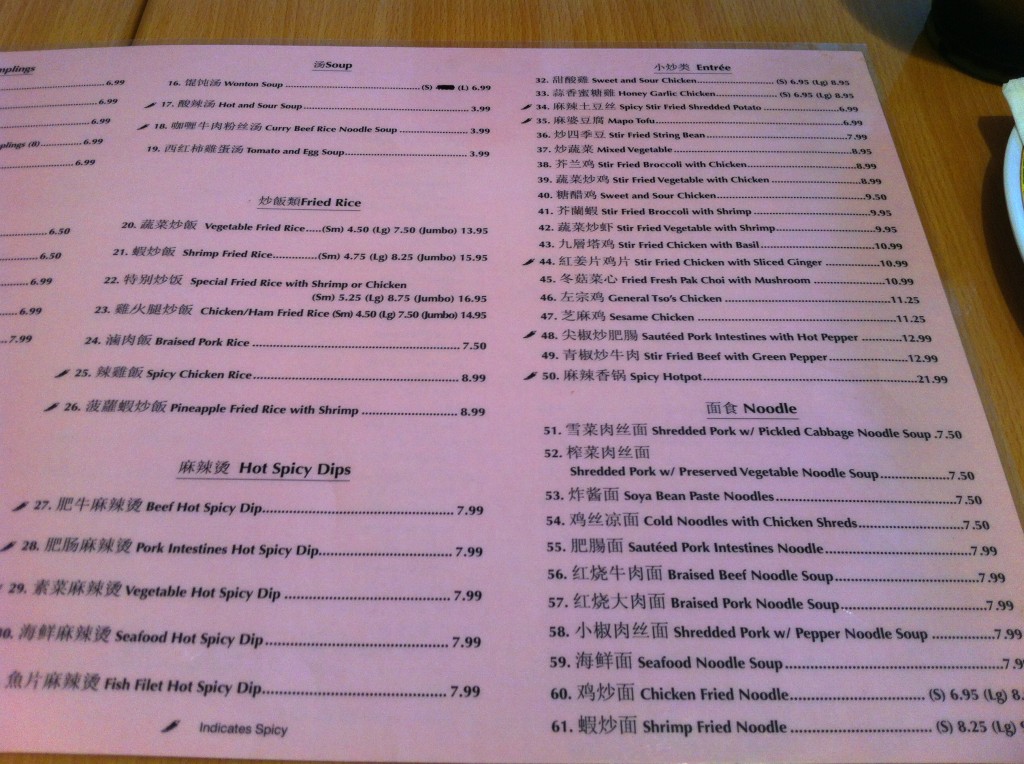 Dumpling King's Menu cont.
Info about visiting Dumpling King:
Address:
237 NE 167th St
North Miami Beach, FL 33162
Phone: (305) 654-4008
Hours: 11 AM – 9 PM, seven days a week
Cost for entrée: $6.99 – $12.99
If you're in Miami and want some tasty Chinese cuisine, check out Dumpling King! If you do, tell your story in a comment here.
If you enjoyed reading this post, like my Facebook page and subscribe to my blog. That way, you'll never miss a post!