I must confess: I'm not a baker. I tend to think of myself as an amateur chef who occasionally dabbles in baking. When I do venture into the world of baking, I search for a truly delightful dessert. I particularly prefer ones with chocolate and raspberries—it's a match made in heaven. In fact, I love that combination so much that I made a flourless chocolate cake with raspberries for my wedding! But that's a story for another post.
I've had my eye on this chocolate raspberry tart since Everyday Food featured it in May 2010. Whenever I opened the magazine, the tart would tempt me. So why did I wait three years to make this beautiful chocolate raspberry tart? For one, I didn't have a tart pan, though this is easily remedied. The real reason: I had fantasized about it for so long, I thought it could never live up to my expectations. Imagine my surprise when it surpassed them!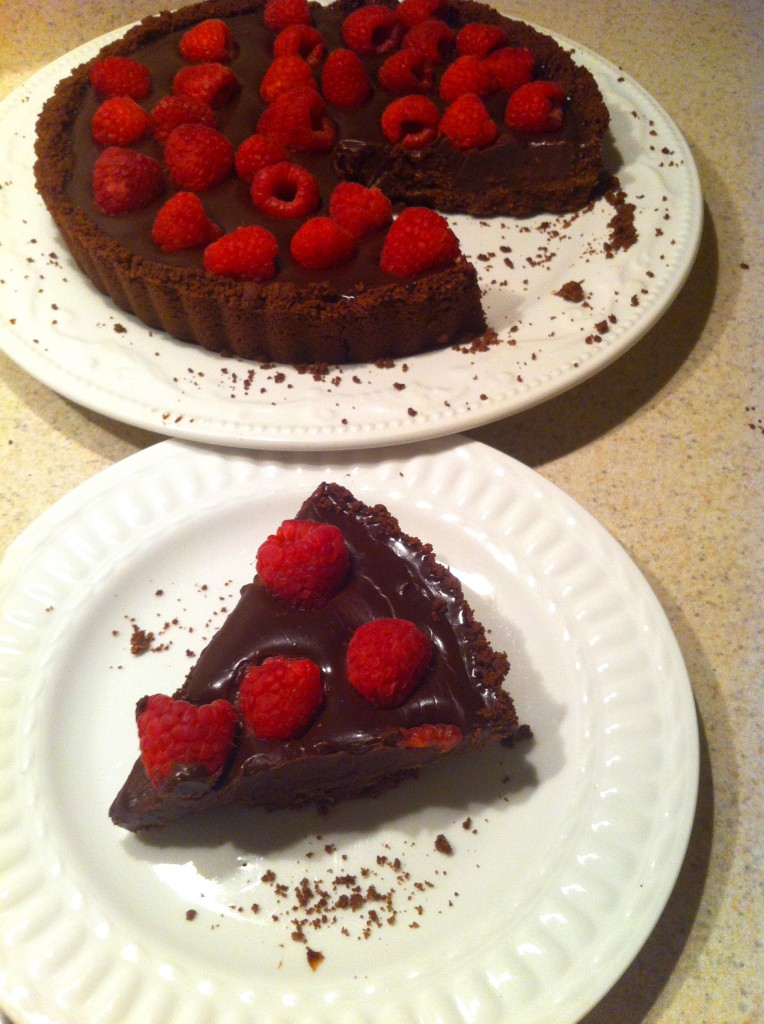 My friend kitchenchantress and I jointly concocted this chocolate raspberry confection. The tart itself requires very little active time, is quite simple to prepare, and can be made in advance of an event. The homemade chocolate crust comes together in a few minutes with the help of a food processor, resulting in a magnificently dense, cookie-like crust. Usually, crusts don't excite me, but I wanted to savor each and every bite of this one!
The next layer consists of a chocolate raspberry ganache. The raspberry flavoring comes from Chambord, a versatile black raspberry liqueur used in baking and mixed drinks. When kitchenchantress asked me if I wanted to add anything to the ganache filling, Chambord immediately came to mind. What complements a chocolate raspberry tart better than raspberry liqueur? While the Chambord is optional, I'd recommend using it. Once the chocolate raspberry ganache has chilled, top with whole raspberries to finish this decadent dessert. Take my word for it: this is one tart you're going to want to make again and again.
P.S. Don't wait three years to make this! Buy a tart pan if you don't have one . . . this dessert alone is worth the purchase.
If you enjoyed reading this post, like my Facebook page and subscribe to my blog to follow my cooking adventures and flavorful journeys!
Chocolate Raspberry Tart

Print recipe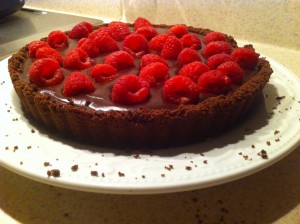 This chocolate raspberry tart has a dense, cookie-like crust, chocolate raspberry ganache filling, and is topped with whole raspberries, resulting in a decadent dessert.
Ingredients
crust
1 box vanilla wafers
1 cup powdered sugar
1/2 cup cocoa powder
6 Tablespoons melted butter (more if needed)
topping
1 1/2 Cups fresh rapberries (6 ounces)
ganache filling
12 Ounces semisweet chocolate (chopped)
1 1/4 Cups heavy cream
ganache filling (Optional)
1 1/2 Tablespoons Chambord
Directions
crust
Step 1
Preheat oven to 350°F.

Using a food processor, pulse the vanilla wafers until finely crushed. Stir in the powdered sugar and cocoa powder until evenly blended. Stir in 6 tablespoons melted butter; if crust is dry add more butter, 1 TBS at a time, until moist. Press crust mixture into tart pan, compacting the crust with the bottom of a measuring cup. Bake for 12-15 minutes.

ganache filling
Step 2
Place chopped chocolate in a large bowl. Heat cream in the microwave until hot, 1-2 minutes. Pour cream over chopped chocolate and let sit for 2 minutes. Stir mixture until chocolate is smooth. Add Chambord and mix thoroughly to blend.
Step 3
Pour chocolate into cooled tart shell and refrigerate until set, about 1 hour.
topping
Step 4
To serve, remove tart from pan and scatter raspberries on top.