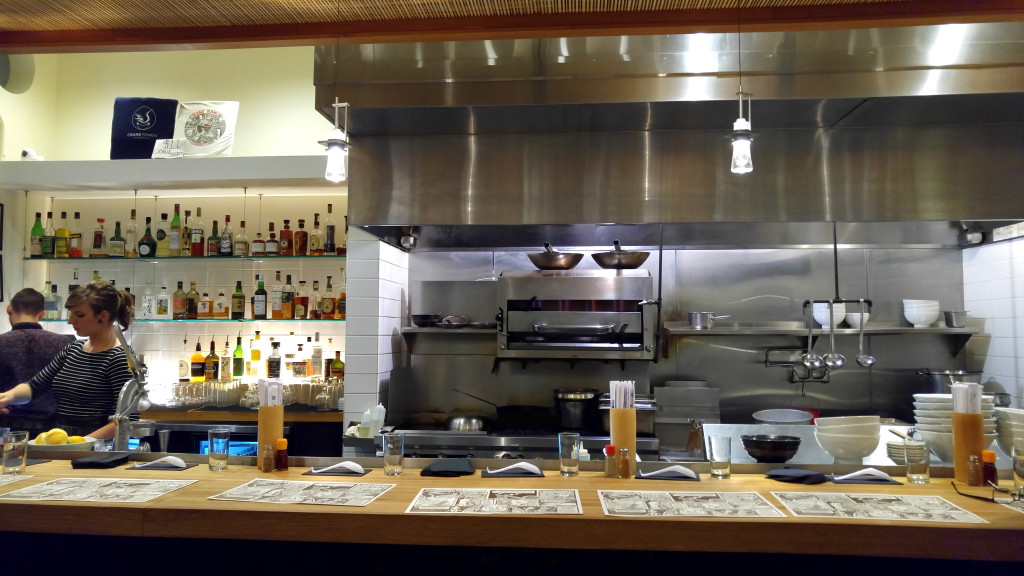 Interior of Crane Ramen Restaurant in Gainesville, FL
When my mother called and told me that Crane Ramen—the first ramen restaurant in Gainesville, Florida—had opened, I decided to check it out. It's hard to find a ramen restaurant outside the big cities, though with the increasing popularity of ramen, that may change. I've been spoiled by all the ramen joints in Chicago (Santouka being my favorite) and Atlanta, so it was exciting to see one open in my little hometown.
Crane Ramen's Atmosphere and Setting
Crane Ramen features a vibrant, modern interior with an open kitchen, illustrated placemats showing how to eat ramen (the secret is to slurp and slurp quickly!), and ceiling banners featuring the restaurant's logo—a crane stretched proudly over an empty stack of bowls. This may be a reference to longevity, as cranes are fabled to live 1,000 years in Japan, and noodles symbolize longevity in some Asian countries.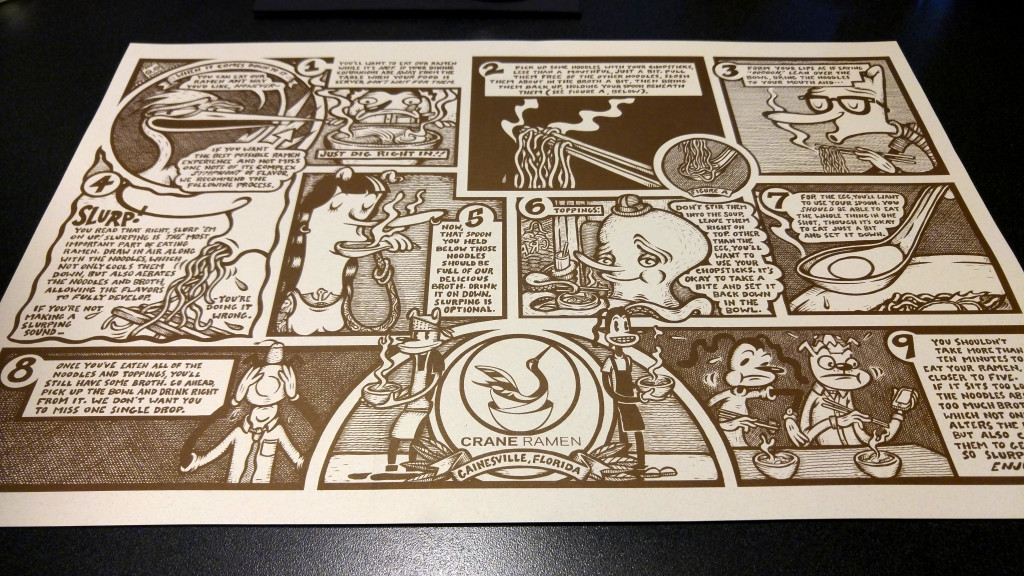 Illustrated Placement Showing How to Eat Ramen at Crane Ramen Restaurant in Gainesville, FL
Never had ramen before? Crane ramen has you covered. Their placemats playfully show diners how to eat ramen the Japanese way. You see, there's a significant difference between how Westerners and the Japanese eat noodles. In Japan, it's polite to slurp your noodles and make noise while eating—the polar opposite of our table manners.
Crane Ramen explains the reason for this: "Slurping is the most important part of eating ramen. Draw in air along with the noodles, which not only cools them down, but also aerates the noodles and broth, allowing the flavors to fully develop. If you're not making a slurping sound—you're doing it wrong."
I can't mention this without bringing up one of my favorite scenes from Juzo Itami's Tampopo. In it, a group of young Japanese women are being trained to eat spaghetti the Western way, quietly and without slurping. Meanwhile, a Western man is eating noodles at the same restaurant, but trying to do so the Japanese way. The clip cuts between the two groups, and the effect is hilarious. Check it out below.
Let's Talk about the Food at Crane Ramen!
Crane Ramen believes in making food from scratch, which you can tell from all the ingredients and dishes they make in house—from cocktail syrups to liqueurs to intensely flavorful stocks. They also source most of their ingredients locally, with the exception of the noodles; those they get from Sun Noodle, a noodle supplier that supplies 9 out of 10 restaurants that New York Times critic Pete Wells named the best ramen destinations in New York.
What to Order at Crane Ramen
Kimchi Brusselss Sprouts, Roasted Pork Belly Steam Buns, and Spicy Pulled Pork Paitan (if you like spicy food).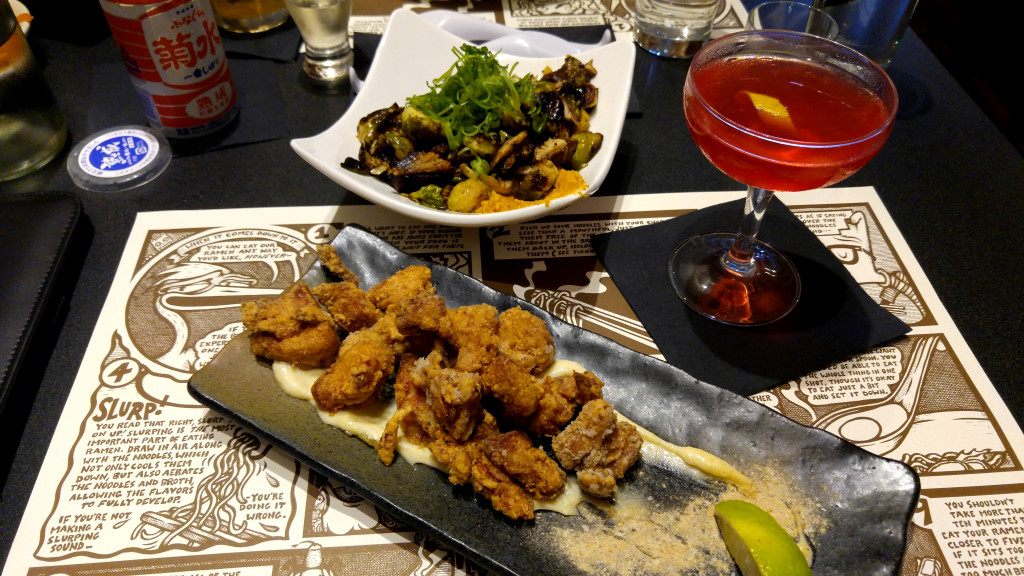 Kimchi Brussels Sprouts, Fox & the Bear Martini, and Kara-Age Chicken
The roasted brussels sprouts are nicely caramelized and tossed with garlic, sautéed mushrooms, and crispy bits of lardon—cubed pork fat that resembles bacon. The dish is finished with a kimchi puree, which adds just the right amount of tang and heat.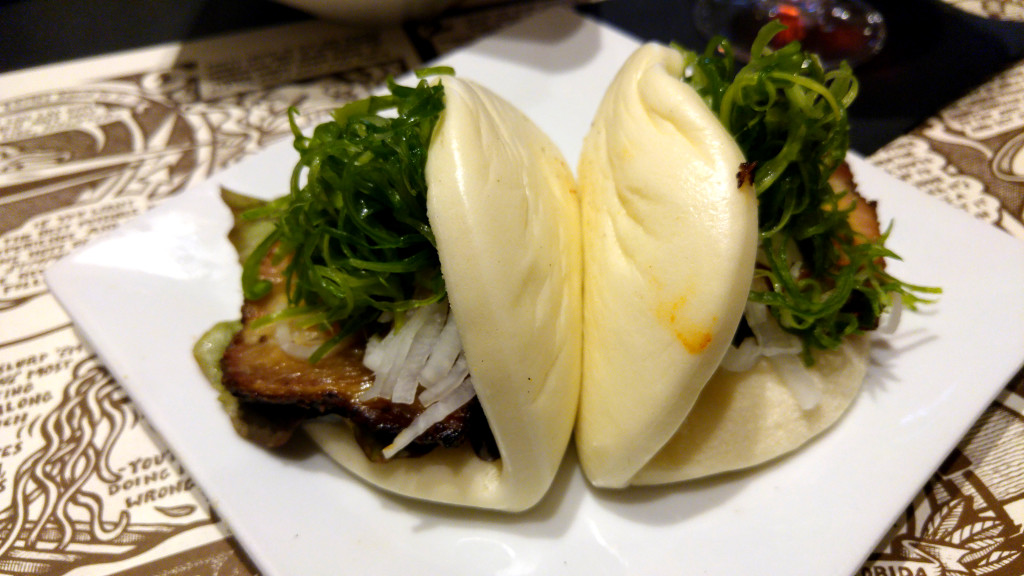 Star Anise-Crusted Roasted Pork Belly Buns
The pork belly is slow-roasted at a low temperature with sake, mirin, soy, and brown sugar, which produces tender, sweet meat with a crispy anise crust. The meat is nestled in a pillowy pork bun with sliced scallions and pickled daikon radish.
Spicy Pulled Pork Paitan Ramen with Soy Egg, Enoki, Pickles, and Scallions
Crane Ramen knows how to cook ramen—long and slow. They start by making the stocks, which are the flavor base of any ramen dish. Crane Ramen takes a purist mentality to making stocks using only meat and bones; later, once the stock is done, they add other seasonings. They even remove the fat from the stocks after cooking, and then add it back as desired. This gives complete control over the flavoring process.
The broth of this pulled pork paitan is thick, creamy, and spicy! It's their spiciest ramen on the menu, and I loved that they really brought the spice. The enoki, pickles, and scallions provide freshness and crunch, while the tender pulled pork adds richness.
What to Drink at Crane Ramen
The house signature cocktails and sake in a can!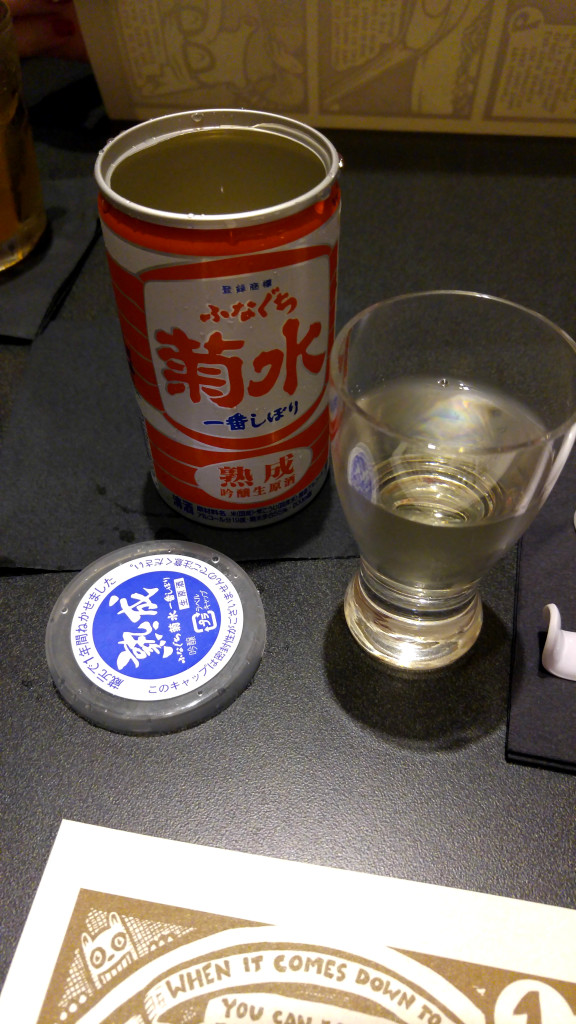 Kikusui Nama Ginjo Sake in a Can
Crane Ramen serves an interesting mix of cocktails, many featuring Asian flavors—like yuzu juice, ginjo sake, and citrus shochu—and house-made syrups. They were all delightful. But the drink that really made an impression for me was the canned sake. Who knew you could get sake in a can (much less a weird open-top can like this one)? I sure didn't, and I worked at a Japanese restaurant for two years! I also learned that they have beer and sake vending machines in Japan!
We ordered the Kikusui Nama Ginjo. Apparently it's stored in a can to keep it fresh and tasty. It's served chilled and has a very smooth, clean taste.
Crane Ramen Restaurant Information
Address: 16 SW 1st Ave, Gainesville, FL 32601
Phone: (352) 727-7422
Hours: Monday-Sunday 11 AM – 4 PM, 5 PM – 11 PM
Website: http://craneramen.com/
Crane Ramen is a great restaurant that serves piping-hot ramen with gelatinous, full-bodied broth. They make most ingredients from scratch and use locally sourced ingredients whenever possible. If you're in Gainesville, give them a try!
If you enjoyed reading this post, like my Facebook page and subscribe to my blog to follow my cooking adventures and flavorful journeys!