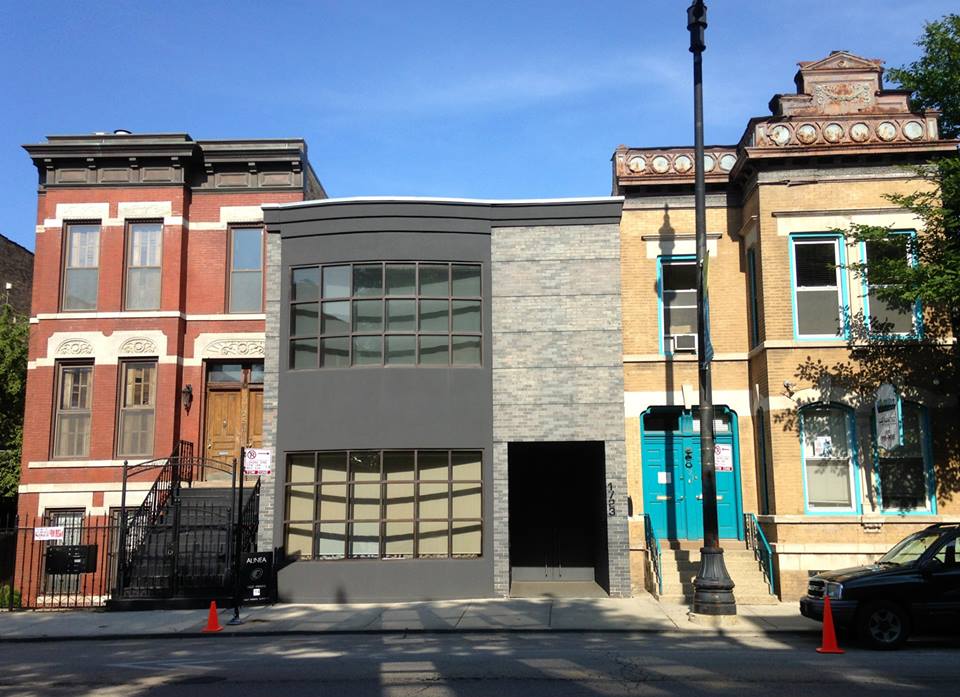 Alinea's nondescript exterior–it's the gray building in the middle.
Alinea has been on my radar for a while now. I first heard about it in 2012 when one of my favorite food bloggers wrote about her experience. In 2013, Bon Appétit named Alinea the fourth best restaurant in America (see The 20 Most Important Restaurants in America). It's also one of only two restaurants in Chicago with three Michelin stars, and it has been recognized as one of the world's 50 best restaurants since 2007.
Corey and I had always planned to visit Alinea before we left Chicago, and last July we finally did. Below I detail our experience there—if you plan to dine at Alinea and want to preserve the element of surprise, this is your spoiler alert!
Alinea has a slickly nondescript exterior: the façade is gray, with a dark, cavernous entrance. Its large exterior windows reveal nothing of what's inside. When you step inside, this is what you see . . .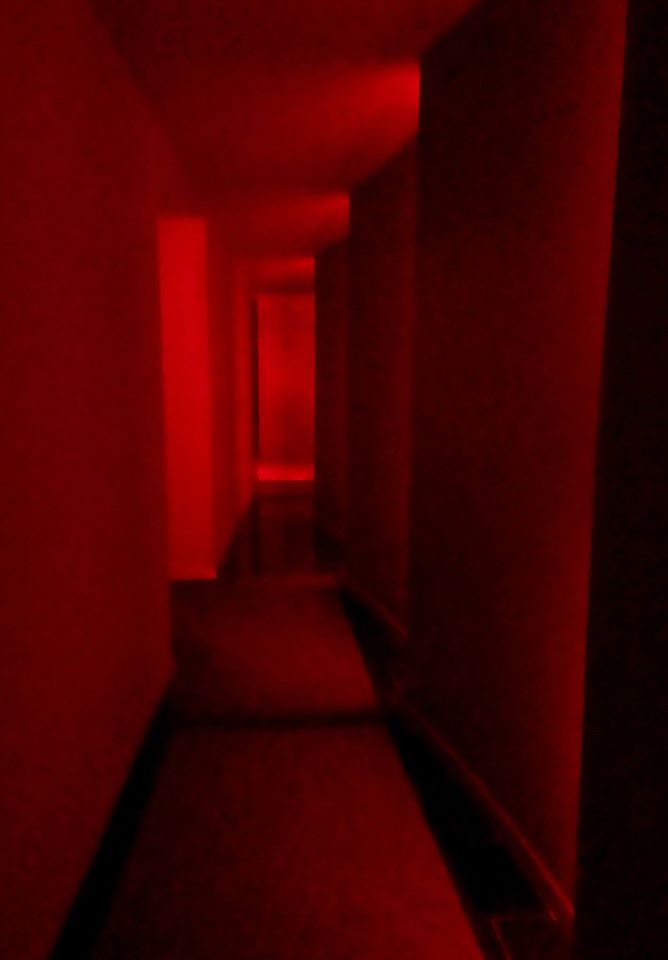 This reminded us of the shrinking hallway in Willy Wonka & the Chocolate Factory (the original). It terminates in a structure that resembles a mat of protruding needles. Luckily, an automatic door opens on your left before you get too close!
You're then led upstairs to your table. Alinea's minimalist interior features bare wooden tables, soft lighting, and subtle, often monochromatic, artwork. As it should be, the food remains the focus; it's the canvas where the magic unfolds.
Let's begin . . .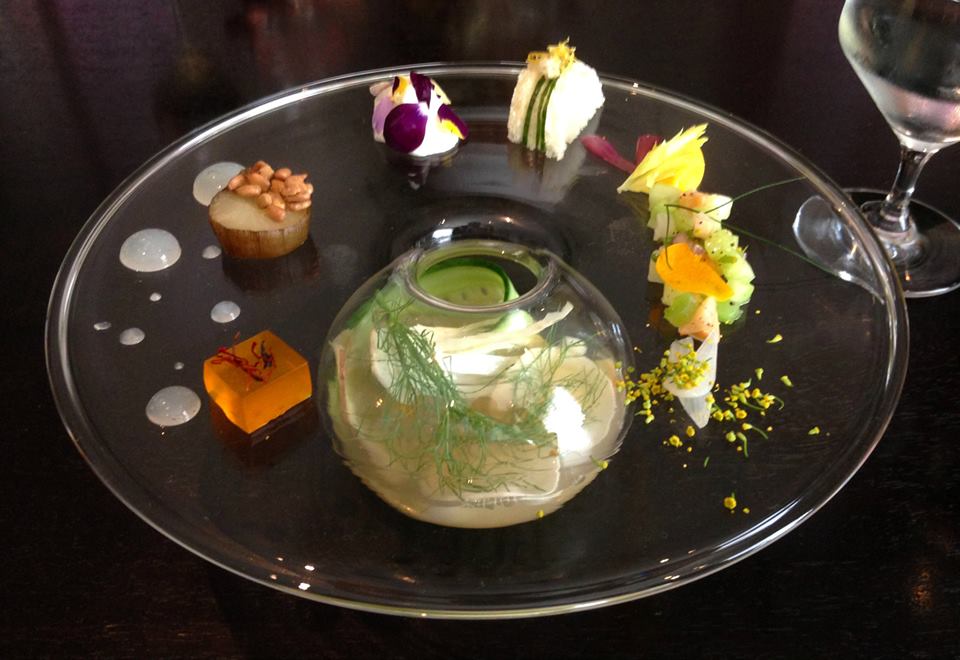 First of thirteen courses!
Alinea features a seasonal tasting menu; we enjoyed thirteen courses, but there are sometimes more than twenty-two. The artist in me loves the innovation and creativity poured into each dish—they're like edible works of modern art! They definitely adhere to the philosophy that "you eat with your eyes first." The beautiful colors, unique ingredients, and elaborate arrangements pique one's curiosity.
The first dish consisted of saffron gel, lemon syrup, sunchoke, a soft and creamy cheese, a cucumber tea sandwich, and diced surf clam. A bowl molded into the center of the dish contained cucumber slices and fresh dill suspended in clam broth–slurped with a stainless steel straw. The course was refreshing and cool—perfect for a summer day.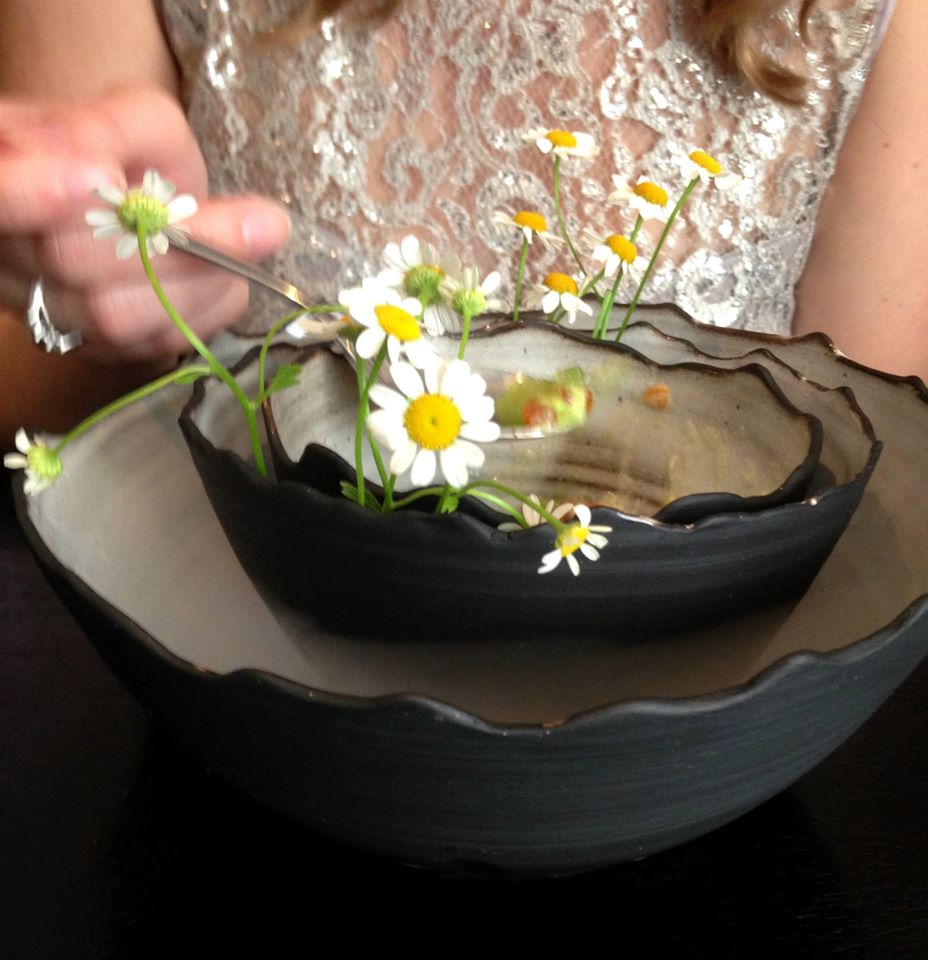 Course number two – steelhead roe
Though dissipated in the picture above, this dish arrived ensconced in a cloud of aromatic smoke, which derived from Chamomile tea and complicated the flavor profile. The steelhead roe was accompanied with English peas and olive oil. Amazing!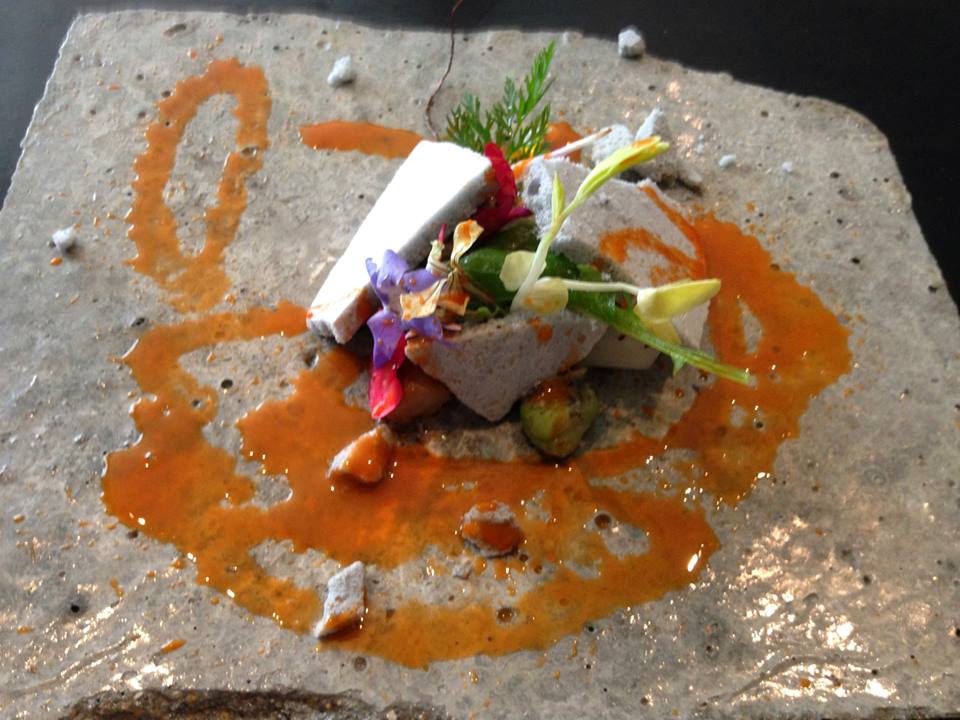 "Graffiti"—spring through the concrete!
This "graffiti" dish, served on a concrete slab manufactured in-house, was our favorite presentation of the evening. The orange "spray paint" is aerosolized carrot juice, and the faux concrete slabs are truffle foam. Roasted vegetables lie under this truffle "concrete," and edible flowers spring up through it, symbolizing the budding vitality of nature. A beautiful, playful, conceptual dish that tastes of earth, truffles, and flowers—truly wonderful!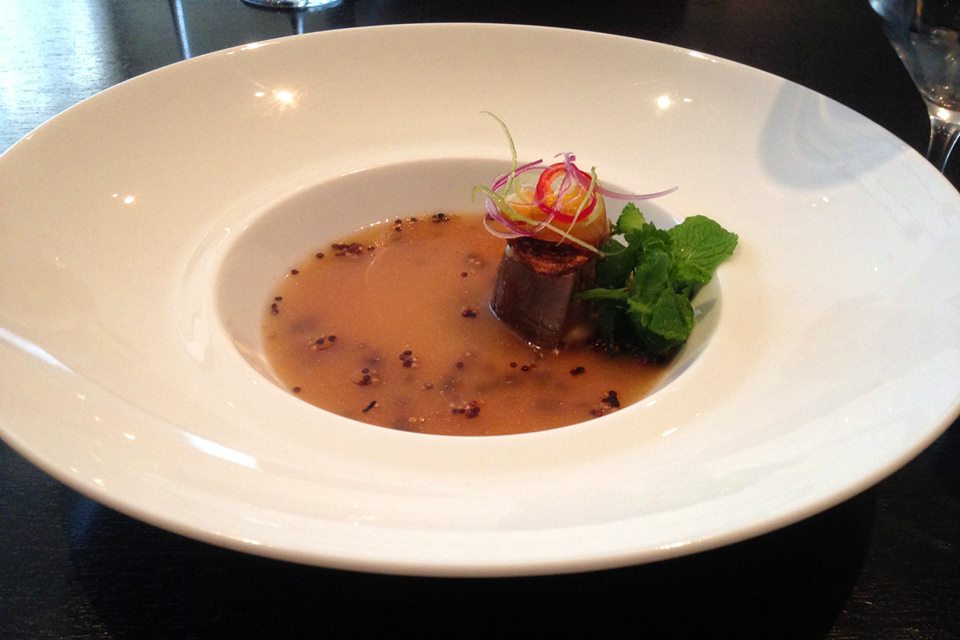 Eggplant with banana, cocoa nibs, and mustard seeds
This was one of my favorite dishes! Its excellent flavor arose from a unique combination of ingredients—some of which were hanging over our table for the first four courses. I had commented to Corey that a mobile above our table—made of lemongrass, chiles, and ginger—might be used in a dish since all the components were edible, and so it was. The aromatic broth was made by steeping this former decoration; it was then poured over the cocoa nibs and mustard seeds, creating a savory, spicy broth which paired well with the creamy eggplant and fresh mint.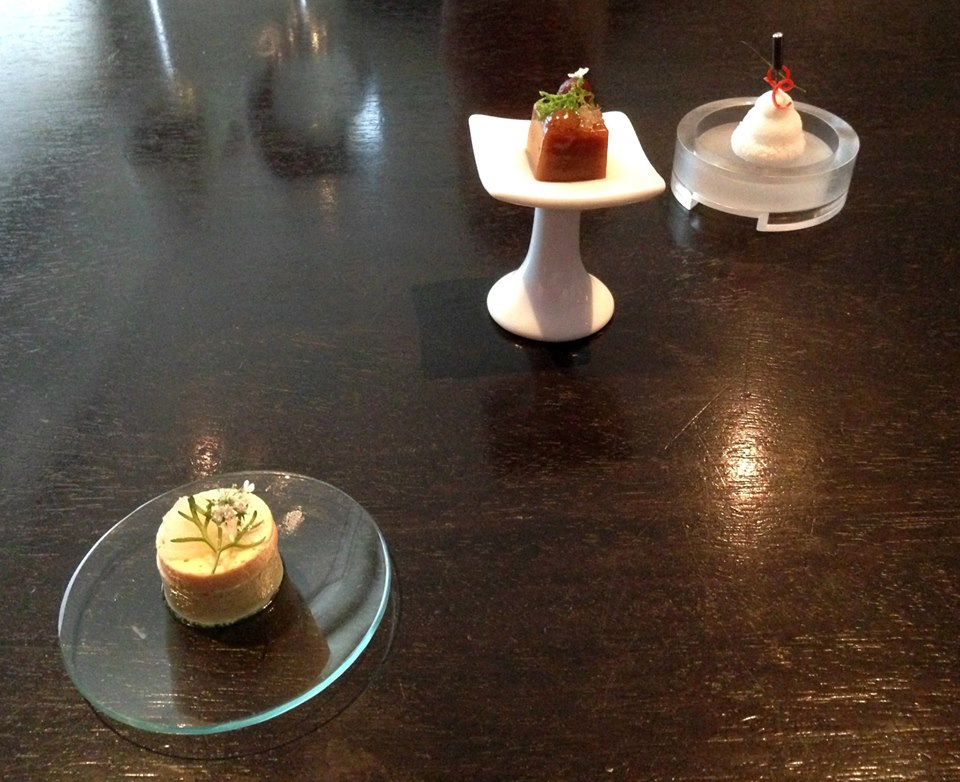 Bottom to top: crab, tamarind, Siam sunray
These delectable little morsels were the smallest course of the evening, but they hit above their weight. In fact, the middle one—a caramel infused with Thai flavors, including fish sauce, tamarind, young coconut, and nam prik num—was my favorite food of the night! It sounds weird, but it was awesome and I want another one (or five) right now.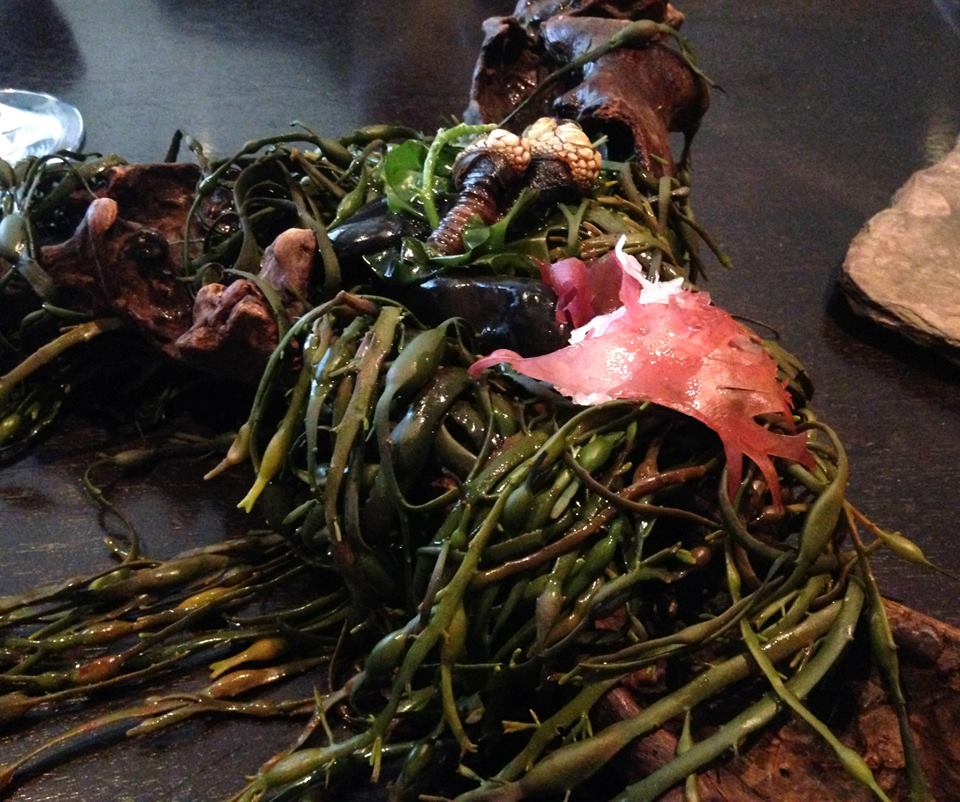 The edible part: the bizarre mollusks (percebes) in the center.
We experienced a number of ingredients for the first time while dining at Alinea, including these strange-looking mollusks known as percebes or goose barnacles. I loved their presentation on a seaweed-shrouded piece of driftwood, which recalls the sea even in Midwestern Chicago. One imagines sitting beside the ocean, smelling the salt air, and eating these mollusks.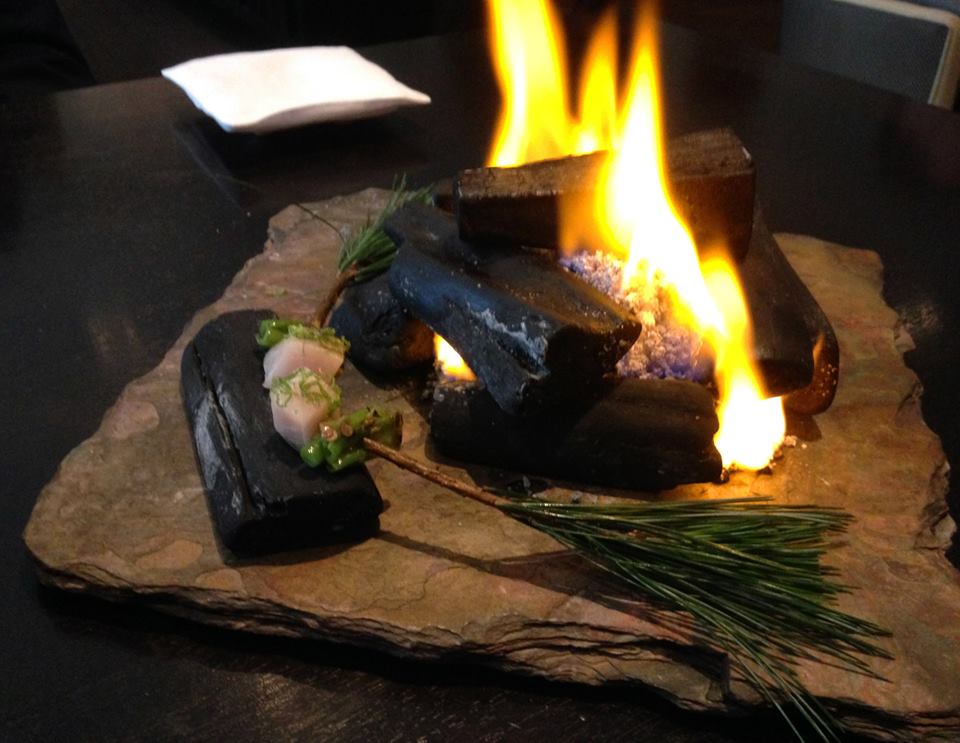 Hamachi, shishito, bean, and pine branch—plus a tableside fire!
I never thought I'd have an indoor campfire, but Alinea is full of surprises. For this dish, you can choose to eat the yellowtail raw or after searing it above the "campfire"—we opted for raw, of course! Having previously worked at a sushi restaurant, I love raw fish. What amazed me most about this dish was the flavor that the pine branch infused into it. Although I thought the branch was merely decorative, it in fact imparted a piney flavor to the fish; this went nicely with the smoky shishito peppers.
The fire was a trick! It wasn't used solely for ambiance—there was another course hidden inside the "campfire" all along! And here it is . . .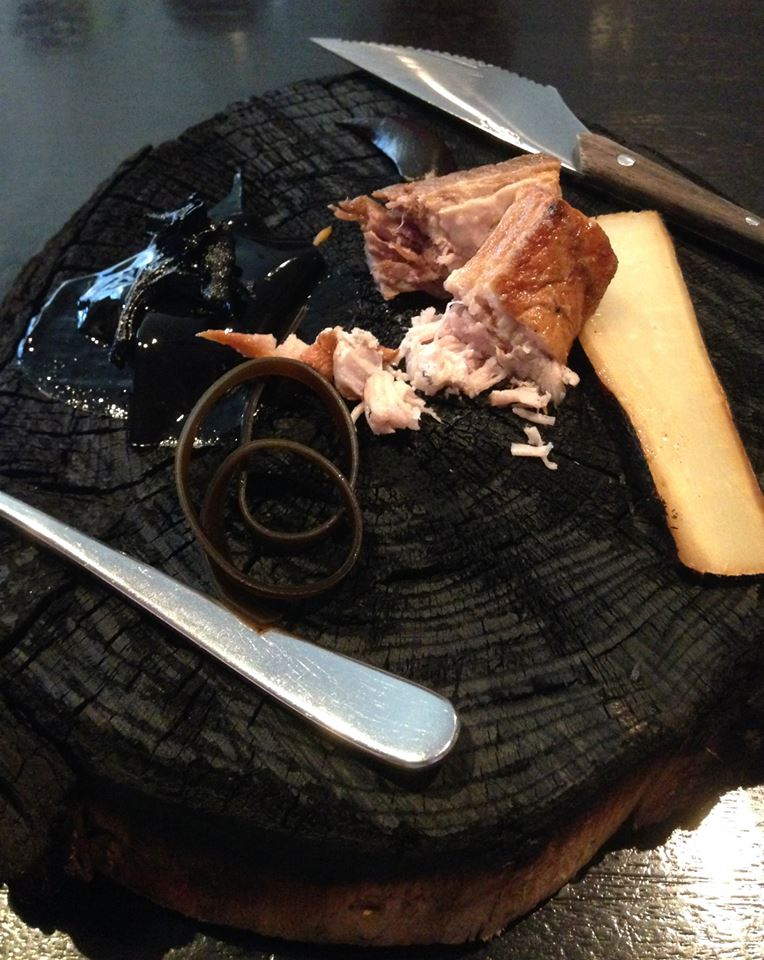 Pork belly, parsnip, black trumpet, and kombu
This was the simplest of all the dishes, with just four main ingredients—pork belly, parsnip, black trumpet, and kombu. But sometimes simple hits the spot! It was reminiscent of dinner served straight from the hearth—comforting and warm.
Rabbit, morel, ramp, and mastic served on redwood bark.
The chef wanted to create a dish that recalled his time in the Pacific Northwest; the redwood bark plating and the ingredients themselves highlight the forest's bounty. The dish's somewhat jumbled presentation imbues it with a natural, earthy look.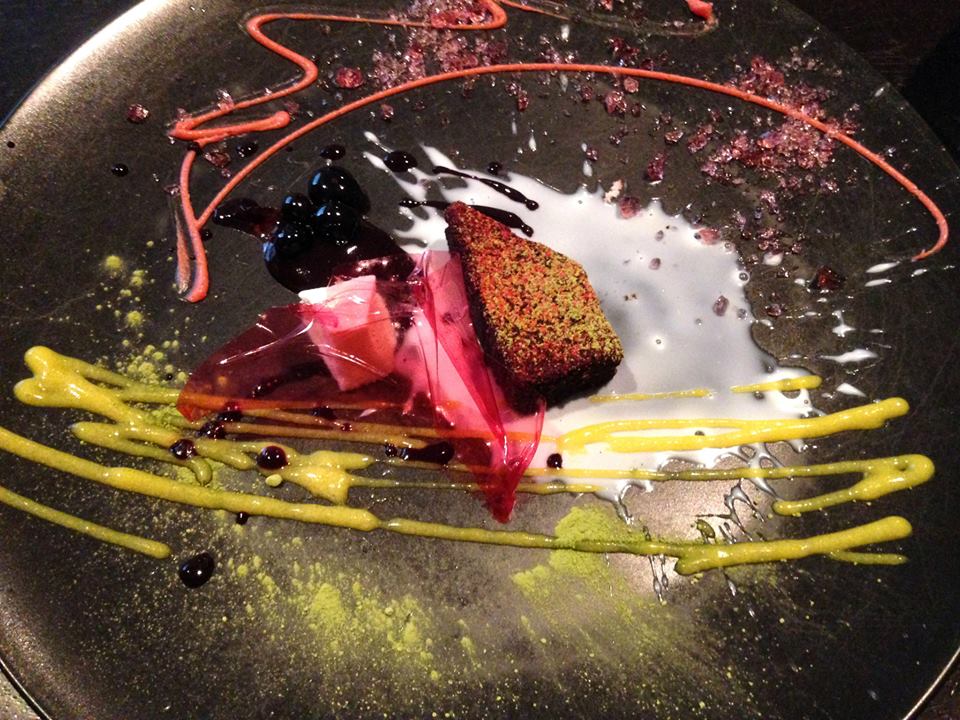 Best cheesecake. That's all.
Looking back over the desserts, I'm reminded of Jackson Pollock. The spontaneity, the controlled chaos. The beautiful splattering. The chef isn't just playing with colors, textures, and mediums, he's also balancing ingredients and flavors to create an amazing edible composition. This cheesecake was a great example, but so was the final dessert course.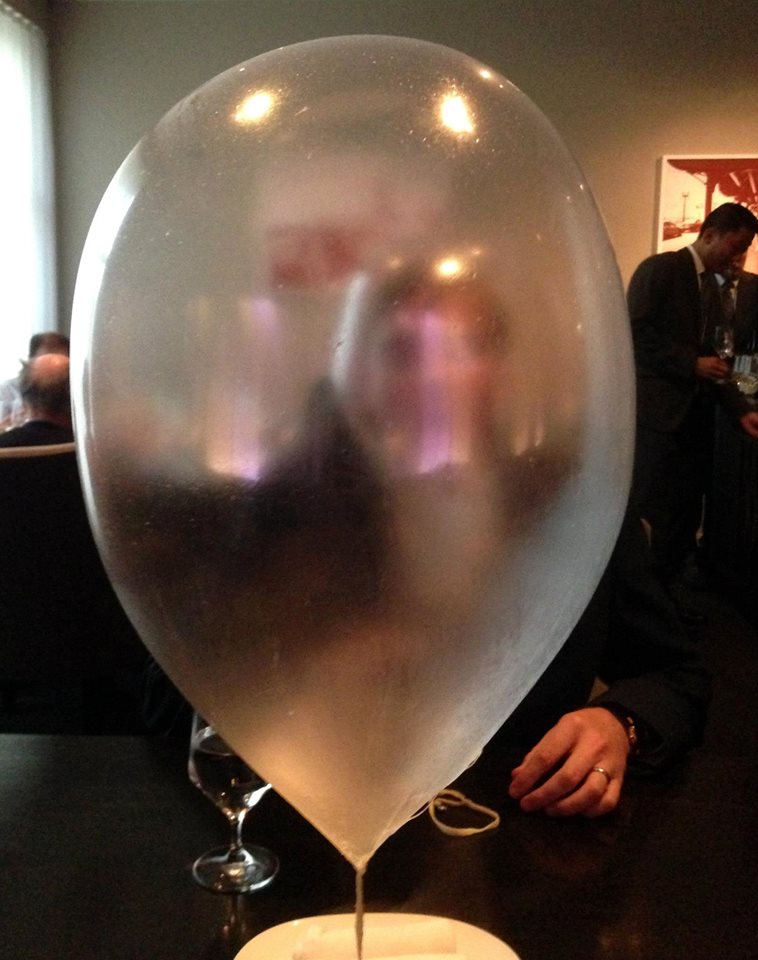 Edible apple balloon with helium!
This dish was certainly the silliest of the bunch—it's a giant balloon made from sweet, dehydrated apple and filled with helium. The challenge is eating it; to do so, they recommend "kissing" the balloon and inhaling. This met with mixed success—it will often just burst on your face. Don't worry, though: they give you a moist napkin just in case.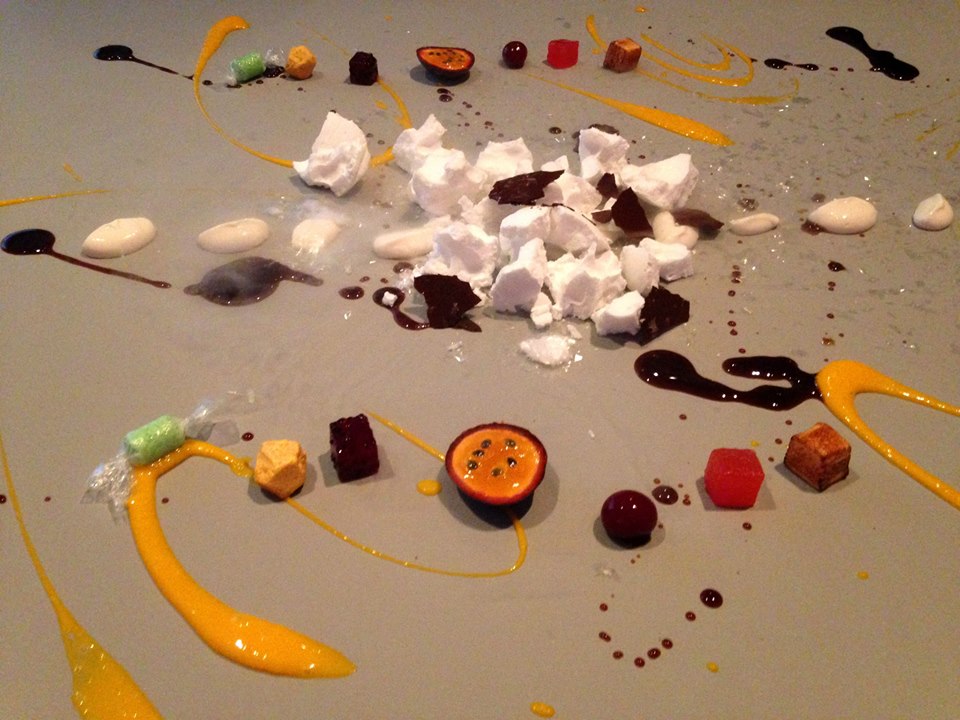 Tropical Fruit, Rum, Vanilla, Kaffir Lime
All of the courses featured unique presentations. For the last, they laid out a rubberized tablecloth and turned the table itself into the canvas. Pollock meets food. This was my favorite dessert of the night and a perfect end to a wonderful meal. The fruit sauces were phenomenal.
A visit to Alinea will change the way you look at and think about food. It's a surreal, fun-filled sensory experience guaranteed to leave a lasting impression. And it's definitely worth traveling for! We thoroughly enjoyed our night out at Alinea and can't wait to return.
Information about Dining at Alinea
Address: 1723 N Halsted St, Chicago, IL 60614
Phone: (312) 867-0110
Website: alinearestaurant.com
A note about reservations: Alinea doesn't have a normal reservation system; rather, it sells tickets (which comprise the whole cost of the meal, including tip, unless you add on beverages) for particular dates and times. Prices vary depending on day of the week and time, roughly correlated with anticipated business and other seasonal factors.
If you enjoyed reading this post, like my Facebook page and subscribe to my blog to follow my cooking adventures and flavorful journeys!