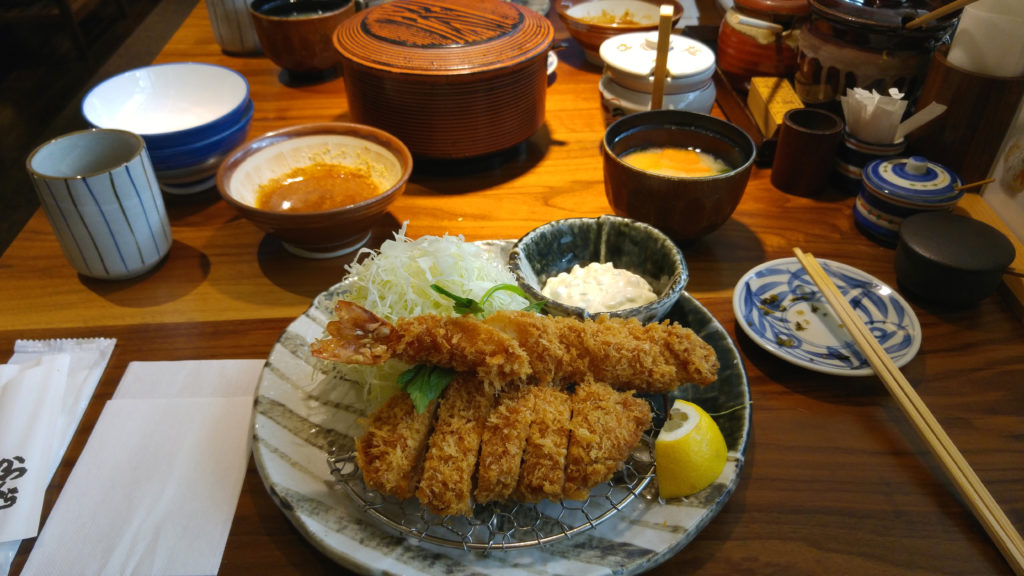 Tonkatsu Pork Filet and Prawn at Katsukura Shinjuku
Katsukura Restaurant is located on the 14th floor of the Takashimaya Mall in Shinjuku, a short walk from Shinjuku Gyoen National Gardens.  Katsukura specializes in tonkatsu—a Japanese dish consisting of pork that has been coated in flour, egg, and panko breadcrumbs, and then deep fried. This preparation produces delicately airy pork with a crispy exterior. If you visit Japan, you must try tonkatsu at least once!
Katsukura is a tourist-friendly restaurant. Upon arrival, they brought us cold barley tea (commonly served in the summertime in Japan) and offered us English menus. Fans of Japanese whiskey will be happy to see that you can order a high-ball of Yamazaki or Hakushu for around ¥650 (~$5-$6 USD). This is not bad at all given the price of Japanese whiskey in the States!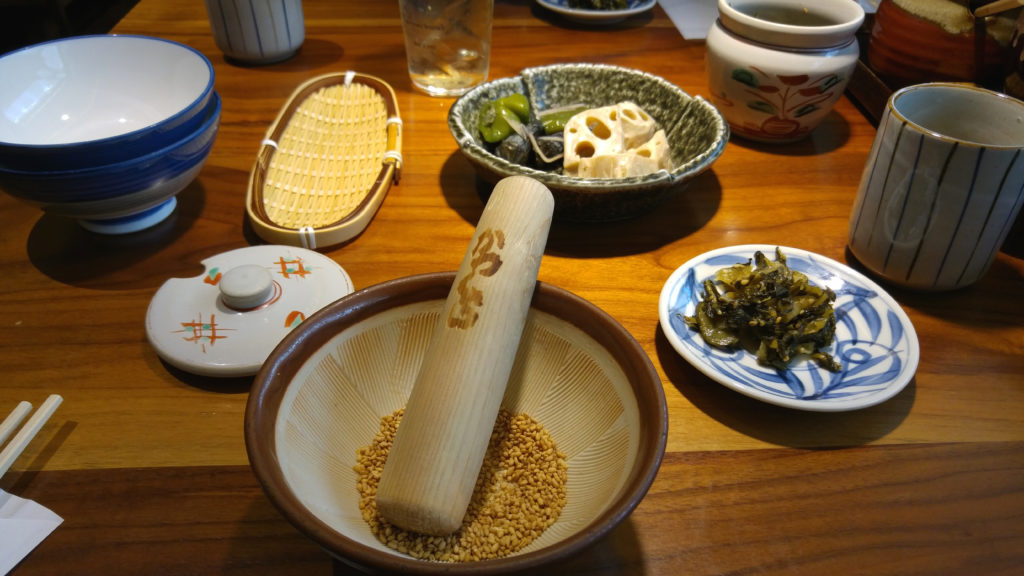 Roasted Sesame Seeds in Mortar and Pestle at Katsukura Restaurant
Before our tonkatsu was served, the waiter brought out roasted sesame seeds in a mortar and pestle, for us to grind ourselves. Next, we chose a sweet or spicy sauce to add to the ground seeds. This was the dipping sauce for our tonkatsu. We enjoyed grinding our sesame seeds and making the sauce. It was a simple thing, but it made us feel more connected to our meal and added to the dining experience.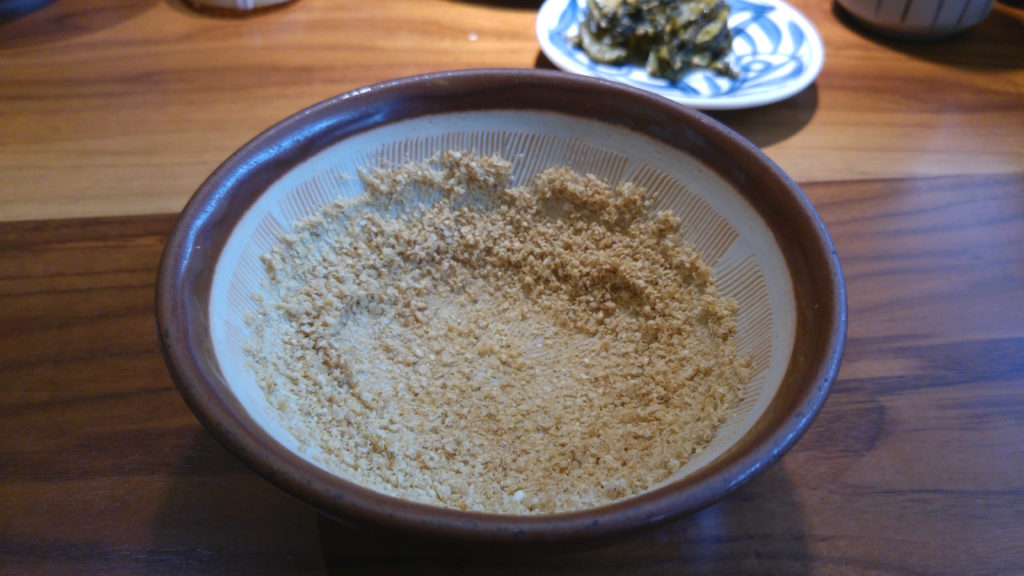 Ground Sesame Seeds in Mortar and Pestle at Katsukura
For appetizers, they gave us creamy lotus root, grilled shishito peppers, tiny blue eggplants, and a jar of Japanese pickles. Japanese cuisine commonly features vegetables—it's usually not as meat-focused as American cuisine. Here, though, the true star of the meal was the tonkatsu!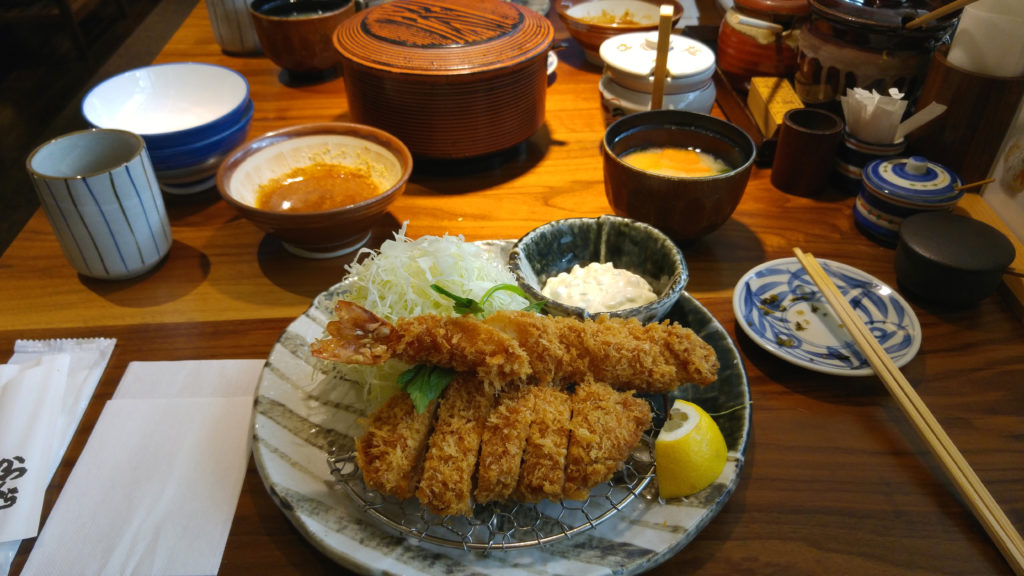 Tonkatsu Pork Filet and Prawn at Katsukura Shinjuku
The tonkatsu arrived with thinly sliced shredded cabbage, which we topped with ponzu (a citrusy soy sauce that's tangy and delicious). We also squeezed lemon over the pork for some added acidity. The tonkatsu at Katsukura was cooked perfectly and so tender! The cabbage was a refreshing counterpoint to the richness of the tonkatsu.
The meal was rounded out with miso soup and steamed rice. Almost every meal in Japan includes miso soup—a soup made from dashi stock and miso paste featuring tofu and vegetables. Traditionally, miso soup is eaten with every meal. Many variations are not like the miso soup typically served in America (tofu, wakame seaweed, green onions, miso paste, and dashi); instead, they may contain many different ingredients, including meat or seafood—though the broth is always the same.
We loved dining at Katsukura. The restaurant had generous portions, delicious food, and friendly staff. If you're in Shinjuku and looking for a tonkatsu restaurant, give it a try. Also, please be sure to check out my general restaurant tips for dining out in Japan, if you haven't already.
Info about Eating at Katsukura Shinjuku
Hours: Monday – Sunday – 11 AM – 11 PM (Last order 10 PM)
Address: Takasimayataimuzu Square Bld.14F, 5-24-2, Sendagaya, Shibuya-ku, Tokyo, 151-0051, Japan
English Website: http://www.katsukura.jp/en/index.html
Phone: 03-5361-1878
If you enjoyed reading this post, like my Facebook page and subscribe to my blog to follow my cooking adventures and flavorful journeys!