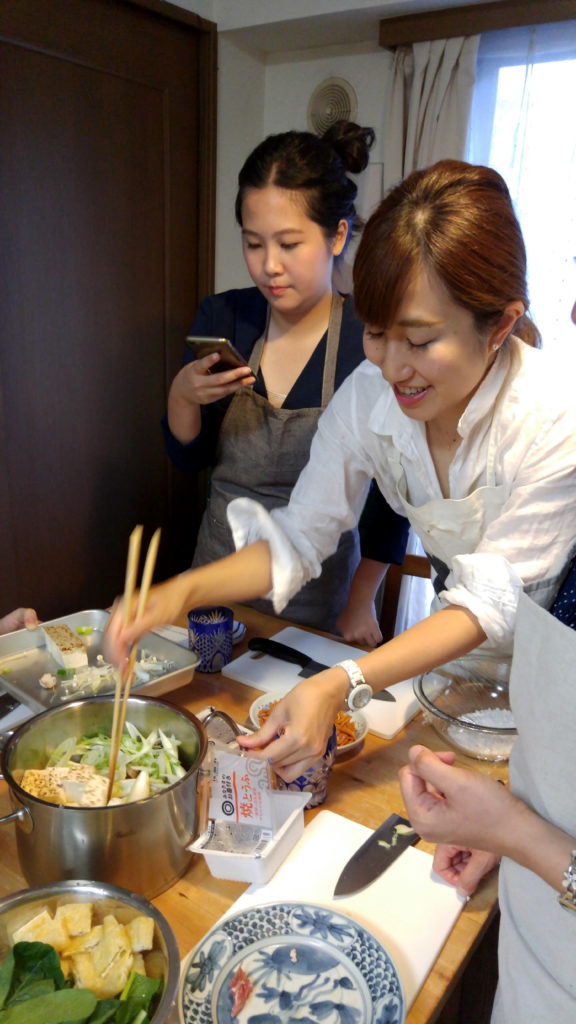 Japanese-Homestyle Cooking Class in Mayuko's Little Kitchen
Whenever I travel, I try to immerse myself in the culture and experience local cuisine. I enjoy dining out, visiting markets and cafés, and tasting different regional specialties and styles of cooking. But I also like to see how the locals cook, as restaurant cooking usually differs significantly from what's prepared in the home. That led me to Mayuko's Little Kitchen.
Mayuko is a young Japanese woman, who quit her job as a cosmetics manager to follow in her mother's footsteps as a cooking teacher. She teaches out of her small Tokyo apartment located on the border of Shinjuku Gyoen National Garden in a quiet residential area just off the main bustle. Her classes give an intimate glimpse into Japanese cooking.
Mayuko offers many different types of Japanese cooking classes, including ones focused on bento boxes, sushi, homestyle cooking, and tofu. Corey and I opted for the tofu class since we didn't have too much experience cooking with tofu. We found the idea of a whole menu, including dessert, featuring tofu intriguing. Note: this wasn't a vegetarian meal (though one of the attendees was vegetarian and Mayuko accommodated her dietary needs with special dishes, when necessary).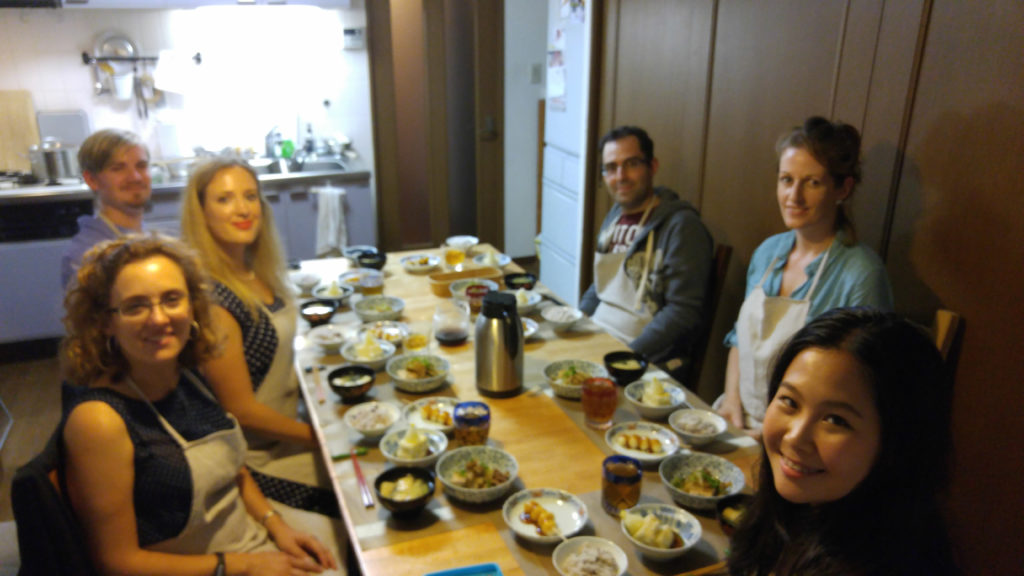 Mayuko's Little Kitchen Cooking Class Sitting Around Mayuko's Table Sharing a Meal
Mayuko teaches in English and her classes consist mostly of foreign tourists from around the globe. When we attended, there was a couple from Spain, a girl from France, and an Indonesian girl who was studying abroad in Japan. Class sizes range from 1 to 6 students; this gives you a chance to talk to Mayuko and the other attendees. It's a very friendly, welcoming environment and at the end of the cooking class, everyone sits around Mayuko's table and shares a meal together.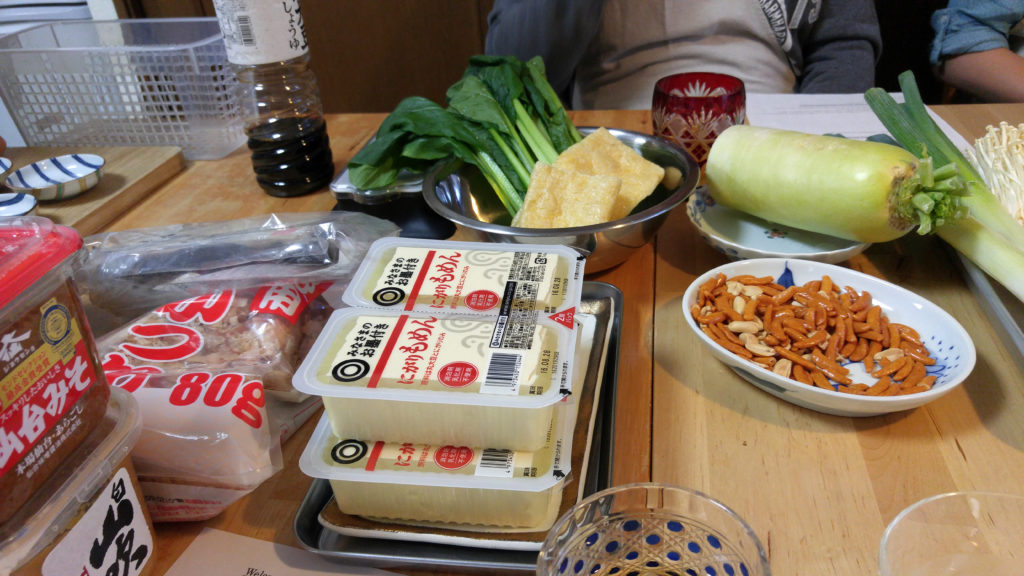 Ingredients Used in Mayuko's Little Kitchen Tofu Class
At the beginning of the class, Mayuko introduces you to the 4 main seasonings essential to Japanese cuisine: miso paste, soy sauce, mirin, and sake. She explains the ingredients, the different types and their uses, and the best way to store the ingredients for optimal flavor. She also passes everyone small dishes of the seasonings to smell and taste. Corey and I were already familiar with these ingredients as they're staples in our pantry and fridge, but I imagine this would be highly informative if you were new to Japanese cooking.
Mayuko did provide some interesting facts, such as the process to make red miso and white miso paste is exactly the same.  The only difference between the two pastes is in the length of fermentation; red miso requires 2 years of fermentation and is saltier than white miso. In addition to talking about the seasonings, she discussed the other ingredients we would be cooking with and the preparation involved.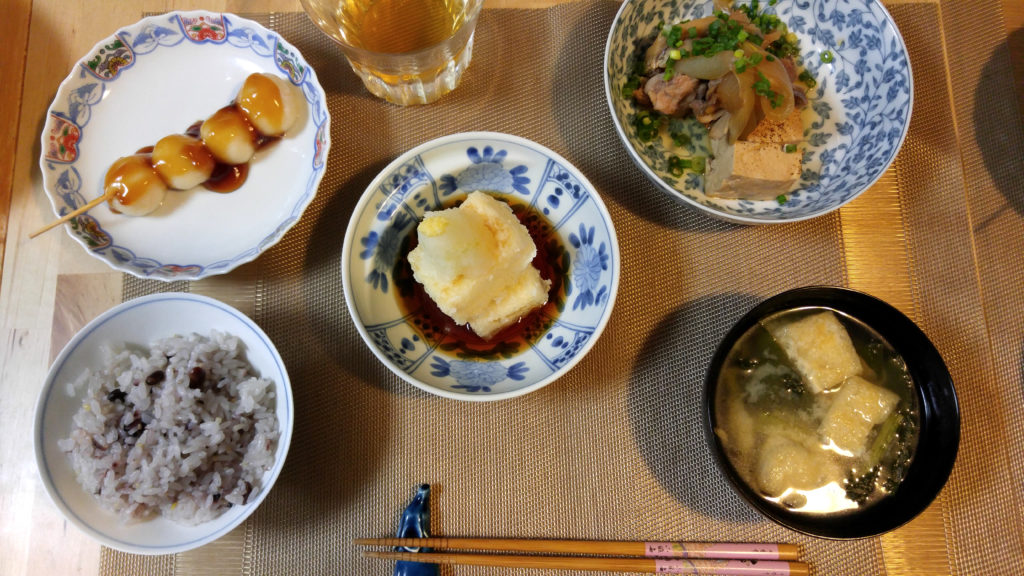 Mayuko's Little Kitchen Tofu Dinner
Mayuko's Little Kitchen Tofu Menu
Barley Tea served cold
Miso Soup (Omiso Shiru)
Fried Tofu with Japanese Sauce (Agedashi Tofu)
Simmered Tofu and Pork (Niku Doufu)
Skewered Rice Dumplings in a Sweet Soy Glaze (Mitarashi Dango)
Rice
The dinner featured a main course, a side, miso soup, rice, and a dessert. Most people who've eaten Japanese food before are familiar with miso soup. It's fundamental to Japanese cuisine and is traditionally served with every meal.
The broth consists of dashi stock, which is made from bonita flakes (smoked, fermented, dried, and shredded slipjack tuna) and kumbu (dried kelp). White miso paste, made from fermented soy beans, is tempered into the broth. This is what gives miso soup its cloudy consistency and saltiness. Miso soup served in the States almost always features cubed tofu, wakame seaweed, and thinly-sliced scallions. However, in Japan you can use whatever vegetables you have on hand. In this class, we used Japanese mustard greens and deep-fried tofu.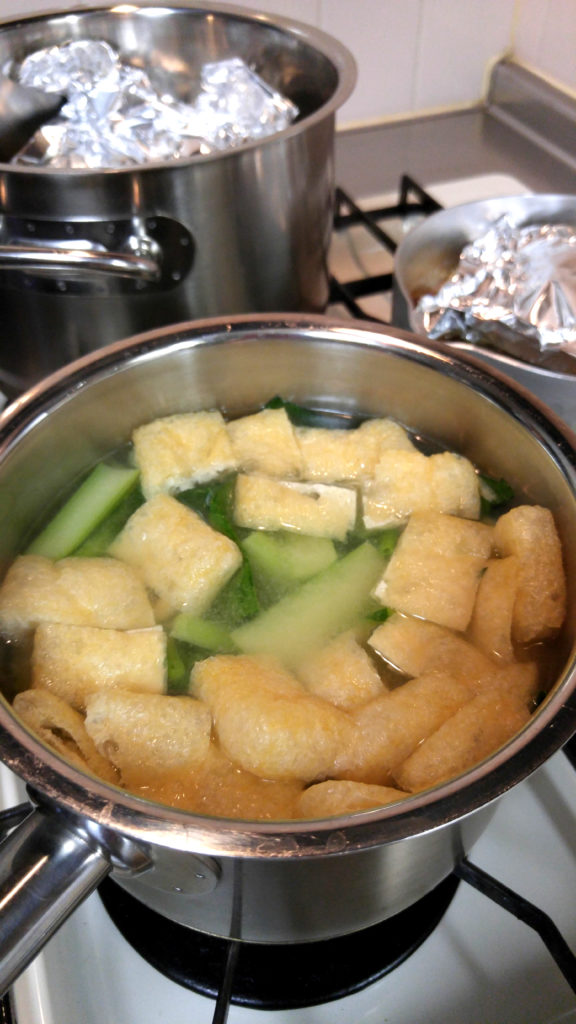 Miso Soup with Japanese Mustard Greens and Deep-Fried Tofu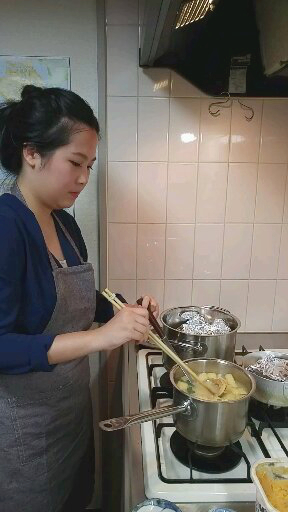 Tempering Miso Paste Using Ladle and Chopsticks
It's important when making miso to make sure the miso paste is fully dissolved in the soup and no clumps remain; the best way to do this it to hold a ladle with hot broth out of the water and gradually stir miso paste into the ladle, until the paste is fully incorporated. You then repeat this process with the remaining miso paste.
For the main course, we made simmered tofu and pork, similar to this Japanese pork and potatoes dish I blogged about previously, except grilled tofu was used instead of potatoes. This dish is commonly served in Japanese homes. Mayuko recommended trying to segregate the ingredients in the pot, which makes plating easier. She taught us that when plating it's common to stack the ingredients into the shape of a mountain. The Japanese put a lot of thought into presentation and believe that you first eat with your eyes. This is most apparent in kaiseki cuisine.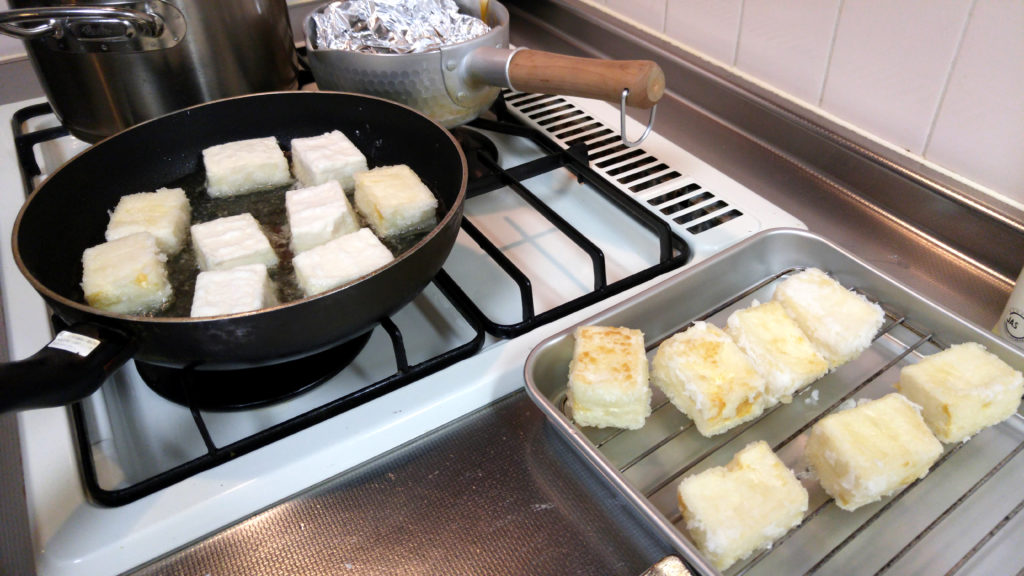 Making Agedashi Tofu in Mayuko's Little Kitchen Cooking Class
Agedashi tofu is deep fried tofu served with a savory-sweet sauce made from dashi, soy sauce and mirin. When making agedashi tofu, it's important to press the tofu before frying to remove excess water. This will help make your tofu nice and crispy. You do this by resting a plate on top of the tofu for 15 minutes and then draining the excess water. You place finely grated daikon radish and ginger atop the deep-fried tofu. It takes time to finely grate daikon radish and Mayuko told us that many restaurants in Japan serve it to costumers as symbol of hospitality.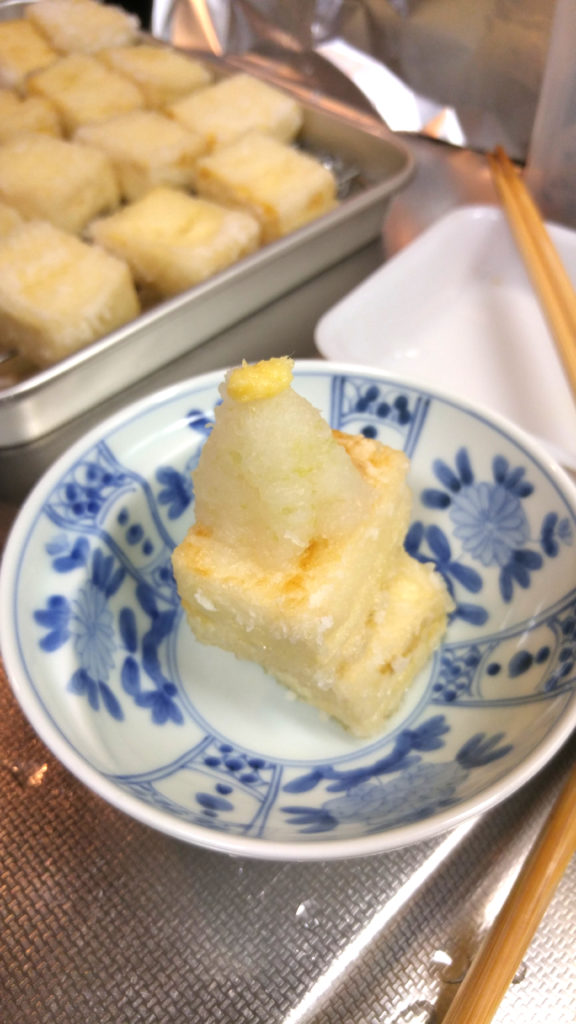 Agedashi Tofu with Daikon Radish and Ginger (before the sauce is added)
Mitarashi Dango, Barley Tea, Agedashi Tofu, and Rice
Mitarashi dango was the only dish that was new to me, so I was super excited to try it. It's a Japanese dessert dumpling that's made from sweet rice flour and silken tofu. The flour and tofu mixture is shaped into balls and boiled, then topped with a sweet soy glaze. These creamy dumplings with the salty-sweet glaze was my favorite dish of the evening (I will be sharing a recipe with step by step instructions shortly)!
Mayuko's Little Kitchen cooking class provides insight into the Japanese kitchen and is a great introduction to Japanese cooking. Mayuko is a really nice and knowledgeable host. She goes out of her way to make her guests feel comfortable and she offers tips and suggestions for things to-do in the area.
If we were going again, I would be more specific in requesting what items I'd like featured in the class (there's a whole list of dishes you can choose from on her website), as the class we participated in mostly covered foods we were familiar with. But, it was a fun experience regardless and we were glad we went.
Info about Mayuko's Little Kitchen Cooking Class:
Duration: 2 ½ to 3 hours
Time: The lunch class starts at 10:00 AM. The dinner class starts at 5:00 PM.
Location: Shibuya, Tokyo—Mayuko will meet you at Sendagaya station or you can go directly to her apartment (Mayuko will email you her exact address, once you have booked a class).
Cost: Cooking class with one main dish/sushi class/bento box class – 9,000 JPY + VAT 8% per person
Cooking class with two main dishes – 11,000 JPY + VAT 8% per person
Class size: 1 to 6 students.
Payment method: PayPal
English website: http://www.mayukoslittlekitchen.com/
Phone:  Calling from outside of Japan: 81-80-3502-2005
Calling from within Japan: 080-3502-2005
I hope you get to visit Japan and Mayuko's Little Kitchen. If you do, leave me a comment and let me know what you cooked. 🙂 Also, if you have any recommendations for other cooking classes around the world, please share in the comments. I'm always on the lookout for authentic meals and experiences.
If you enjoyed reading this post, like my Facebook page and subscribe to my blog to follow my cooking adventures and flavorful journeys!