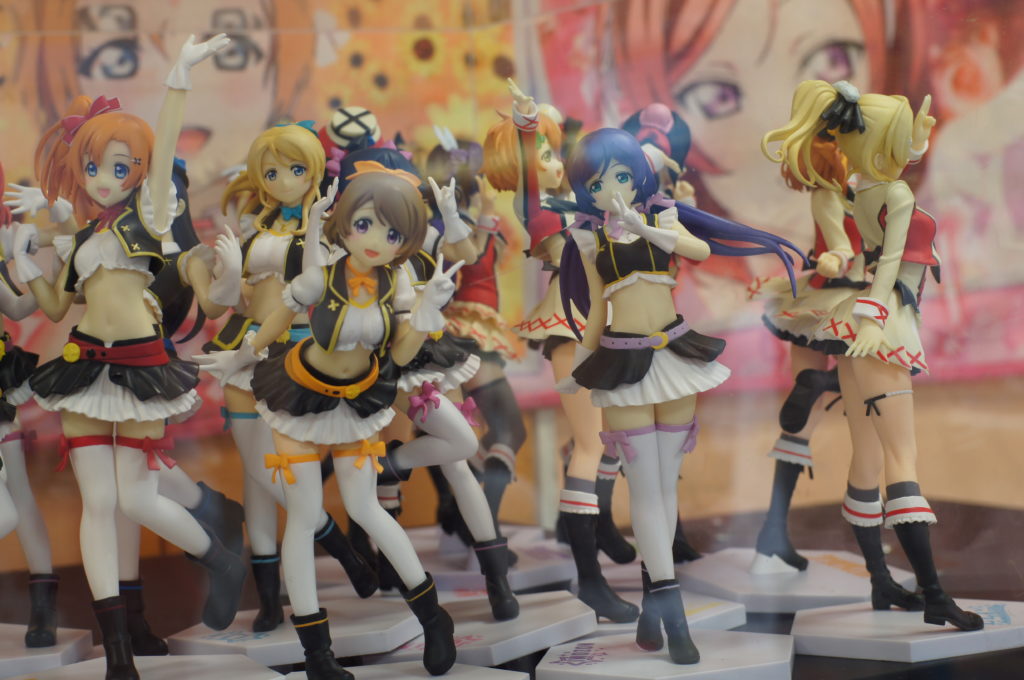 Anime Figurines in Arcade Display Case
Akihabara is a Tokyo district that celebrates Otaku culture (Japanese geek culture) and is a haven for fans of anime, cosplay, computer and arcade games, electronics, themed cafés, model kits, and more. You'll experience sensory overload in Akihabara—everywhere you look, something is happening. People walk the streets bedecked in cosplay. Brightly lit arcades with prize machines beckon. Huge signs display larger-than-life anime characters. Visit Akihabara to let loose and experience otaku culture in full force!
Geeking Out in Akihabara – Things to Do and Places to Visit
Go to Super Potato for all your retro gaming needs!

Me browsing the games at Super Potato

Super Potato—a five-floor retro video game shop in Akihabara—creates the same magical atmosphere for video game lovers that a candy shop does for kids, except instead of teeming bins of sugary goodness, there are rows upon rows of old school video game cartridges, retro gaming consoles, and other merchandise and accessories. Not to mention that the top floor boasts machines where you can play the classics, like Super Mario, to your heart's content! In case you need an energy boost, they have snacks and sodas sold in vintage coke bottles.

Gun Survivor 3 Dino Crisis with Guncon2 in Super Potato

Looking for an obscure retro game? There's a good chance Super Potato has it. They have all the classics plus many games you've probably never heard of.

Retro Video Game Display and Consoles in Super Potato

Rastan Barbarian Warrior Stairs in Super Potato

Collect anime figurines with UFO catchers.

The Haul of Anime Figures We Won in Akihabara

Warning: UFO catchers are addictive; once you win your first prize, you'll want to play again and again! Don't say I didn't warn you…

UFO catchers are an arcade game where you try to win prizes, usually anime figurines, using a two-armed claw. They're passingly similar to claw machines in the U.S., but are much more skill-based and feasible to win. Instead of trying to pick up the prize with the claws, as in the U.S. machines, you use the claws to move it toward a ledge and the prize chute.

Anime Figurines in Boxes with UFO Catcher Circular Tab

Many of the prizes have a circular tab on the box. Ignore this: it's designed to trick you! Instead, focus on hitting or nudging the box with the arms and maneuvering it so that it's more likely to fall. Even if you grab the tab (usually very hard to do in the first place), the box will slide some, but the arms are too weak to do much.

Here's a video demonstrating a UFO catcher in action. Watching it makes me miss playing in Akihabara!
Lose track of time playing in Akihabara's mega arcades.

Me Playing Video Games in a Mega Arcade in Akihabara

Akihabara doesn't mess around when it comes to arcades—they're massive multi-story gaming paradises. Typically, each floor features a different category of game. For instance, they have floors dedicated to prize games (such as UFO catchers), puzzle and strategy games, fighting games, dance/music type games, photo booths, and much, much more.

Unlike retro arcades in the U.S., many of the games are modern, with beautiful graphics and advanced gameplay. In fact, the gameplay can be so complicated that the tutorial is many minutes long (longer than you're alive if you're a beginner!). Corey did a tutorial before playing a shooting game that went through 15 different sections explaining how to move, jump, fly, and do various combination attacks with different weapons. The Japanese take their gaming seriously. It's a craft.

Taito Station Arcade in Akihabara

Rows of Retro Arcade Games in Akihabara – So Many Games to Play…

Collect toys from capsule machines. 

A Capsule Machine Store in Akihabara

Gachapon (capsule machines) are similar to gumball machines, but they dispense toys instead of candy, each in a plastic capsule. Whole stores in Akihabara are dedicated to capsule machines featuring different themes. Which toy you receive when you turn the lever is pure luck! You can make a one-time purchase or try to collect a whole set through repeat purchases.

My favorite capsule machine featured hedgehogs designed to hang off the lip of a glass. They were adorable and each one had a unique trait. For instance, I received a tan hedgehog holding a tomato and a white hedgehog that hangs upside down by its feet. So cute!

A Hedgehog Toy from a Capsule Machine on a Glass in Home Café

 Dine at a maid café for a dose of cuteness.

Akihabara offers many themed cafés, and maid cafés may be the most unusual. Japanese women dressed in maid attire serve cutesy food and drinks. We decided to go to Home Café to check out this unique cultural experience.

The whole thing is quite bizarre, a little awkward, but totally cute. The maids at Home Café wear black-and-white frilly French maid outfits with knee-high stockings. Pink buttons and bows accent their clothing. Upon arrival, the maids greet you by calling you "Master" or "Princess," which they (unfortunately) continue to do throughout the whole meal.
Bunny Cappuccino and Cat Iced Coffee at Home Café in Akihabara
I ordered a cappuccino and Corey ordered an iced coffee. Siera, our maid, asked what animal design we wanted and then drew our selections in chocolate syrup while we watched. I chose a bunny and Corey chose a cat. Aren't they adorable?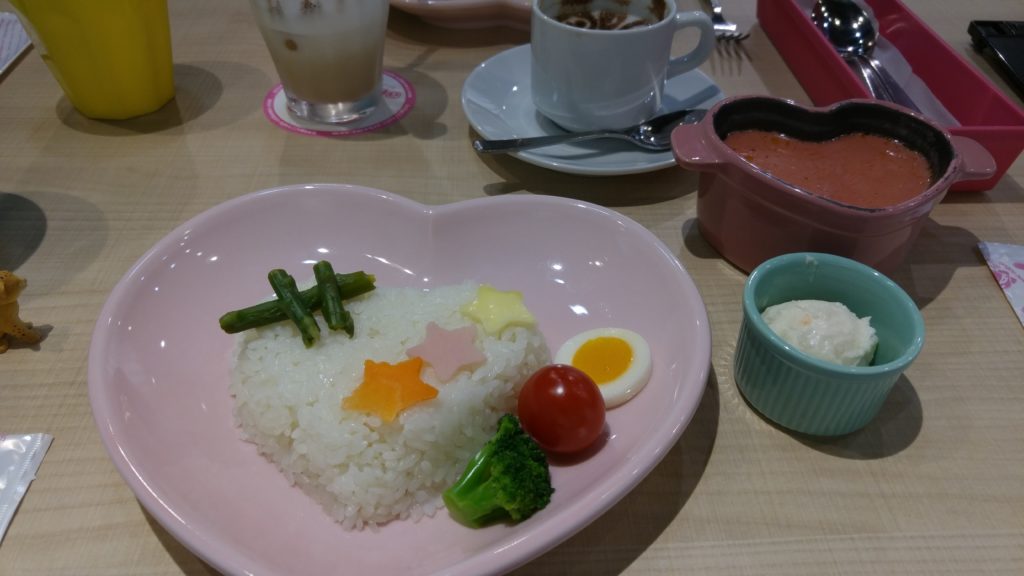 MoeMoe Pink Curry Set at Home Café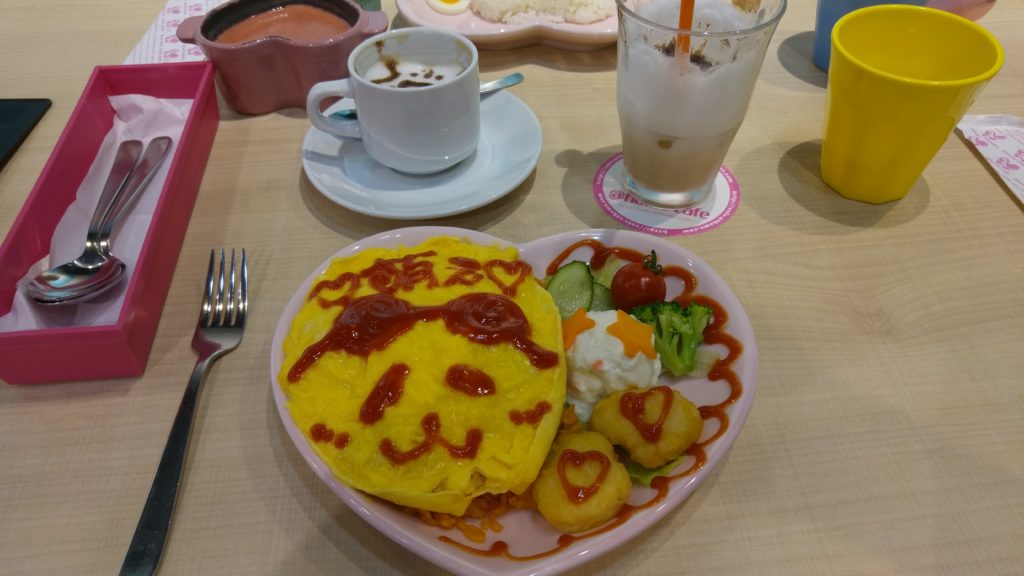 At-Home Café Special Omelette Rice
Corey ordered the Home Café omelette and the maid drew a cute panda on it. From the heart-shaped tableware to the star vegetable cutouts, everything was meticulously put together to look pretty.
Note: Going to a maid café is much more about the experience than it is about the food.
Visit a cat café to pet cats and play with kittens.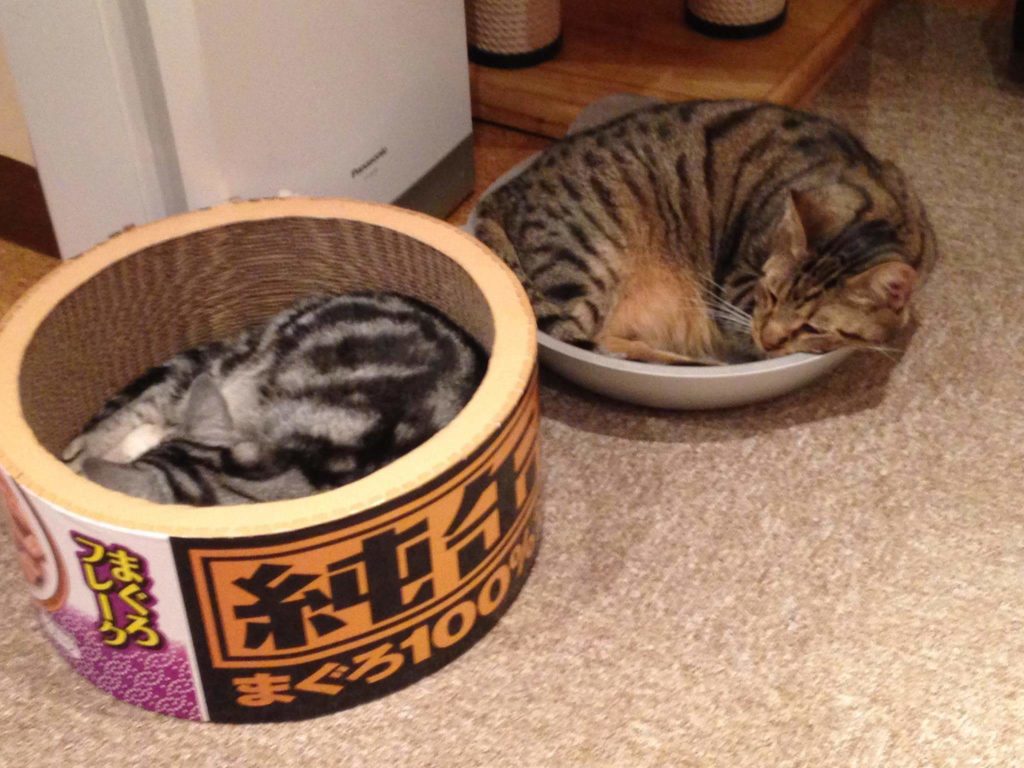 Sleeping Cats in Neko Jalala Cat Café in Akihabara
Very few people have pets in Tokyo because rents are so high, but cat cafés are a substitute. There, you can spend time petting and playing with a diversity of friendly cats and kittens. We went to Neko Jalala— a cat café in Akihabara featuring cats of all sizes and breeds, from tiny, playful kittens to huge, long-haired maine coon cats.
We went near closing, so some of the cats lay curled up and sleeping peacefully. We didn't disturb their slumber, but instead gave lots of love to the ones still up and about (and especially the two feisty kittens!).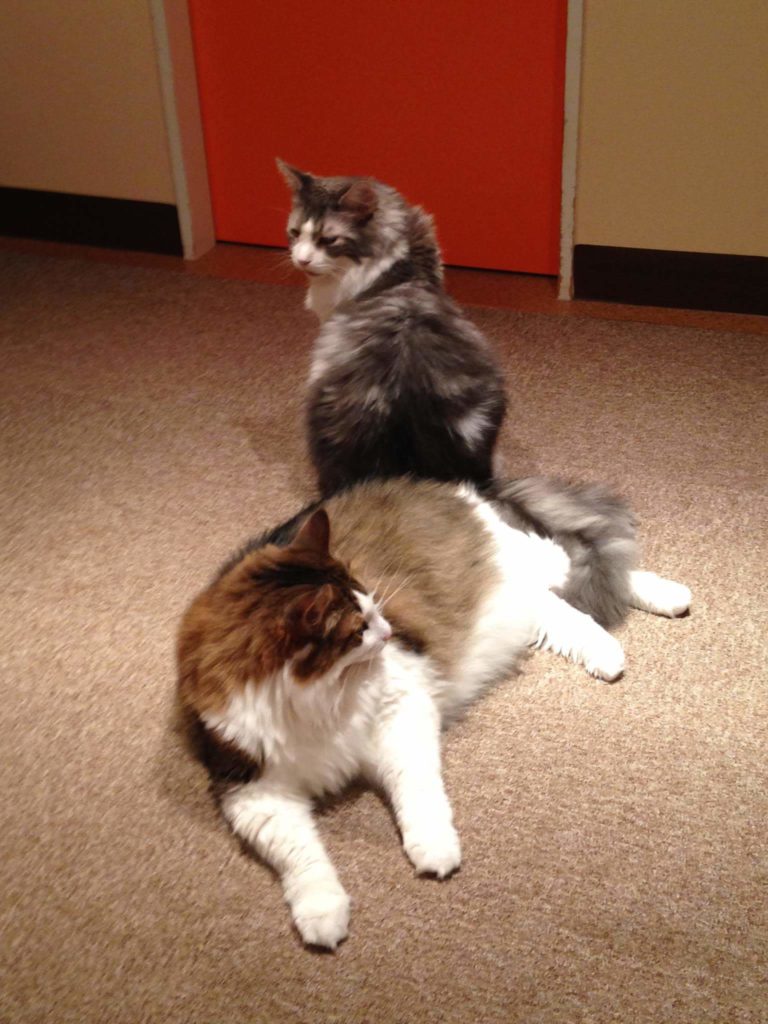 Huge cats at Neko Jalala in Akihabara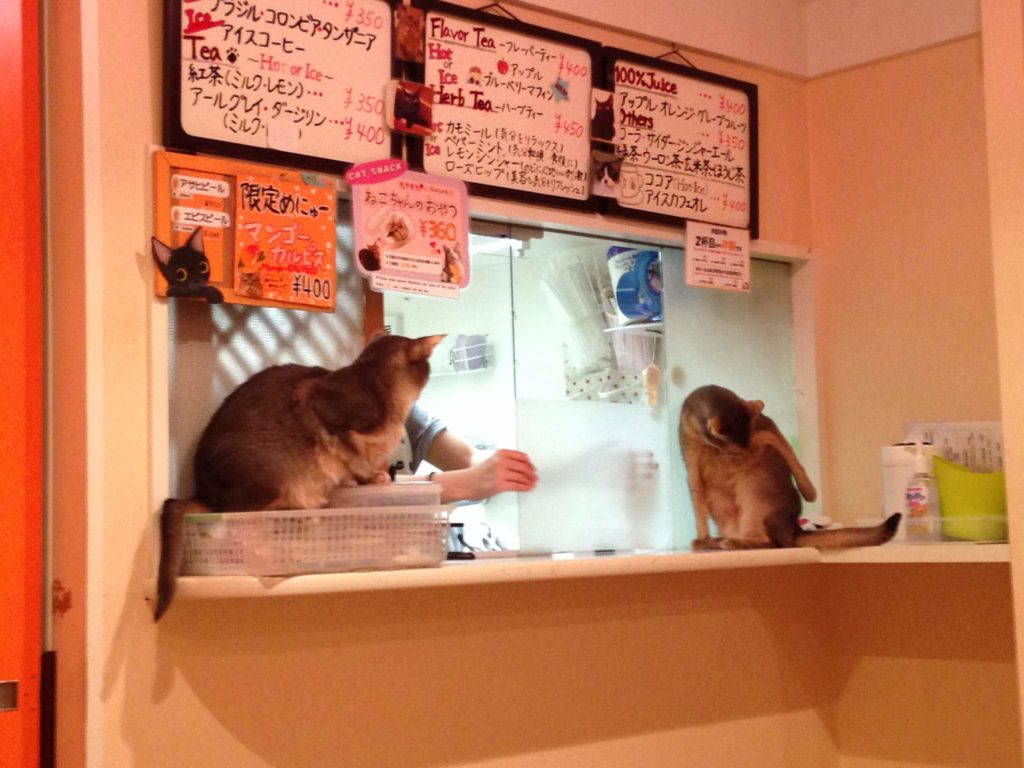 More Cats at Neko Jalala
Neko Jalala is a great place to visit if you're missing your feline friend or if you just want to spend time with friendly, adorable cats.
Akihabara celebrates many aspects of Japanese pop culture, and we had a fun time exploring this district of Tokyo–but probably just scratched the surface. If you have more recommendations for things to do in Akihabara, please leave them in the comments.
If you enjoyed reading this post, like my Facebook page and subscribe to my blog to follow my cooking adventures and flavorful journeys!