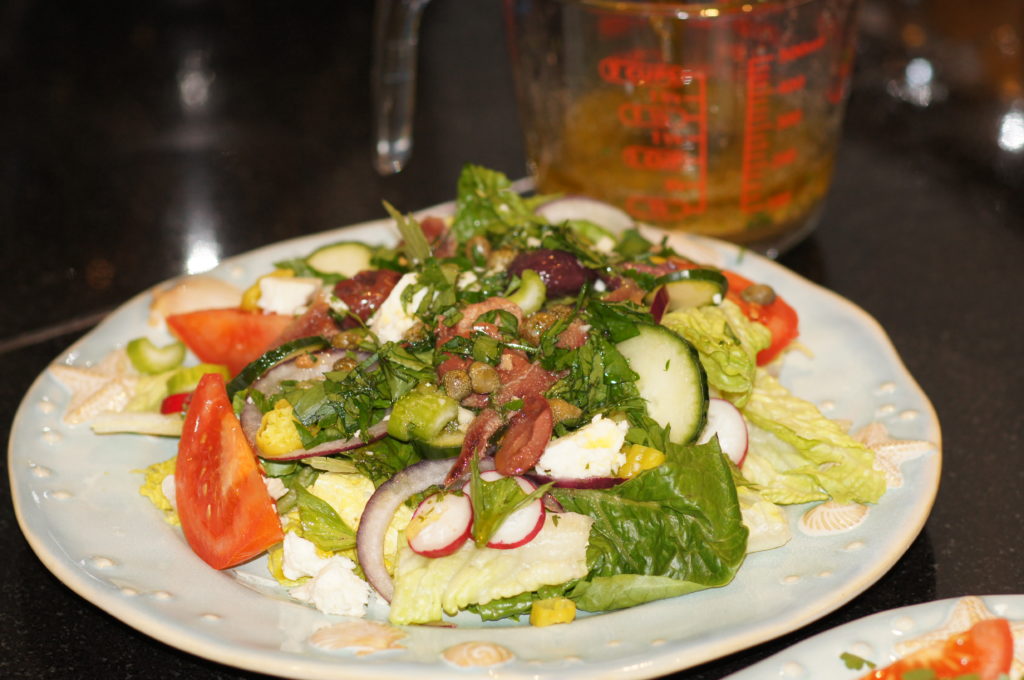 Greek Salad with Oil and Vinegar Dressing
Salad. Most people will want to stop reading there, but that would be a mistake. This Greek salad is anything but boring and insubstantial; rather, its many ingredients provide a full range of flavors and textures that will leave you satisfied.
Crisp romaine lettuce forms the base of the salad, but the magic of the salad comes from its many toppings: assertive red onions, peppery radishes, juicy tomatoes, cool and refreshing cucumbers, sweet-tangy peppers, crunchy celery, savory feta cheese, briny Greek black olives, meaty anchovy fillets, fresh parsley, and pickled capers. Basically, there's something to activate every taste receptor.
This salad is finished with an oil and vinegar dressing made from extra virgin olive oil, white wine vinegar, fresh parsley or oregano, garlic, and salt and pepper. You'll want to serve this Greek salad with crusty bread, so that you can sop up any extra dressing!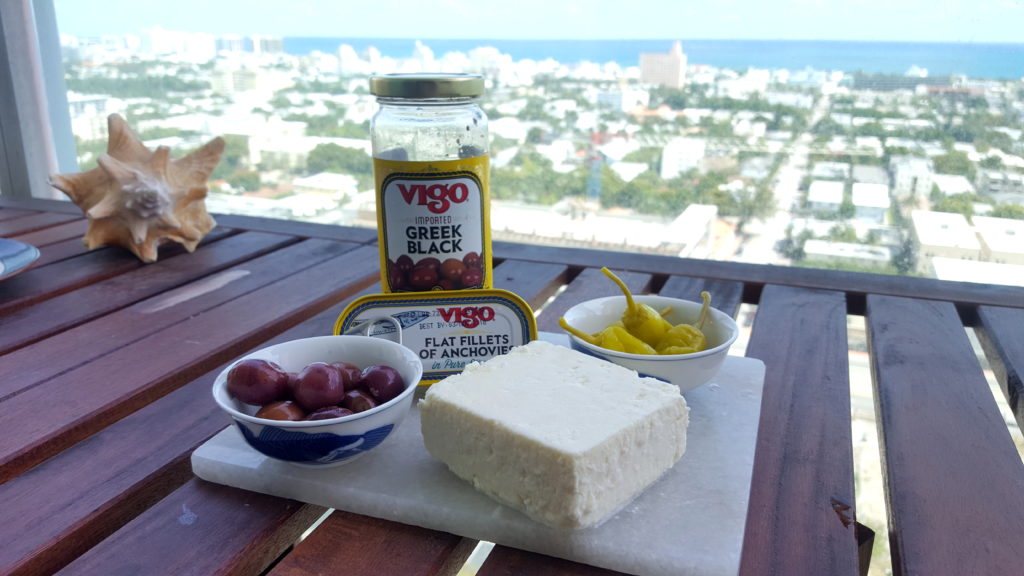 Greek Black Olives, Pepperoncini, Feta, and Anchovies in Olive Oil
A Few Tips on Making this Greek Salad
You may assemble the salad in advance, but don't dress it until you're ready to serve; otherwise the lettuce will become soggy.
Use a high-quality extra virgin olive oil, preferably organic and "first-cold pressed."
Buy a block of feta rather than the pre-crumbled variety—it tastes much better this way!
Don't be afraid to use the anchovies, which add a nice meatiness.
Use fresh herbs for the salad and dressing to brighten things up.
Serve with a crusty bread to soak up any leftover dressing.
You can serve this Greek salad for lunch with bread or as an appetizer before dinner. Eating vegetables shouldn't be a chore, and this Greek salad makes it easy. Try it today!
If you enjoyed reading this post, like my Facebook page and subscribe to my blog to follow my cooking adventures and flavorful journeys!
Greek Salad with Oil and Vinegar Dressing

Print recipe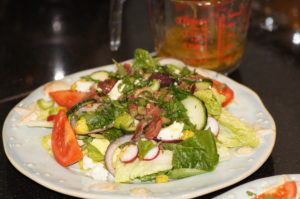 Eating vegetables shouldn't be a chore, and this Greek salad makes it easy. There's something to activate every taste receptor.
Ingredients
salad
romaine lettuce
thinly sliced red onion rings
sliced radishes
tomato wedges
sliced cucumber
sliced pepperoncini
sliced celery
block of feta cheese
Greek black olives
anchovy fillets
fresh parsley (chopped)
pickled capers
salad dressing
1/2 cup high-quality extra virgin olive oil
1/4 cup white wine vinegar
2 teaspoons chopped fresh oregano or parsley
1 clove garlic (finely minced)
1/2 teaspoon dry mustard powder
1/2 teaspoon salt
freshly ground black pepper
Note
I didn't list quantities for the toppings as it really depends on if you're serving this as an appetizer to a larger meal or as a lunch. Just use as much of an ingredient as you wish.
Directions
Salad
Step 1
Break up romaine lettuce, or shred coarsely using a very sharp knife. Divide lettuce among plates or place into a large serving bowl. Add all the other ingredients. Sprinkle on the parsley.
Salad Dressing
Step 2
Combine ingredients in a small bowl or measuring cup and beat well with a fork, or put the ingredients in a screw top jar, seal and shake well. Beat or shake again just before using.
Step 3
Add dressing to the salad just before serving.