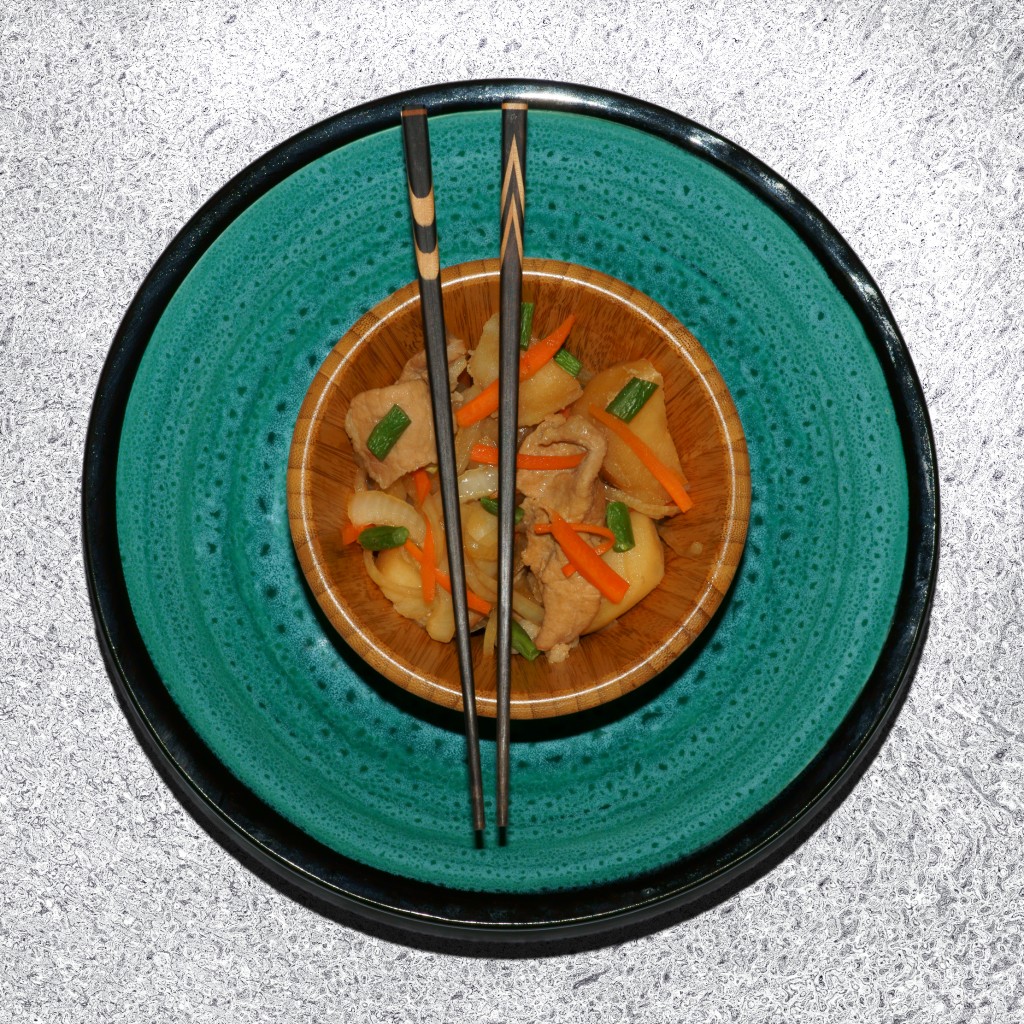 Japanese Pork and Potatoes (Nikujaga)
Nikujaga is a traditional Japanese dish of meat and potatoes simmered in a soy, mirin, and sugar broth. In eastern Japan pork is commonly used, while in western Japan beef is preferred. As the meat and potatoes cook, the broth is reduced and the ingredients absorb its flavor. The finished dish–a hearty stew–is sweet, savory, and utterly comforting.
Japanese pork and potatoes is easy to prepare, and doesn't even require a trip to an Asian market. Soy sauce and mirin—the only speciality ingredients—can be found in the Asian section of most grocery stores. This dish is great for beginners experimenting with Japanese cuisine. It's a one-pot meal that requires minimal attention after the initial prep.
A few notes about cooking Japanese pork and potatoes:
* It's important to soak the potatoes in cold water before boiling them; this removes the excess starch and helps prevent the potatoes from disintegrating.
* Though this dish is a "meat and potato" dish, less meat is used than in a typical American dish; it acts more as a flavoring agent. The potatoes are the prominent ingredient.
* Mirin is a sweet cooking wine commonly used in Japanese cuisine.
* The green beans brighten the dish and provide a nice contrast to the stewed ingredients. If it feels silly to only boil 2 green beans, you can make a whole batch and serve them as a side dish or just skip them altogether.
Try this Japanese pork and potatoes recipe today and learn just how easy and delicious Japanese food is to prepare. Skip the restaurant and head to your kitchen!
If you enjoyed reading this post, like my Facebook page and subscribe to my blog. That way, you'll never miss a post!
Japanese Pork and Potatoes (Nikujaga)

Print recipe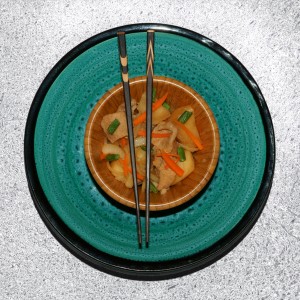 Japanese pork and potatoes is an easy dish to prepare. Japanese pork and potatoes is a one-pot meal that requires minimal attention after the initial prep.
Ingredients
4 Large potatoes
1 onion
1-2 " carrot
7 Ounces thinly sliced pork
3 Cups water
5 Tablespoons sugar
1/2 cup mirin
1/2 cup soy sauce
Optional
Directions
Step 1
Peel and quarter the potatoes. Soak the quartered potatoes in cold water.
Step 2
While the potatoes are soaking, thinly slice the onion and julienne the carrot.
Step 3
Drain the potatoes. Bring the potatoes, water, sugar, mirin, and soy sauce to a boil.
Step 4
Once boiling, add the pork. Spoon off any foam that forms on the surface. Simmer for about 20 minutes until the potatoes are tender and soy-sauce colored. Stir in the onion and cook 2-3 minutes.
Step 5
Add the carrot, stir briefly, and remove from heat. Let the mixture rest for 5 minutes. Garnish with chopped boiled green beans. Serve.