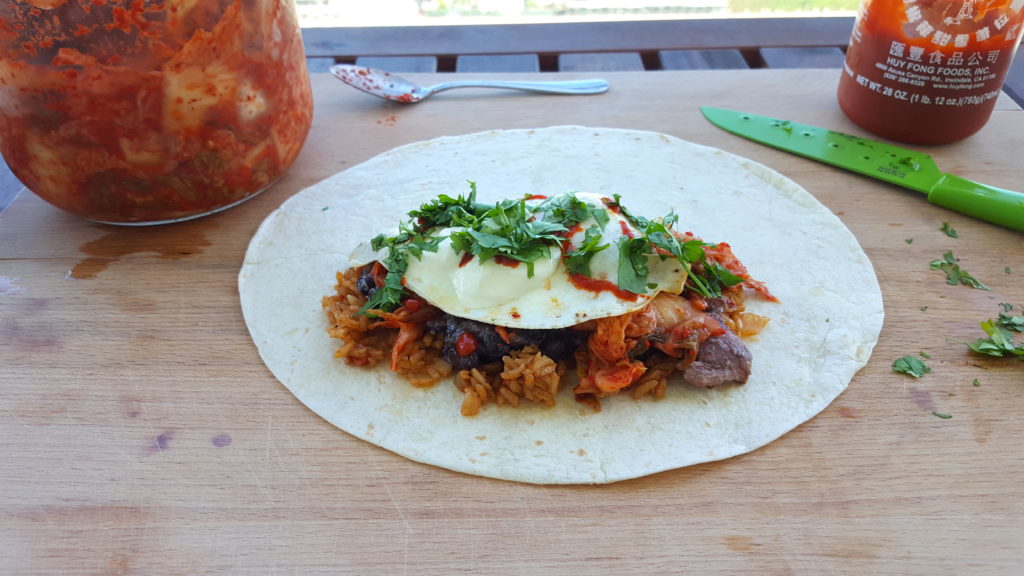 Korean-Mexican Burritos with Kimchi and Red Rice
I've always been curious about different cultures and peoples—their ways of life, their world views, and yes, their food. Even just looking at America, there are huge regional differences between parts of the country, and complex ethnic tapestries make up our cities. Now more than ever, it's important to recognize and celebrate that diversity. It's what makes this country great.
One day you can pick buckets of Georgia peaches in the blazing summer sun, pausing under the shade of a tree to taste the sweet, succulent fruit. Meanwhile, just across the border in Florida, you can walk into a Cuban restaurant and experience Caribbean flavors. Or try cooking Korean bbq for the first time—it's fun and tasty even if you don't know what you're doing. When I went with my friends in Chicago, we had to figure out what order to cook everything in on the fly, with the server demonstrating as new platters of meat were brought out and placed in the thick stone pan in the center of the table. In New York, you can try a dim sum place in Chinatown, where you'll be offered tray after tray of strange delicacies. When we went, we were seated in a large, crowded banquet hall; carts whizzed by, stacked with metal steamers containing all sorts of dumplings, steamed buns, custard tarts and puddings, and a variety of vegetable, meat, and seafood dishes. The carts momentarily paused by our table; the servers opened the lid to the steamers to reveal the mysteries inside. Half the time, we didn't even know what we were taking!
This diversity is one of the things that makes America special—it's a vast melting pot. Sometimes, when you're in a neighborhood or restaurant or grocery that's far removed from your background and experience, it may feel outside your comfort zone. Maybe there's a language barrier, or you don't know what you're eating or buying, or you're not sure what social expectations and norms there might be. I think it's important not to let these feelings of discomfort, however powerful they may seem at the time, stop you from trying new things. Education is all about taking risks: the risk that your ignorance will be revealed, the risk that you'll give the wrong answer, the risk that someone else will know more. But the only way to learn is to embrace these fears, and to appreciate the thrill of the new!
Mark Twain said in his book, Innocents Abroad: "Travel is fatal to prejudice, bigotry, and narrow-mindedness, and many of our people need it sorely on these accounts. Broad, wholesome, charitable views of men and things cannot be acquired by vegetating in one little corner of the earth all one's lifetime." Food is a gateway to other cultures, a unique way of traveling. I hope that the dishes and experiences I share will offer some small insight into other cultures.
I created these Korean-Mexican burritos as a celebration of cultural fusion and, well, because they're really tasty! The burritos are made with a Mexican-Korean red rice, cumin black beans with bacon, kimchi, and a fried egg, and they're finished with a dollop of sour cream, a squeeze of lime juice, a sprinkle of cilantro, and a few drops of sriracha for added heat.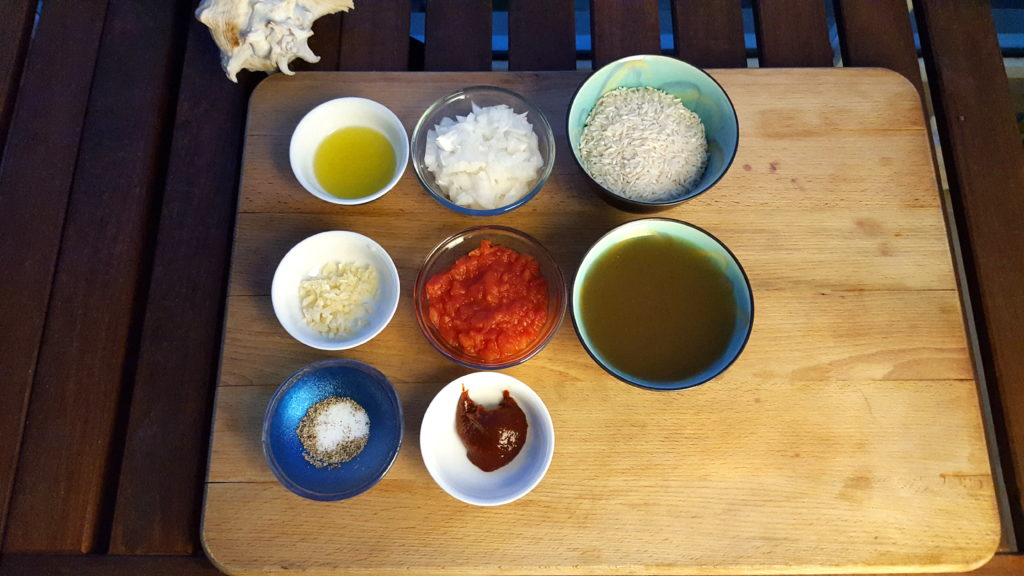 Ingredients for the Mexican-Korean Red Rice
I used traditional Mexican red rice ingredients—white onion, garlic, tomatoes, chicken broth, salt and pepper—but then added Korean red pepper paste (instead of tomato paste) for added spice and a Korean flair. Korean red pepper paste is a fermented paste, that's similar in consistency to tomato paste. For that reason, it makes a great spicy substitute for tomato paste. You can buy it at Asian markets or, as I had to here in Miami (where I'm still looking for a good Asian market – please leave a comment if you know one!), on Amazon.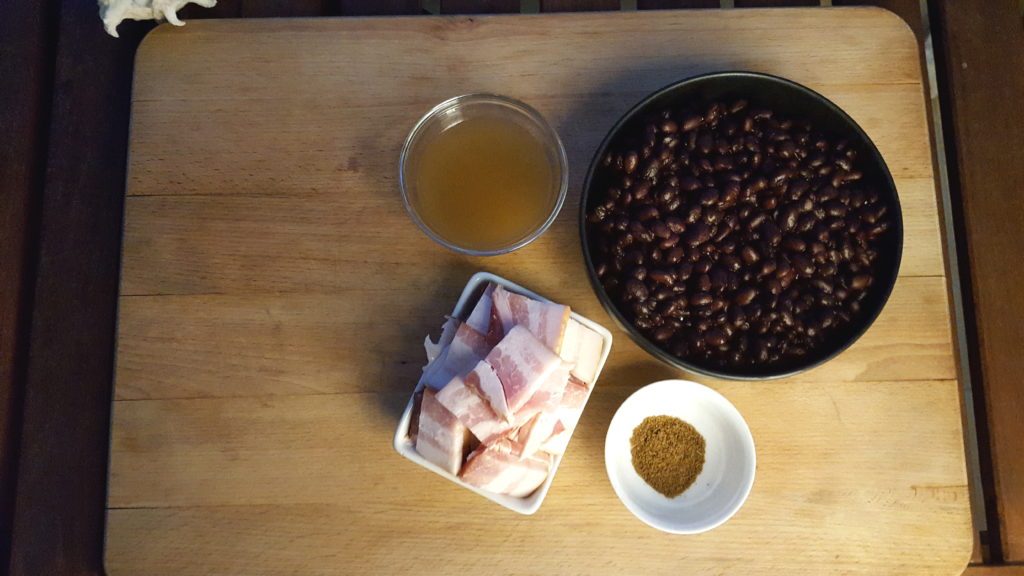 Ingredients for the Cumin Black Beans with Bacon
These beans have only 4 ingredients—thick-sliced bacon, chicken broth, black beans, and ground cumin—but they pack a big punch. Cook the bacon until crispy, then add the other ingredients to the pan to utilize the bacon fat (or drain if you want to be healthy).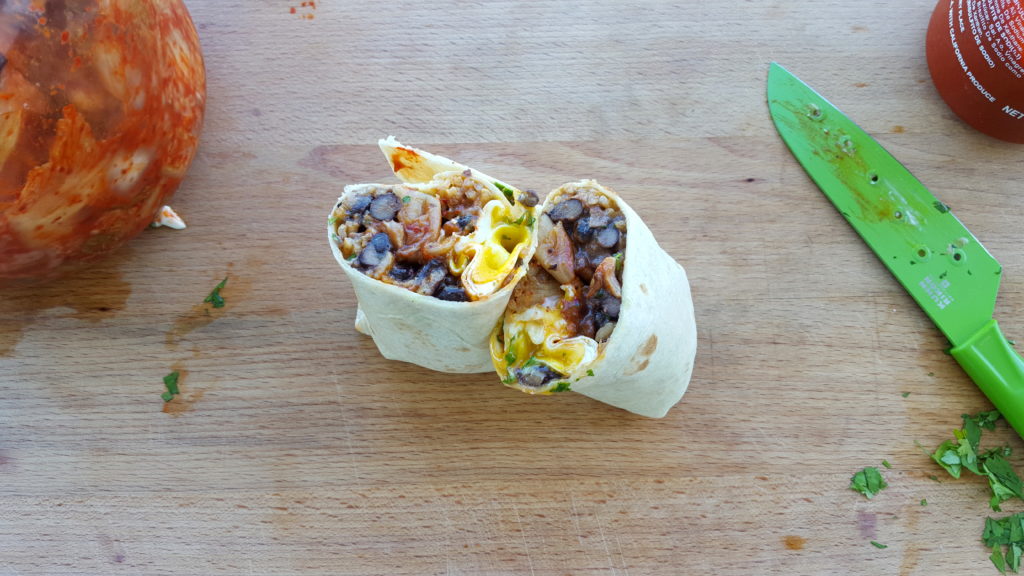 Korean-Mexican Burrito with Fried Egg
To assemble the burrito, add ¼ cup red rice, ¼ cup black beans, and a ¼ cup chopped kimchi to a burrito wrapper, leaving a 1 ½ inch border. Then top the kimchi with a fried egg, ½ tablespoon of sour cream, a sprinkle of cilantro, and a few drops of sriracha. Finish by squeezing a little lime juice over the filling. Then wrap the burrito, cut in half and serve.
These Korean-Mexican burritos go great with a cold beer or Korean barley tea!
If you enjoyed reading this post, like my Facebook page and subscribe to my blog to follow my cooking adventures and flavorful journeys!
Korean-Mexican Burritos

Print recipe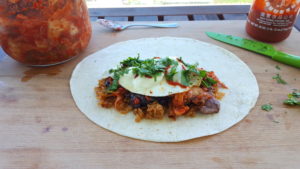 Get the recipe for these delicious Korean-Mexican Burritos made with red rice, cumin black beans, kimchi, fried eggs, sour cream, cilantro, and sriracha.
Ingredients
Red Rice
1 tablespoon olive oil
2 garlic cloves (minced)
1/2 white onion (diced)
1/2 14.5 oz can diced tomatoes (well drained)
1 tablespoon Korean red pepper paste (Gochujang)
1 cup long-grain rice
1 1/4 cups chicken broth
1 teaspoon salt
1/4 teaspoon freshly ground black pepper
Cumin Black Beans with Bacon
4 strips thick-sliced bacon (cut crosswise into 1-inch pieces)
1 teaspoon ground cumin
2 15.5 oz cans (rinsed and drained)
1/2 cup chicken broth
Burritos
12 large burrito wrappers
red rice
cumin black beans with bacon
3 cups chopped kimchi (cut into 1/4 inch pieces)
12 fried eggs
1 bunch cilantro (roughly chopped)
6 tablespoons sour cream
2 limes (cut into wedges)
sriracha
Directions
Red Rice
Step 1
Heat a Dutch oven over medium heat. Once hot, add olive oil. Then add the onion and garlic. Sauté until onion is soft, but not brown, about 5 minutes.
Step 2
Add the Korean red pepper paste and cook 1 minute. Add the rice and cook 1 minute more, stirring constantly, until rice is coated.
Step 3
Add chicken broth, diced tomatoes, salt and pepper. Bring to a boil. Once boiling, reduce the heat to medium low. Cover and let cook for 20 minutes. Then remove the Dutch oven from the heat and let the rice rest, covered for 15 minutes.
Cumin Black Beans with Bacon
Step 4
Heat a skillet over medium heat. Once hot, add the bacon and sauté, stirring occasionally, until crispy, about 4 minutes.
Step 5
Add the chicken broth, beans, and cumin to the pan with the bacon. Bring to a boil. Once boiling, reduce the heat and simmer 5 minutes to develop the flavors.
Burrito Assembly
Step 6
Heat a large cast-iron skillet over medium heat. Once hot, add a single burrito wrapper to warm it slightly, about 30 seconds, flipping once.
Step 7
Lay the warm burrito wrapper flat on a work surface. Add a 1/4 cup red rice to the wrapper, leaving a 1 1/2 inch border. Using a slotted spoon, top the rice with 1/4 cup black beans. Then add a 1/4 cup chopped kimchi, a fried egg, 1/2 tablespoon sour cream, a sprinkle of cilantro, and a few drops of sriracha. Squeeze a lime wedge over the filling. Then wrap the burrito, cut in half and serve.
Step 8
Repeat steps 6 and 7 for the remaining 11 burritos.