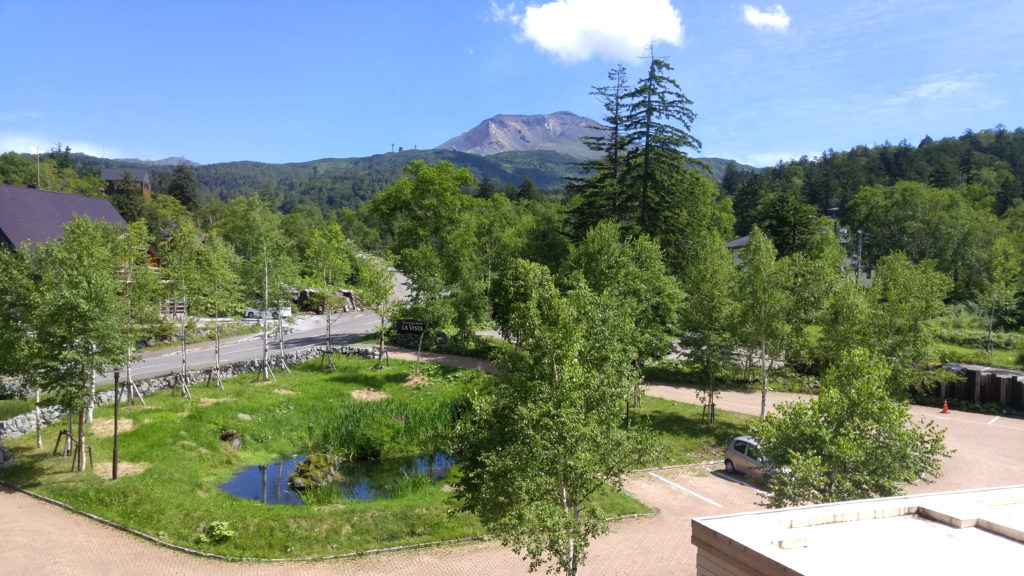 View of Mount Asahidake from Our Room at La Vista Daisetsuzan
Imagine waking up and sipping handground coffee while looking out the window of a mountain lodge at a beautiful alpine forest. Imagine sitting in an open-air hot spring listening to the calming sounds of nature. Imagine ending your day with a delicious multicourse meal featuring regional ingredients, artfully presented by attentive servers. You can experience all this and more at La Vista Daisetsuzan.
La Vista Daisetsuzan is a relaxing onsen hotel in Japan's largest national park, Daisetsuzan National Park, and is situated at the base of Mount Asahidake—the largest mountain in Hokkaido. La Vista Daisetsuzan provides a luxurious natural respite from the hustle and bustle of modern life, as well as quick access to the Japanese wilderness.
Outdoors enthusiasts might choose to stay here for the location alone—it's a beautiful 10-minute walk from the Asahidake Ropeway Station, where you can ride a cable car 1,600 ft. up the mountain. Once at the upper station, you can choose to summit Mount Asahidake, walk around the Sugatami Pond Loop, or depart on one of the other numerous trails in the area.  Whichever way you go, you'll see steaming fumaroles (volcanic vents spewing plumes of gas from the side of the mountain), colorful wildflowers, rock outcroppings, pristine alpine ponds, and if you're lucky, maybe even a fox or a pika!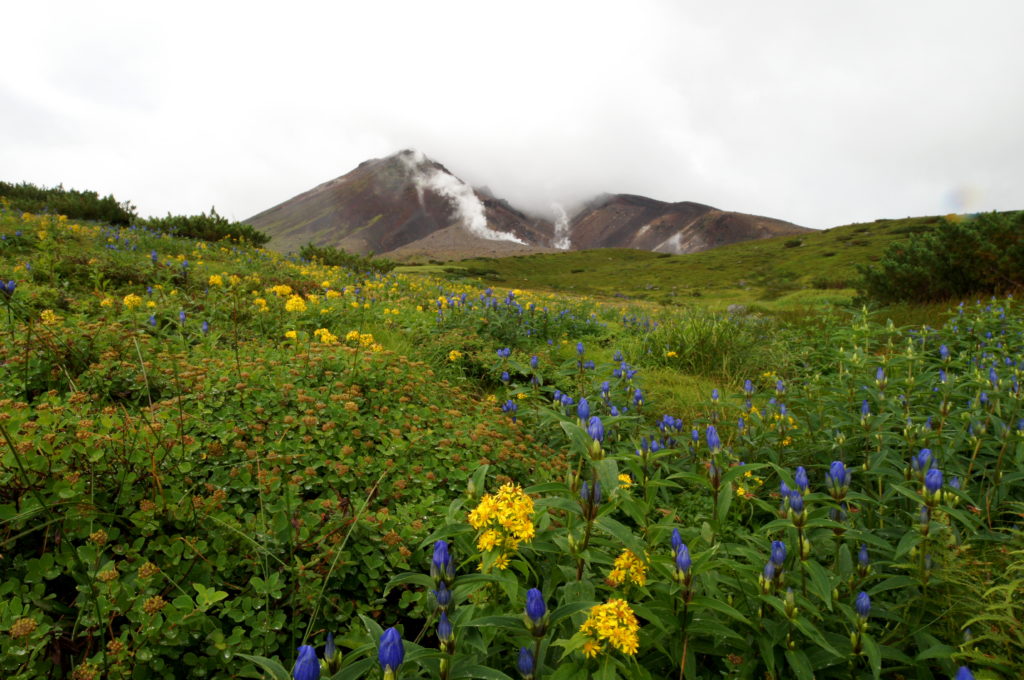 View of Mount Asahidake with Wildflowers in Late August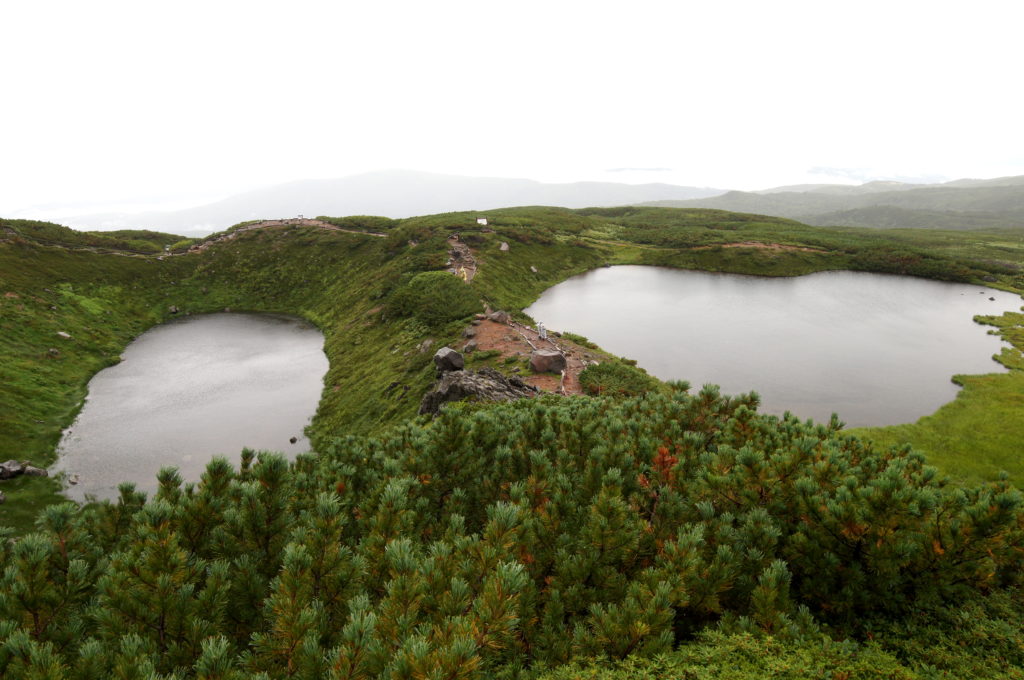 View of Suribachi and Kagami Ponds
Even if you don't venture into the great outdoors, La Vista Daisetsuzan has plenty to offer.
The Relaxing Onsens at La Vista Daisetsuzan
An onsen is a spa with a series of geothermal baths of varying temperatures, from warm to very hot, for you to relax and soak in. Typically, they're communal and segregated by gender because you bathe in the nude. It's wonderful to sit in the baths after a long day of hiking or traveling and soak your weary muscles. It takes your tension away and puts your mind and body into a state of deep relaxation.
La Vista Daisetsuzan has two large public onsens (one for men and one for women) and three smaller private onsens (which are available at no additional cost). The private baths allow you to have the onsen experience without being nude around strangers, but I recommend also stepping outside your comfort zone and trying the public ones as well. The public ones are much more extensive and offer a greater range of temperatures and styles—from wooden tubs, to stone pools, to saunas—against a beautiful backdrop and view of the surrounding woods.
We tried the public and private onsens. Our favorite private bath was located at the end of the hall and consisted of a wooden open-air square tub facing the woods. The cool mountain air felt wonderful while soaking in the steaming hot waters. From this tub we were able to watch birds flitting from tree to tree, and listen to the rustling evergreens. This onsen also had an indoor portion with a metal cauldron tub filled with very hot water. The cauldron tub was nice in short bursts, but you can't stay in it for too long!
The public onsen is located on the second level. It is much larger, with floor-to-ceiling glass windows and panoramic views of the woods. I also recommend checking it out!
Onsen Etiquette and Things to Know
Before getting into the baths, you should always wash yourself. When you enter the public onsen area, there are low stools on the floor with bamboo basins and sprayer hoses above them. The idea is to sit on a stool and wash yourself with soap and shampoo from the nearby dispenser, and then rinse off using the hose and water basin.
Always wash yourself after using a sauna, if you want to reenter the baths.
No phones or photography are allowed in the onsen—no exceptions.
If you have a tattoo, you probably won't be allowed in the public baths. You can read more about this issue here.
There's a green button in the private onsen. This button doesn't turn on a light or control the bath—it's an emergency button. (Don't ask me how I know.)
The Food at La Vista Daisetsuzan
Restaurant Nupuri at La Vista Daisetsuzan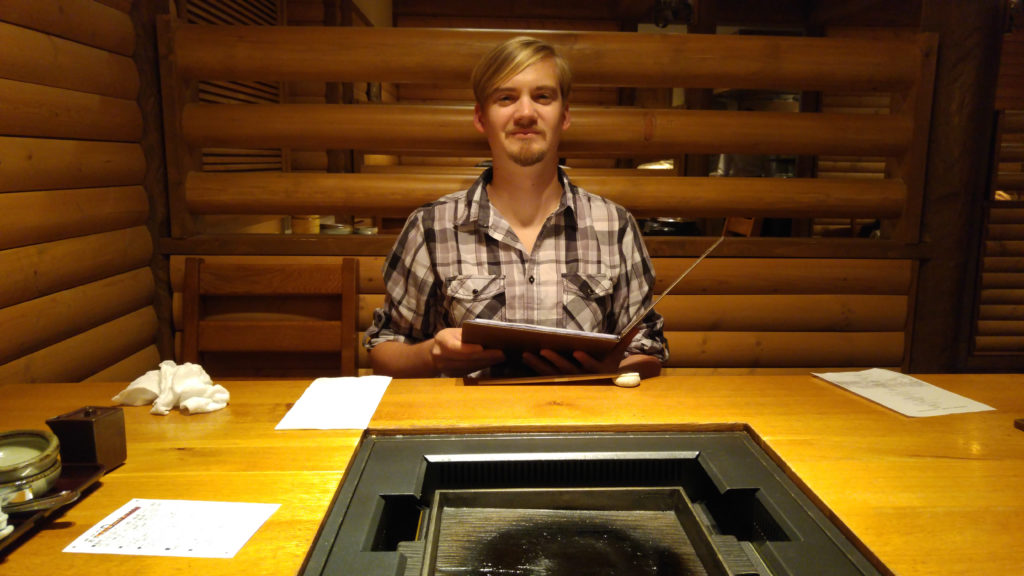 Corey at Restaurant Nupuri in La Vista Daisetsuzan
We had some of the best food of our trip at La Vista Daisetsuzan. The hotel has two restaurants—a traditional Japanese restaurant and a French restaurant. We switched between the two nightly. Breakfast and dinner are included in your stay, plus late-night ramen if you're still hungry (we tried but were always too full from the epic dinners!). The only additional costs are if you want to purchase alcoholic beverages, which you can do at the restaurants and bars, as well as in vending machines within the lodge.
Restaurant Nupuri (the Japanese restaurant) serves traditional kaiseki cuisine, an extensive multi-course meal featuring regional and seasonal ingredients. Each component is carefully plated to best accentuate the food. The menu is preset; the only choice you have to make is what you want to drink throughout the meal.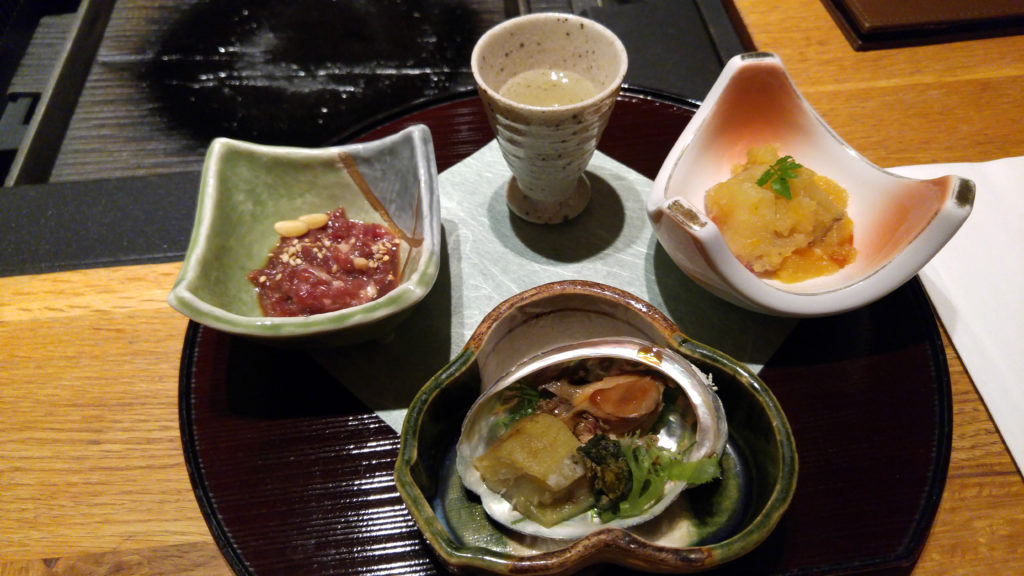 Raw Hokkaido Horsemeat, Summer Vegetables, Smoked Ezo Abalone with Jade Eggplant
The meal started off with three appetizers: Basashi (raw sashimi) Hokkaido horsemeat, summer vegetables, and smoked Ezo abalone with jade eggplant. You can tell from the very beginning of the meal how important regional and seasonal ingredients are to kaiseki cuisine. The horsemeat and the abalone come from Hokkaido. I had never tried horse before and was a little hesitant to say the least. It's not something I would order in the first place, let alone imagine eating raw! Nevertheless, when I'm traveling I try to be open to other cultures, their regional cuisines, and their traditions, so I ate it. The texture surprised me; it was delicate and not at all tough like I imagined.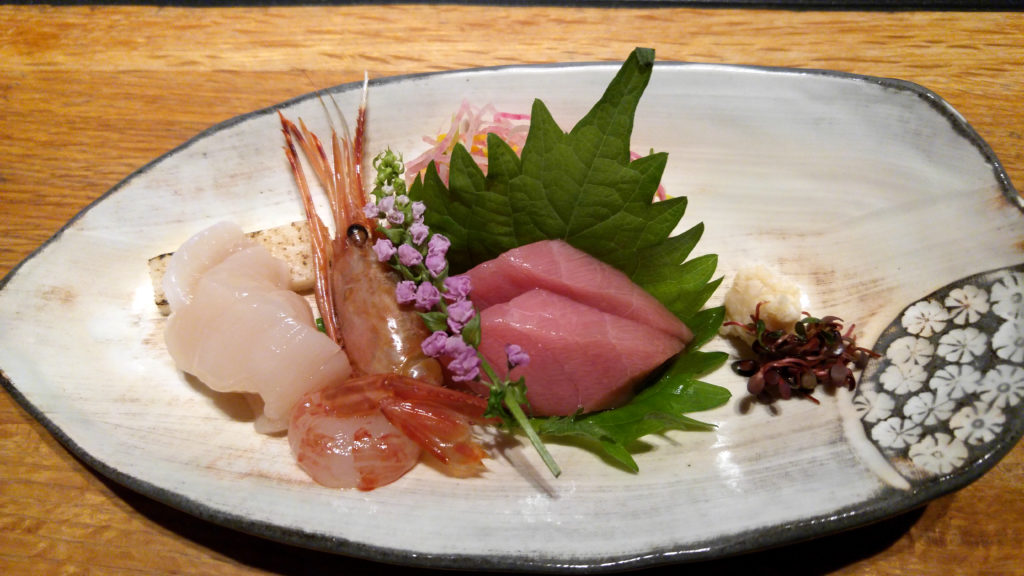 Raw Tuna in Toro, Raw Scallops, and Pink Shrimp
The second course featured sashimi presented on a shisho leaf and garnished with pretty purple flowers. I loved the presentation. I also discovered I really love shrimp sashimi! Again, shrimp wasn't something I would've imagined eating raw, but when served so fresh, it was incredibly good.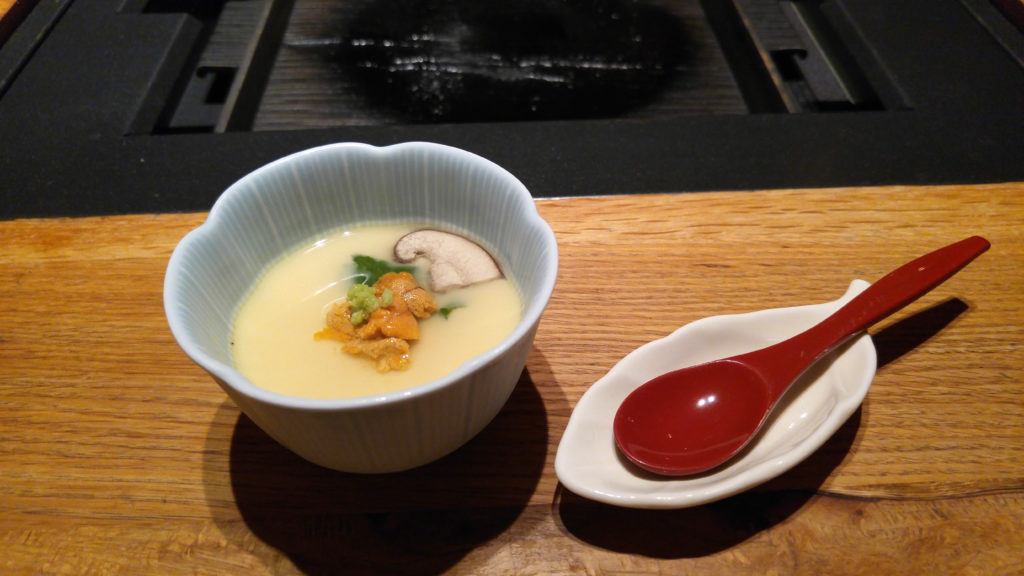 Cold Egg Custard with Sea Urchin at Restaurant Nupuri
The third course featured a steamed egg custard with uni (sea urchin). The uni and custard blended together into a satisfying unison.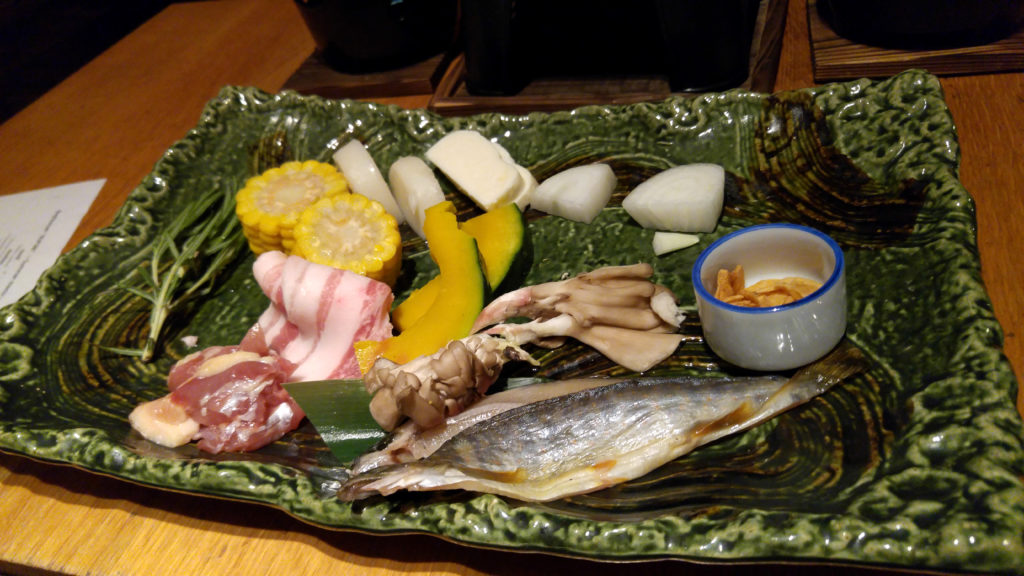 Japanese BBQ Platter at La Vista Daisetsuzan
The fourth course transitioned into heavier fare. They present you with an assortment of meats and vegetables—our selection of the night featured Biei Wagyu beef, Furano pork, lamb, Iwamizawa pheasant, corn, acorn squash, onion, potatoes, and halloumi cheese.
We then proceeded to cook the food on a grill located in the center of the table. This style of cooking is yakiniku (Japanese bbq) and is similar to Korean bbq, except the meats usually aren't marinated beforehand. It's fun grilling the food, which makes the dining experience more interactive.
Corn is really popular in Hokkaido; they sell ears of it in the airport and there are a proliferation of corn-based snacks. Hokkaido melons (cantaloupes) are also immensely popular. In the airport we saw individual cantaloupes selling for the equivalent of $50 US dollars. I thought that was crazy, until I read a pair sold for ¥3 million ($27,240)!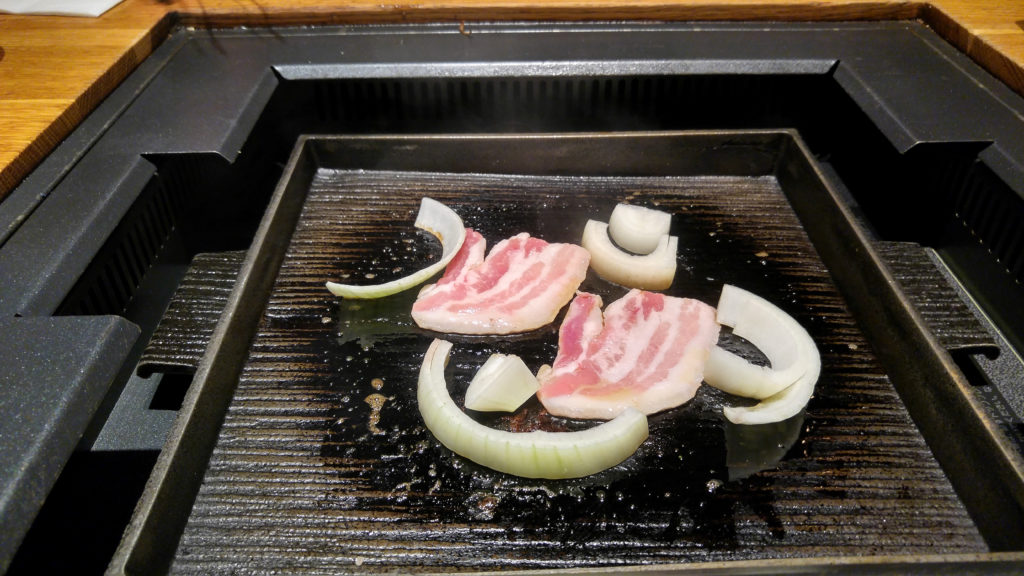 Grilling Biei Wagyu Beef at La Vista Daisetsuzan
The beef was exceptionally good. It's so tender that it melts in your mouth. In general, the beef I had in Japan was by far the best I've ever had.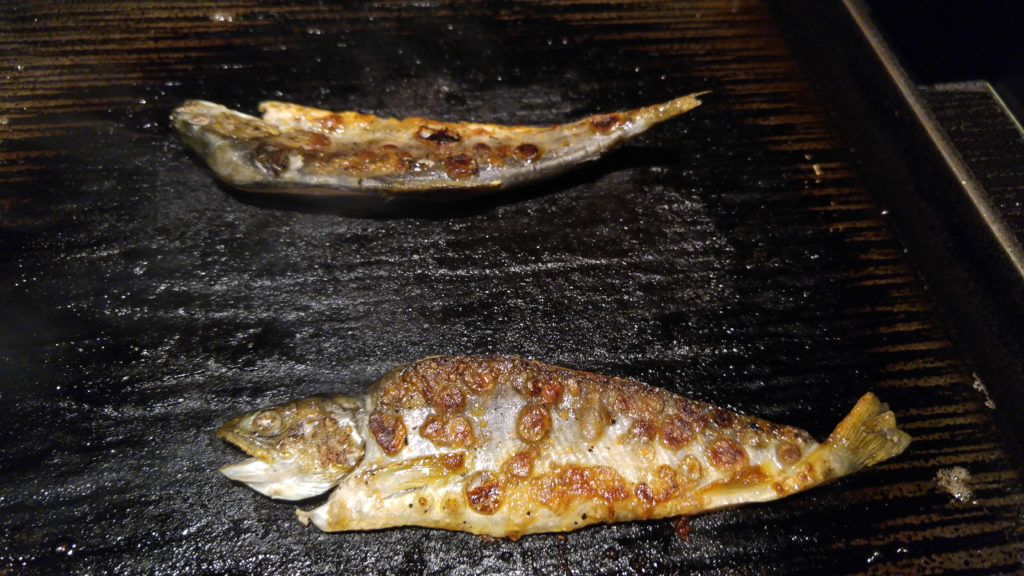 Grilled Fish at Restaurant Nupuri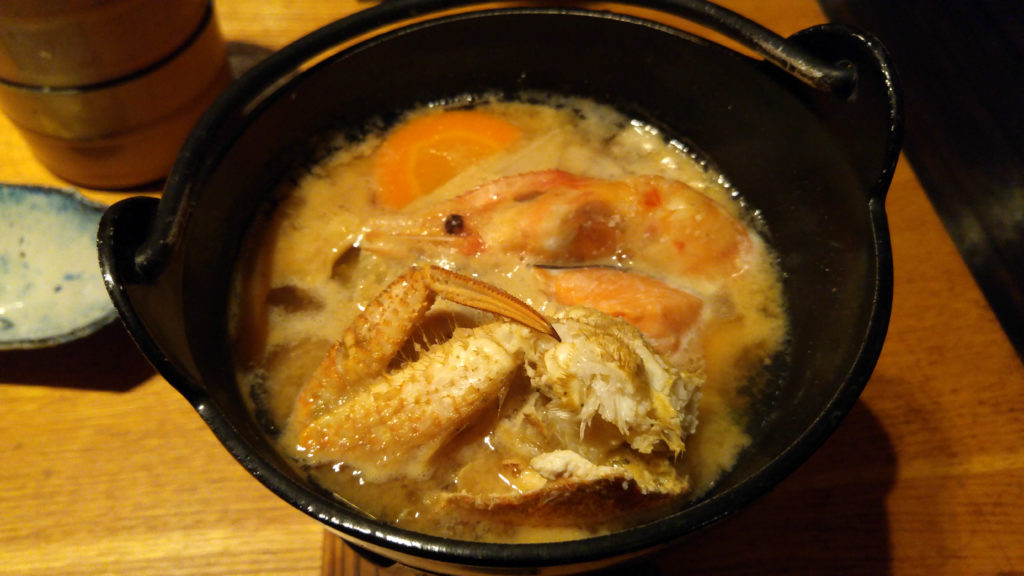 Japanese Hotpot at La Vista Daisetsuzan
The fifth course was a Japanese seafood hotpot with salmon, surf clam, button shrimp, crab, and pumpkin rice cake. The broth is so concentrated and rich! Seafood is a huge part of the Japanese diet and factors prominently in their cuisine. Fittingly, Japan houses the largest seafood market in the world.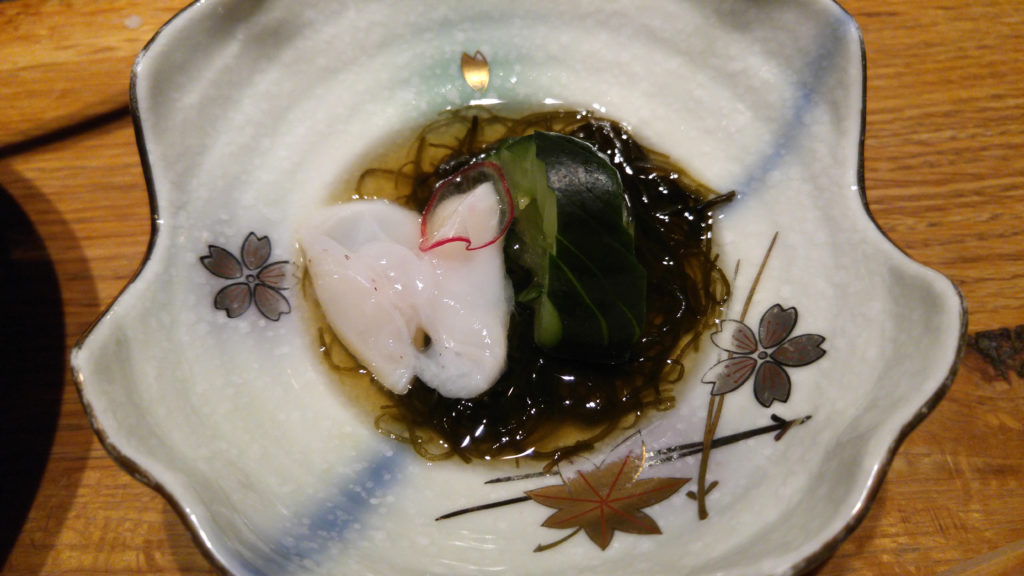 Pickled Octopus and Seaweed
The sixth course featured pickled sashimi octopus with seaweed. Isn't the dish so cute? I want all their dishware!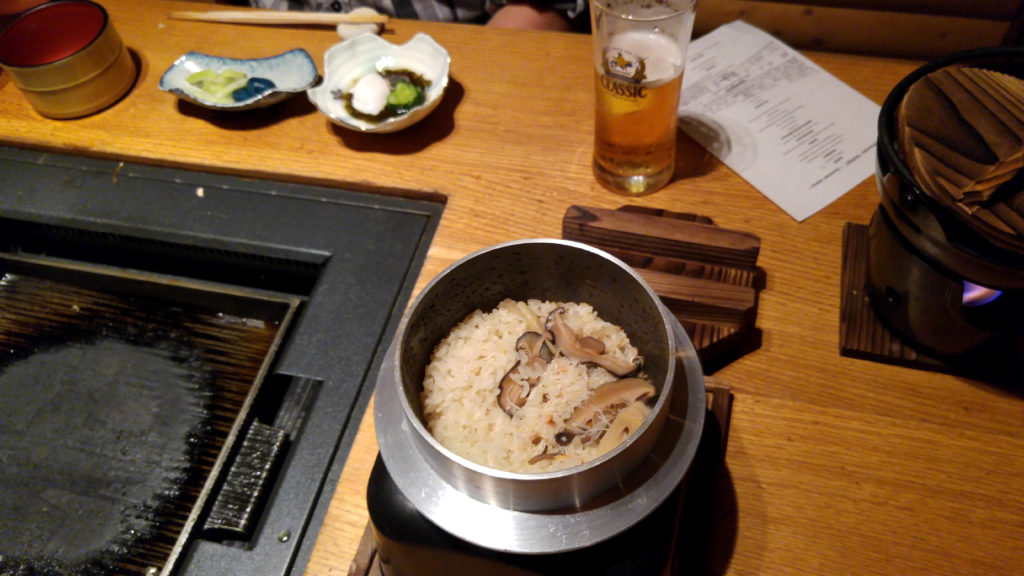 Rice with Crab and Mushrooms, Pickled Eggplant and Celery, Simmering Hotpot
The seventh course featured steamed rice with crab and mushrooms served alongside pickled blue eggplant and sliced celery. I liked the crunchiness and tartness of the pickled vegetables. It went nicely with the more subtle flavors of the crab-mushroom rice.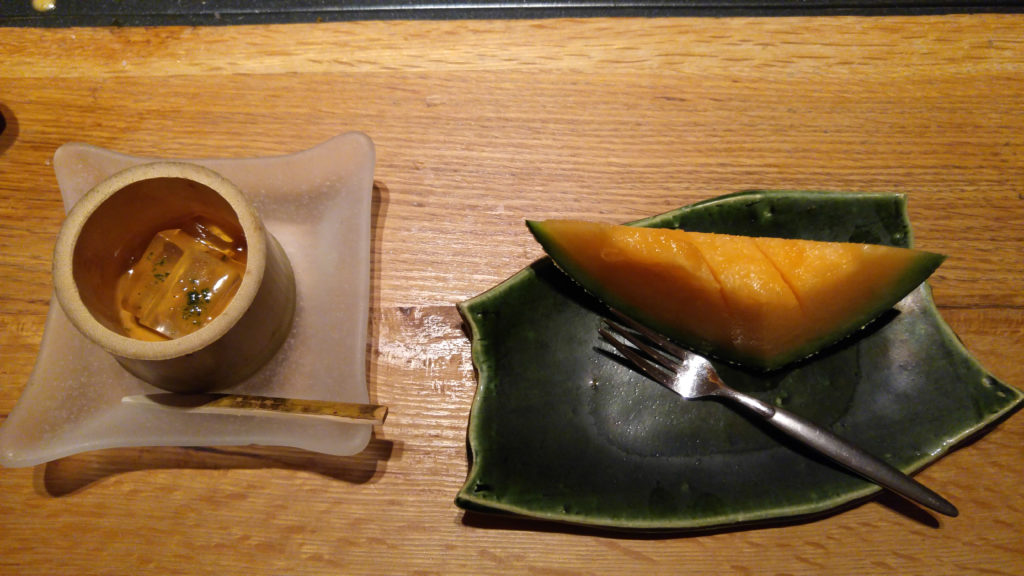 Matcha Warabi Mochi and Furano Melon
For dessert, we had matcha warabi mochi and a slice of cantaloupe. Gelatin-type desserts are popular in Japan; there is much greater use of gel-like textures than in the U.S. I enjoyed the sprinkle of matcha (green tea powder) on top of the mochi and the syrupy-sweet sauce it rested in. The cantaloupe was juicy and sweet, but not all that different from the ones we have in the U.S., to be honest. Notice how the dark green plate mirrors the shape and color of the cantaloupe rind. Talk about meticulous attention to detail!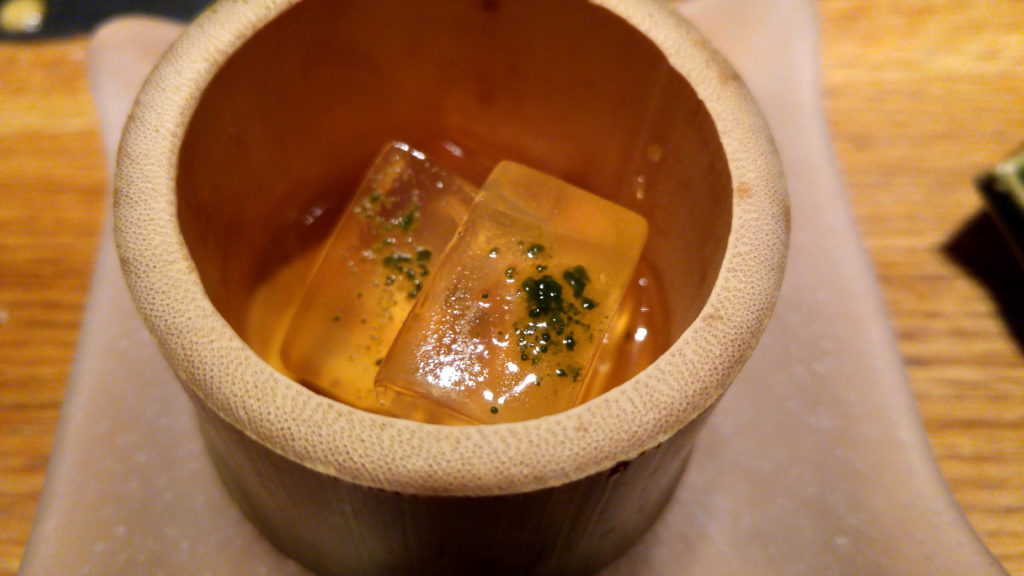 A Close-Up of the Matcha Warabi Mochi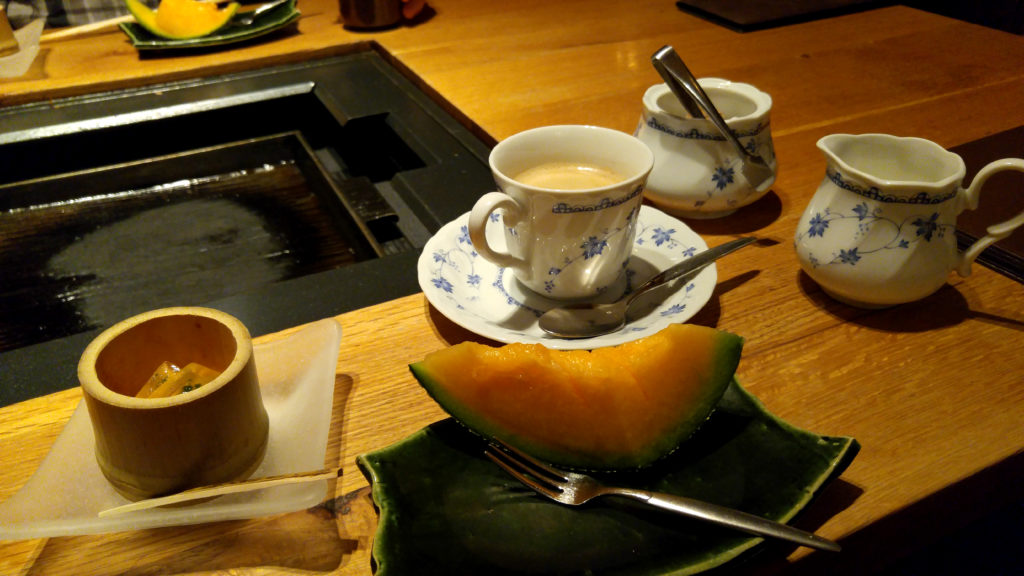 Coffee with Cream and Sugar, Cantaloupe, and Mochi
At the end of the meal you get the choice of coffee, espresso, black tea, or green tea. We opted for coffee. Overall, it was one of the best meals of our entire trip. A true epicurean delight!
Breakfast at La Vista Daisetsuzan
The breakfasts at La Vista Daisetsuzan are served buffet-style and feature both traditional Japanese food and Western-style offerings, including fresh fruit, pastries, grilled meats, baby shrimp sashimi with ponzu sauce (my favorite), Japanese curry, and so much more. It's a great way to fuel up for a long day of hiking! Also, note that your lunches are not included like your other meals—though we did not find this problematic, as we were usually out hiking at lunchtime.  Snacks are available at concessions/convenience stores at the upper and lower ropeway stations, and provide an opportunity to try the very different snacking options in Japan.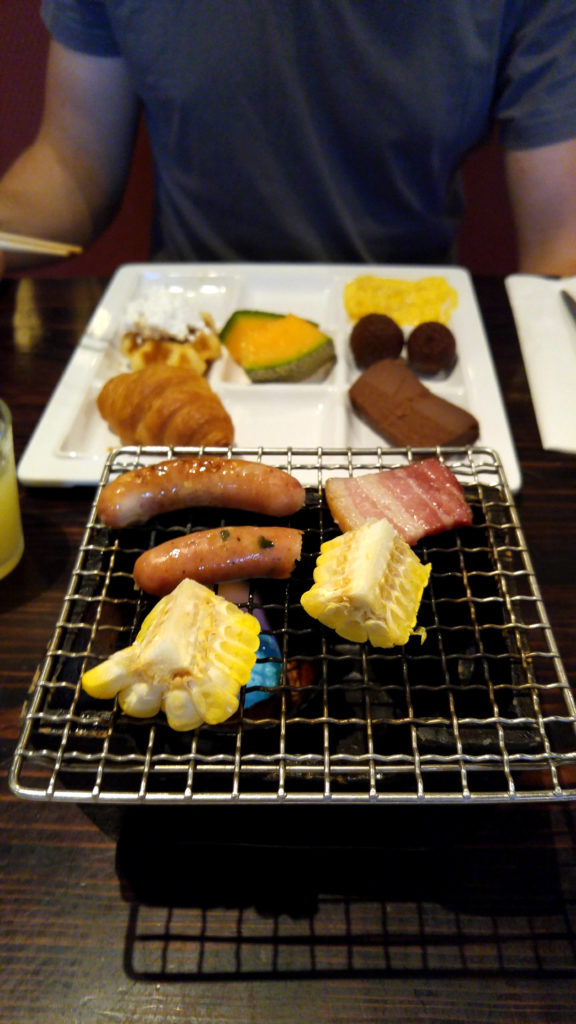 Grilling Meats and Vegetables on Small Hibachi at La Vista Daisetsuzan
Each breakfast table has a small hibachi where you can grill meats and vegetables.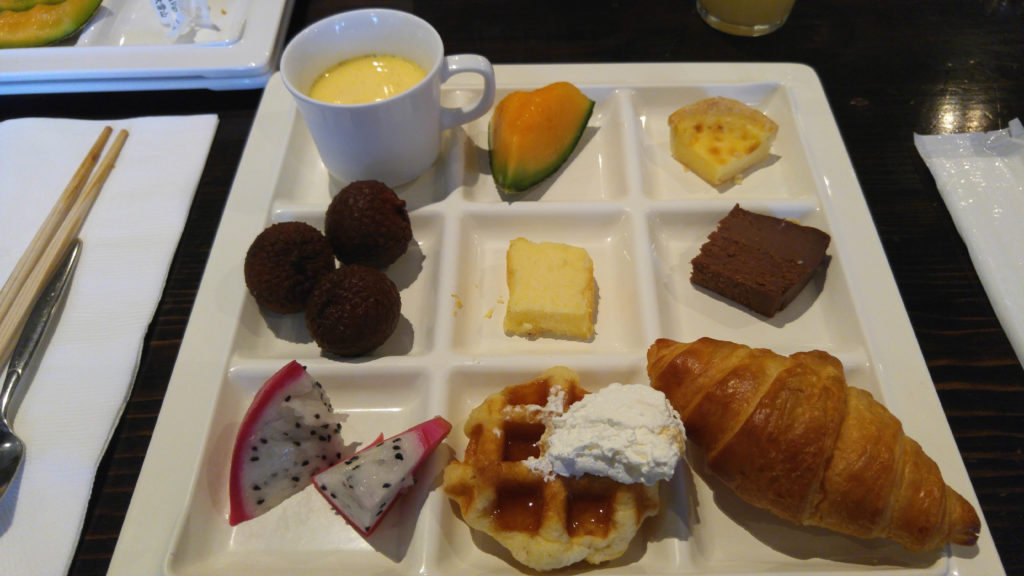 Fresh Fruit and Pastries at La Vista Daisetsuzan
Japanese Curry, Shrimp Sashimi, and Kimchi with Rice
The French Restaurant at La Vista Daisetsuzan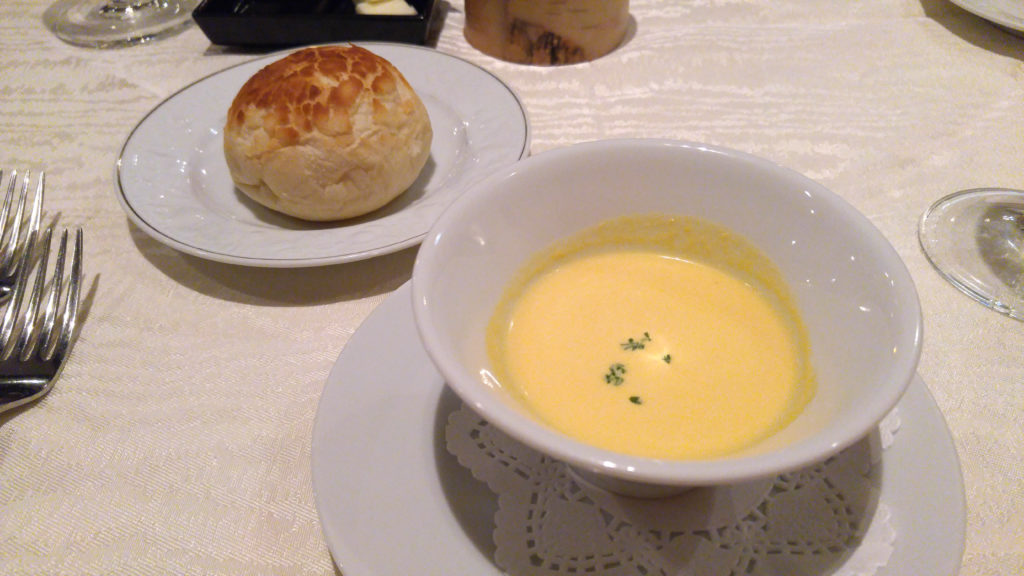 Hokkaido Corn Soup with Dutch Bread
The French-style restaurant at La Vista Daisetsuzan incorporates French cooking techniques and flavors (the chef is classically trained) with regional ingredients for a unique flavor fusion. Here's a look at one of the dinner menus we got.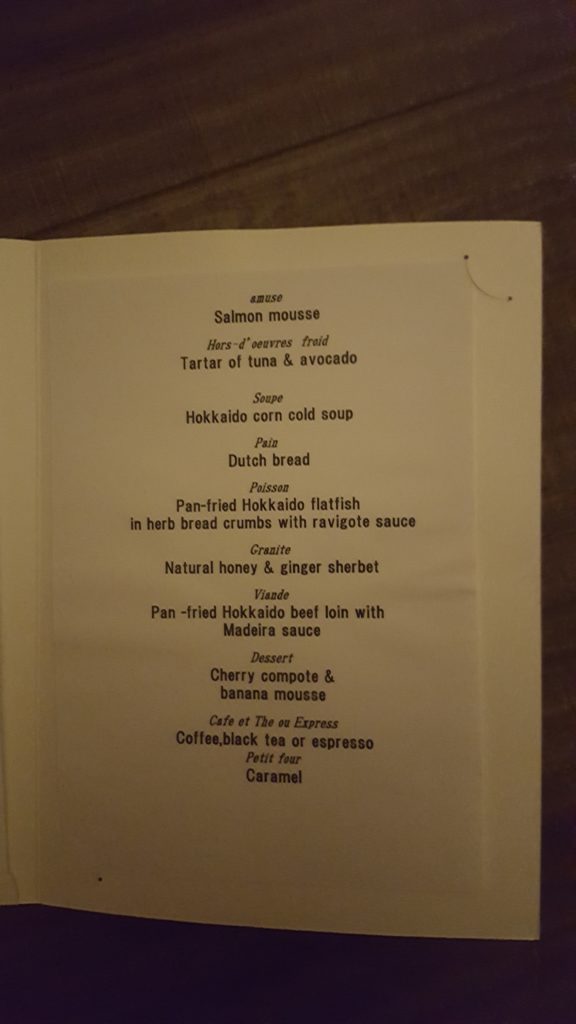 French Restaurant Dinner Menu at La Vista Daisetsuzan
While both restaurants offer stellar menus, we enjoyed the Japanese restaurant more. The meal as a whole seemed more unified and satisfying, perhaps because it was not attempting to fuse two very different cuisines. There was also more attention to detail and presentation on the Japanese side, whereas most of the dishware on the French side was minimalistic and white, which felt a little boring after all the unique dishware at Nupuri.
The Rooms at La Vista Daisetsuzan
The rooms at La Vista Daisetsuzan are cozy and spacious—a rare thing in Japan, especially when compared to Tokyo. We stayed in a twin room with a mountain view. It had two double beds, a large sitting area, a small desk, a hearth and kitchen area, and separate bathrooms—toilet on one side and sink/shower on the other.
La Vista Daisetsuzan has many nice touches like an entryway that can be closed off for complete quiet and solitude, a hand-grind coffee mill with delicious roasted coffee beans provided each day, and a large couch. They also provide a crystal ice bucket and a tea and sake set. You can request a room with air conditioning for the summer months, which we did to help dry our clothing after some rainy hiking.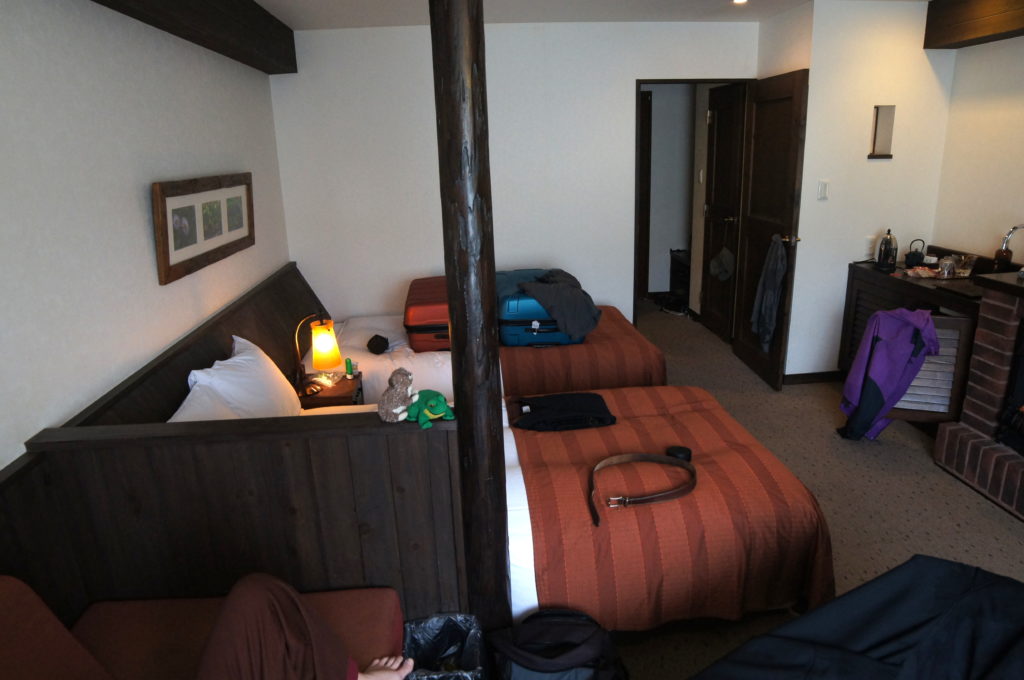 La Vista Twin Room
Information about La Vista Daisetsuzan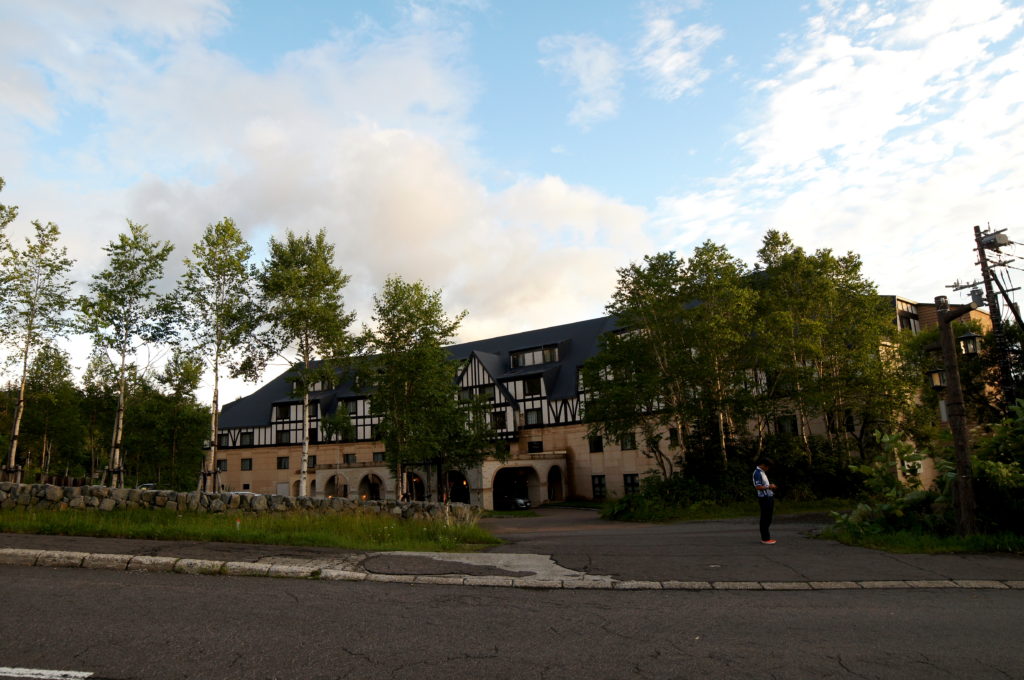 Hotel La Vista Daisetsuzan
Website: http://www.japan-ryokan.net/lavistadaisetsuzan/index4.html
Phone: +81 166-97-2323
Address: Asahidake Onsen, Higashikawa-cho, Kamikawa-gun, Hokkaido
Email: la-daisetsuzan@dormy-hotels.com
Fax: 0166-97-2345
Getting to La Vista Daisetsuzan: The hotel offers a complimentary van that will pick you up from the East Gate of the JR Asahikawa at 2:10 PM (please confirm with La Vista Daisetsuzan that this time is still accurate and make a reservation for pick-up, so they know to expect you) and take you to the hotel. Please note the JR station has many gates which can be confusing. Make sure you're at the East Gate and not the North East Gate or the South East Gate, where we originally waited. It's an hour's drive from the station, so you don't want to miss the shuttle and get stuck in a taxi. The van will be marked "La Vista" and should be easily recognizable.
A stay at La Vista Daisetsuzan will relax and rejuvenate you. The welcoming baths, the delicious food, and the warm hospitality will make you feel restful and at peace. If you want to have the onsen experience in a beautiful place in the midst of a vast wilderness, La Vista Daisetsuzan is the place to visit!