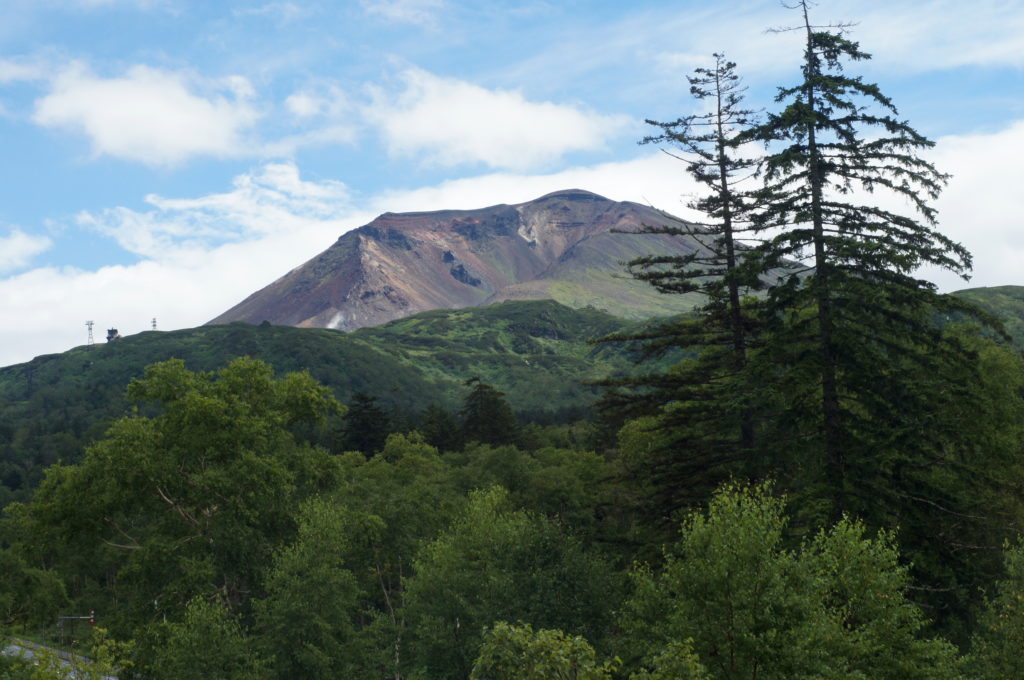 View of Mount Asahidake from Asahidake Onsen

Summiting Mount Asahidake—the tallest mountain in Hokkaido—requires planning, preparation, and a sense of adventure! While only 7,516 feet, the rough terrain and extreme weather conditions makes the hike challenging. Yet, the beautiful scenery, the experience of climbing the mountain, and the sense of accomplishment you feel when reaching the top, overshadows any discomfort you may feel.
When planning our trip to Daisetsuzan National Park, I couldn't find many detailed descriptions of the hiking in this area. So I want to share with you what we learned, so you can better prepare for hiking up Mt. Asahidake.
Summiting Mount Asahidake – What You Need to Know

View of Sugatami Station and the Asahidake Ropeway
How to Get to Sugatami Station from Asahidake Onsen – Two Options
Sugatami Station is the summit station for Mount Asahidake and the access point to many hiking trails, including the path around Asahidaira and the trail to summit Mount Asahidake. It's the perfect place to rest and refuel after a hike; it has bathrooms, a snack stand, tables, and a small store with hiking supplies and souvenirs. There are two ways to get to Sugatmi Station from Asahidake Onsen:
Option 1 – Taking the Asahidake Ropeway to Sugatami Station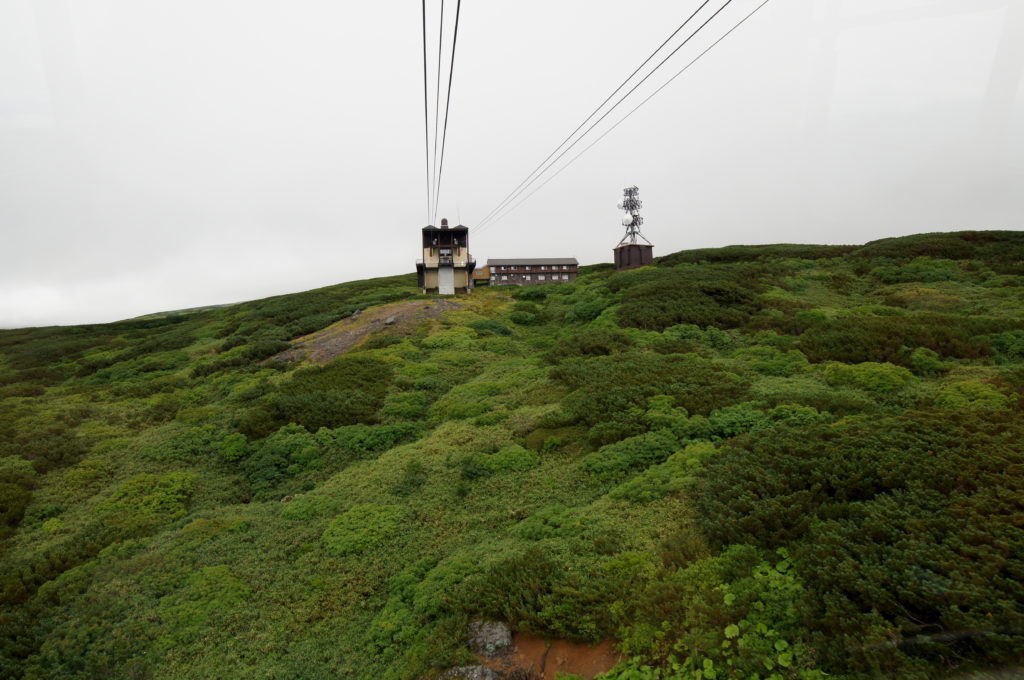 Taking the Asahidake Ropeway to Sugatami Station
The first and easiest option is to take the Asahidake Ropeway to Sugatami Station via an enclosed cable car. The 1600 ft. ride up takes about 10 minutes and depending on the weather provides fantastic views. A round-trip ticket costs ¥2900, around $25. The ropeway is a great option if you want to shorten your hiking time.
Please make sure to check their website to make sure the ropeway is running the day of your hike, sometimes it's closed due to inclement weather or in our case, electrical issues. The schedule of operation varies depending on the time of year, sometimes starting as early as 6 AM and closing as late at 6 PM. The cable cars run every 15-20 minutes, so you never have to wait long for a ride.
Option 2 – Hiking to Sugatami Station from Asahidake Onsen
The longer, more strenuous and exploratory route is to hike up to Sugatami Station from Asahidake Onsen. This way allows you to see a more intimate glimpse of the Japanese wilderness. The trail begins to the right of the Asahidake Ropeway station in a bamboo field.
We went in summer and the bamboo along the trail was wild and overgrown. The trail had become a stream due to all the recent rainfall (we were unlucky to have been in Hokkaido during a series of typhoons, so the weather was exceptionally bad). Though there were occasionally decrepit boardwalk planks consisting of railroad ties with rusty bolts jutting out of them, we found it easier to just walk in the watery path instead.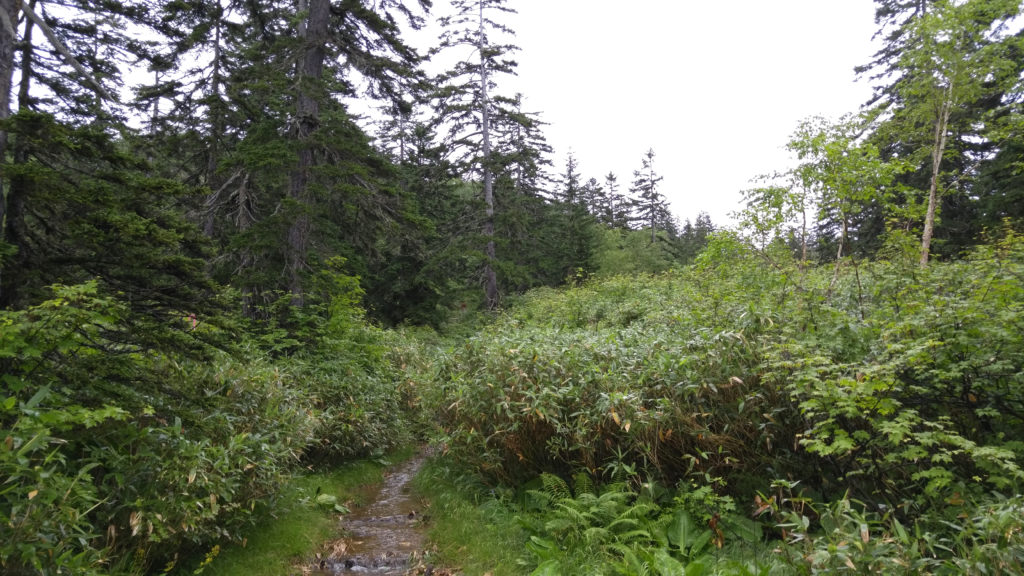 The Trail Up to Sugatami Station from Asahidake Onsen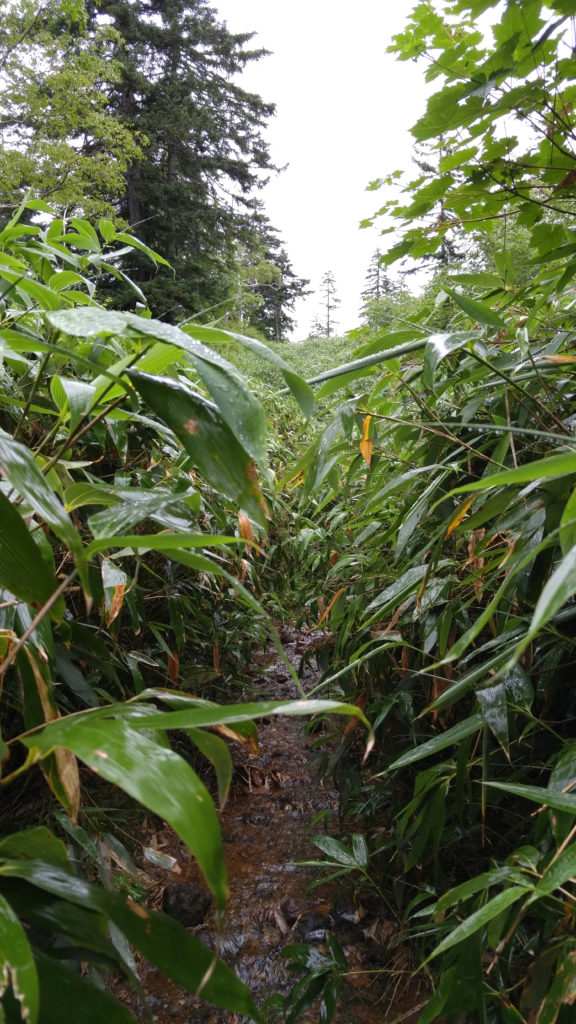 The Trail Overgrown with Bamboo and Flooded from Rain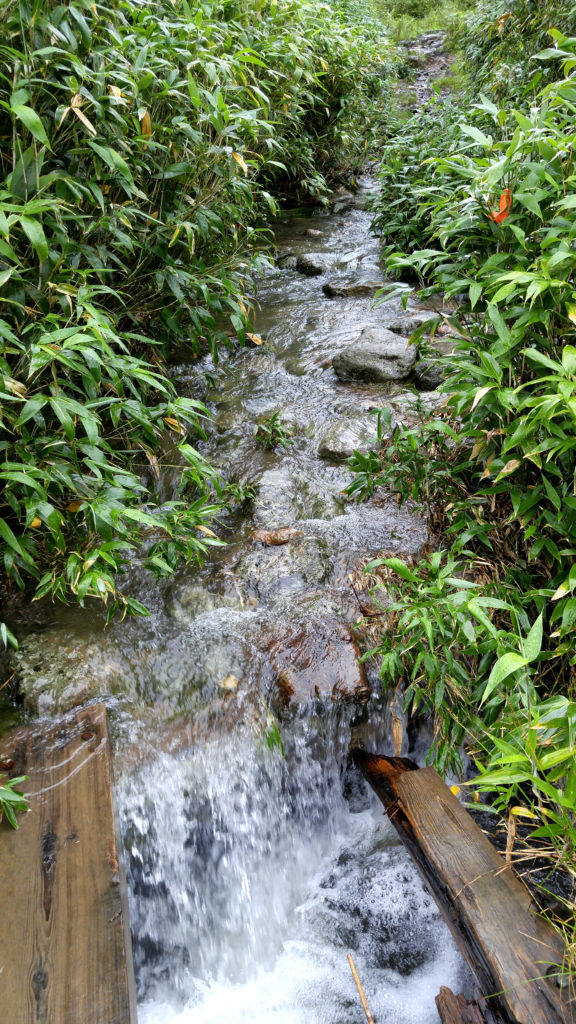 Wooden Boardwalk Planks on the Trail Up to Sugatami Station
The trail left the bamboo jungle after the first 750 or so vertical feet, thinning out to an alpine meadow with pretty wildflowers. At about 1,000 vertical feet, we began getting great views of the mountains and clouds below, as well as waterfalls above. There's something majestic about standing above the clouds and looking down at the world and seeing nothing, but nature as far as the eye can see. Daisetsuzan is a magical place, so beautiful, even in rainy weather.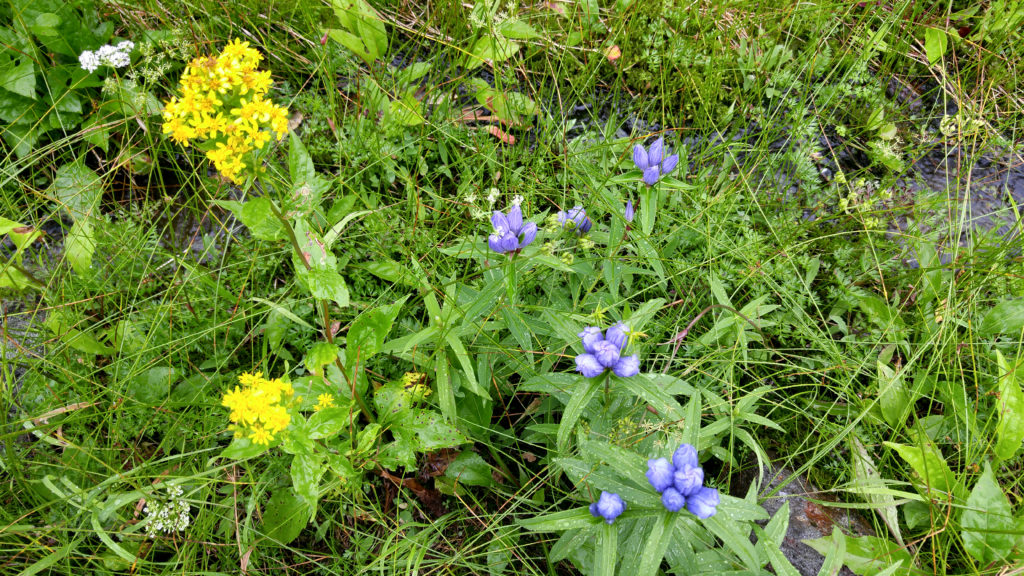 Flowers in Alpine Meadow on Hiking Trail to Sugatami Station in Daisetsuzan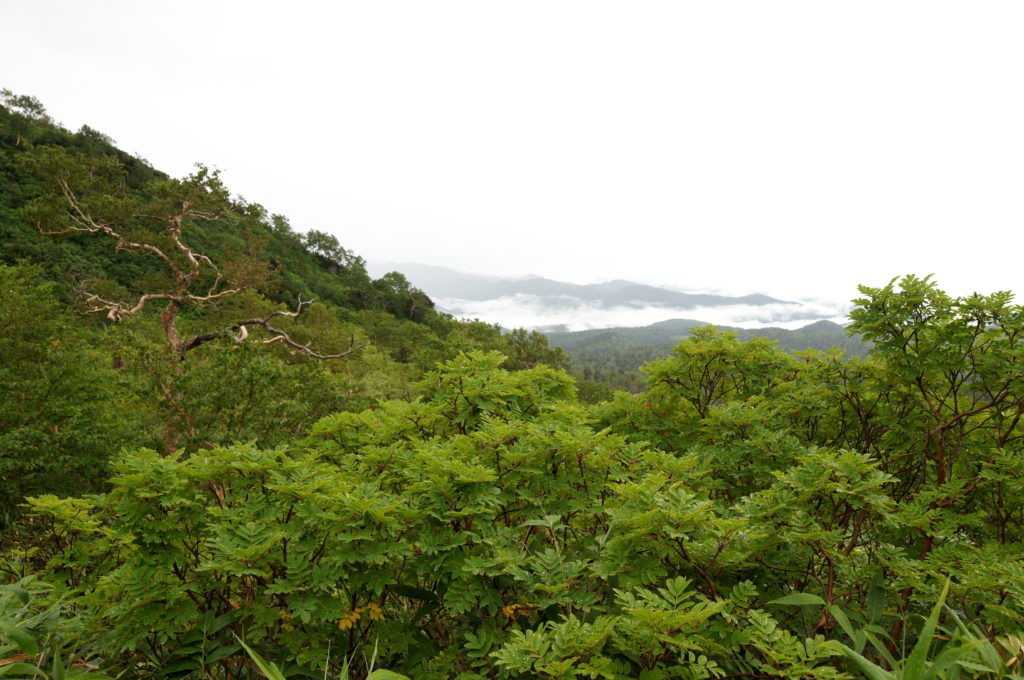 View Above the Clouds Hiking to Sugatami Station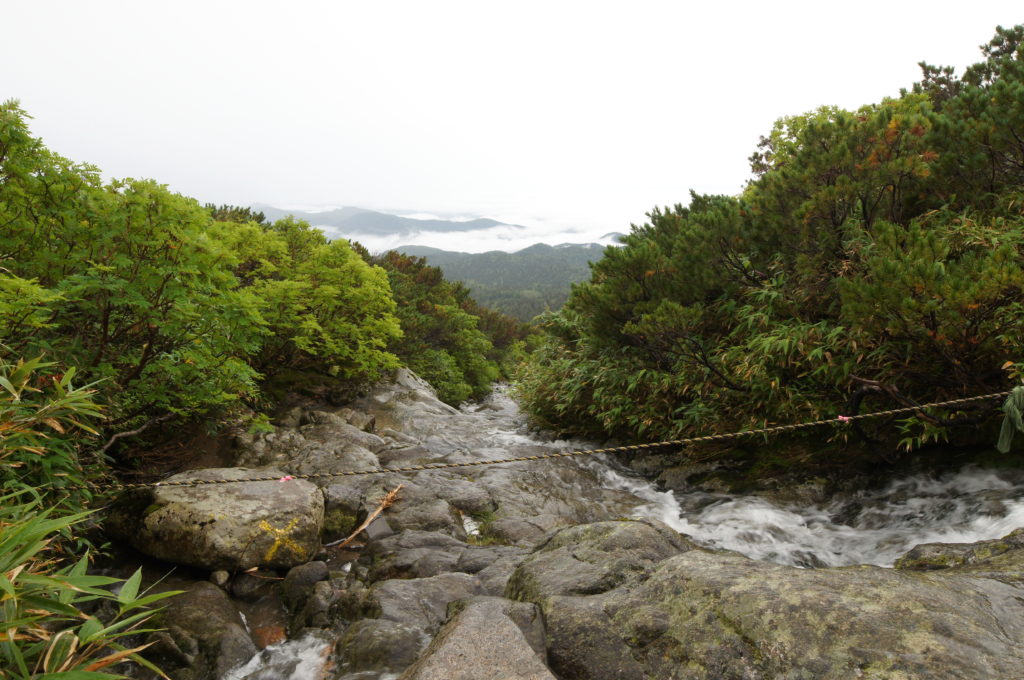 Mountain-River Crossing on Trail to Sugatmi Station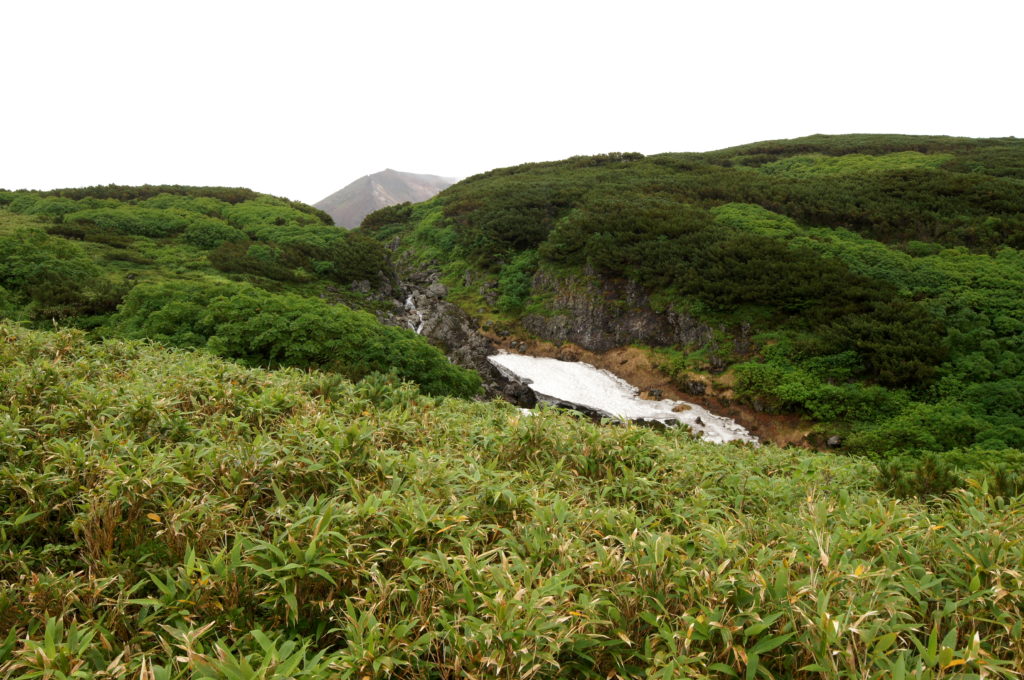 Frozen Snow and Waterfall with Mount Asahidake in the Background
The end of the hike to reach Sugatami Station is a tough climb up rock stairs toward the top. Once there, hang a left to stop at Sugatami Station for a bathroom break and quick rest, before summiting Mount Asahidake.
If you're doing this option, please make sure to get an early start to give you enough time to hike up Mount Asahidake and back. You can purchase a one way ticket from Sugatami Station and take the ropeway down, so you don't have to do the whole hike back.
Hiking Up Mount Asahidake – The Terrain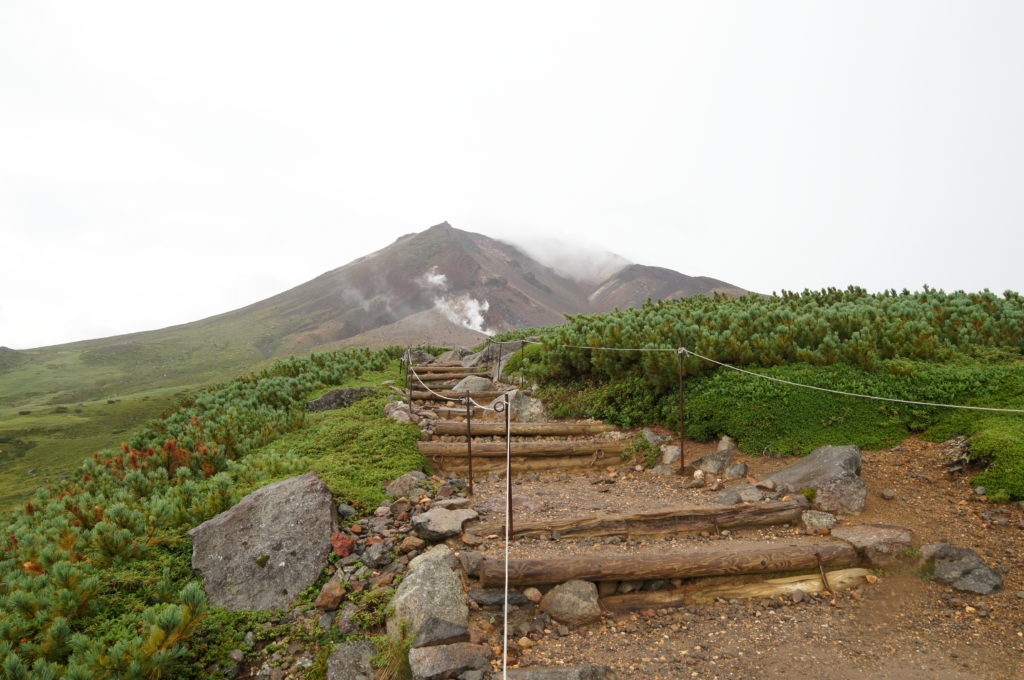 Path Around Asahidaira Going Towards Mount Asahidake
Exiting Sugatami Station, you can take the trail to the left or right as both lead to the Asahidake summit trail, just make sure not to deviate from the path around Asahidaira trail loop. The whole loop trail is worth checking out, so whatever way you go out, I recommend going the other way on the way back.
Along the way you'll see Sugatmi Pond, a pristine blue pond with Mount Asahidake in the background. Mount Asahidake is an active volcano, though it hasn't erupted since 1739; you'll see billowing white plumes of gas steaming out of sulfurous vents.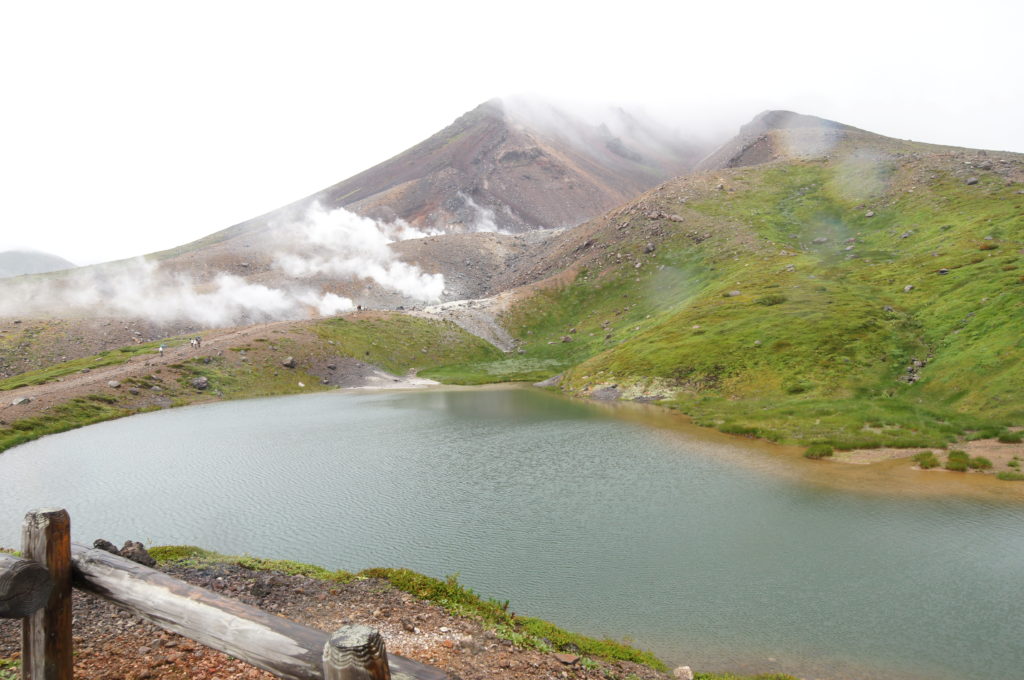 View of Sugatmi Pond from the Sugatami Observation Point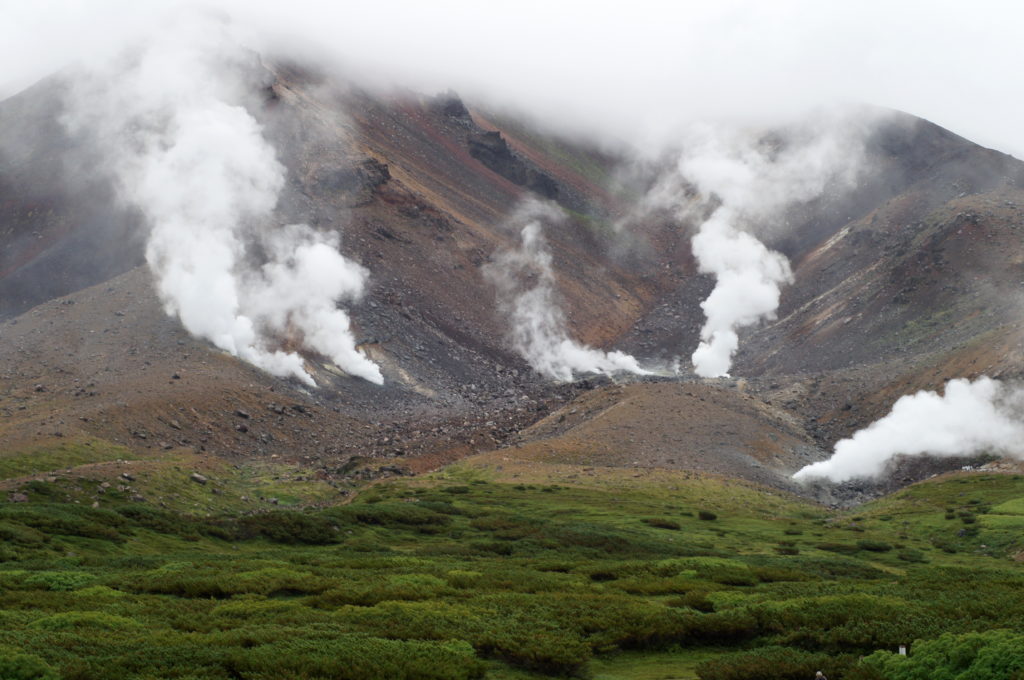 Mount Asahidake with Steaming Fumaroles
We rang the prayer bell, near the fumarole overlook, and wished for a safe journey up the mountain—a third typhoon was heading our way, but we were bound and determined to make  it to the top!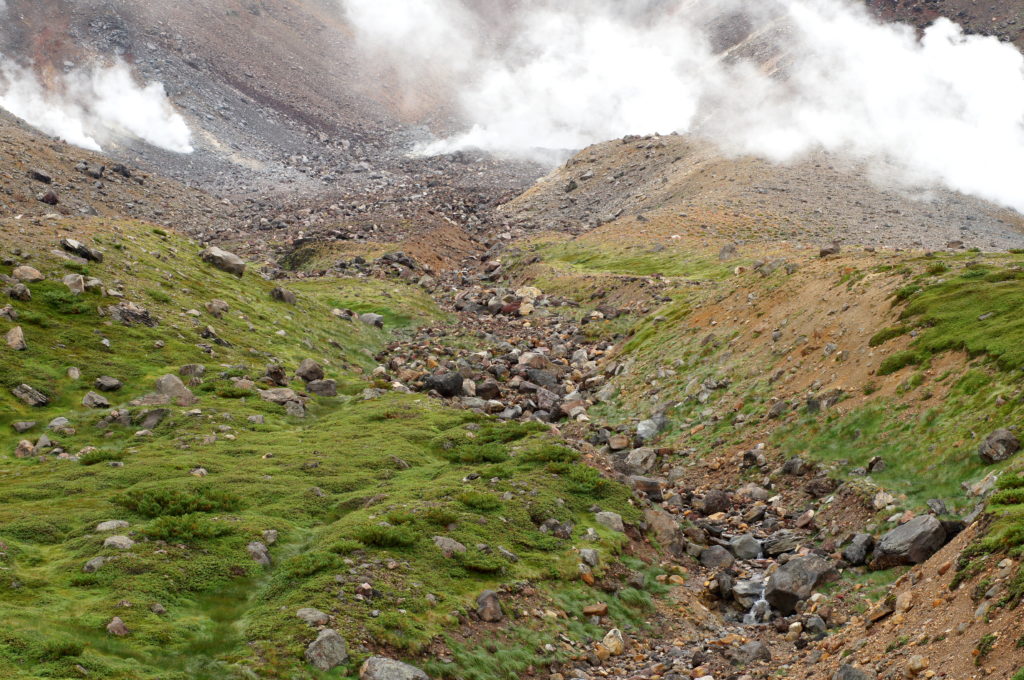 View looking Down from the Mount Asahidake Trail
The ascending path is a straight, steep climb up a narrow knife ridge slope strewn with volcanic rocks and scree. The trail turns left for the last leg of the journey. There are no switchbacks, stairs, or climbing aids. Yellow blazes mark the trail every 100 feet or so. It's a very rough trail! I highly recommend good hiking boots and hiking poles—both of which we did not have, but wished we did. We had to throw away our tennis shoes afterwards from the toll they took hiking on volcanic rock.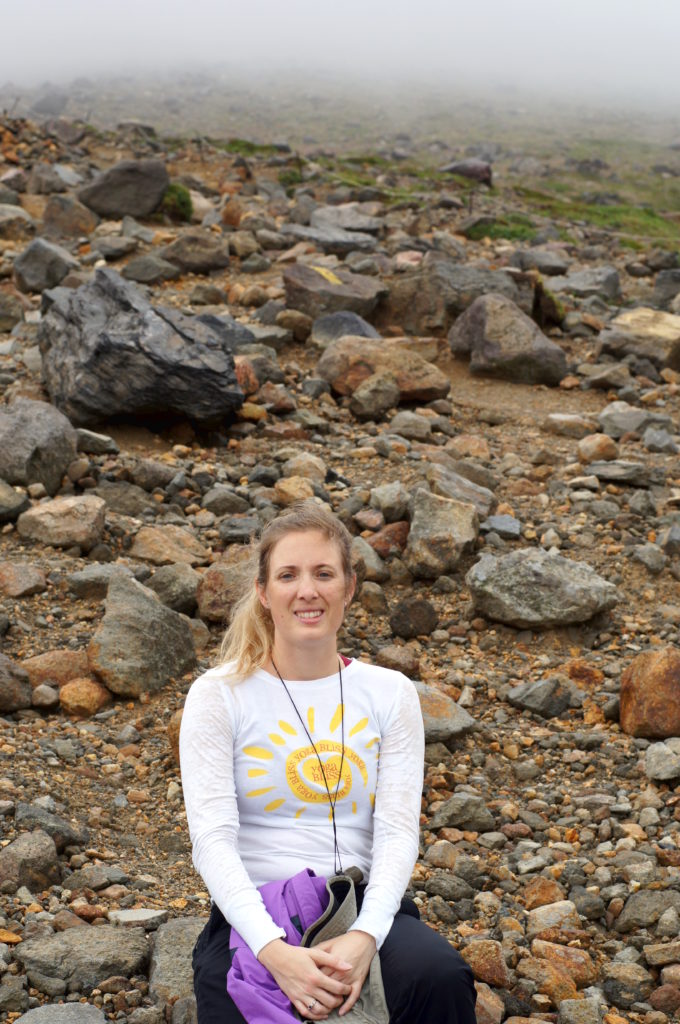 Me Taking a Rest on the Hike Up Mount Asahidake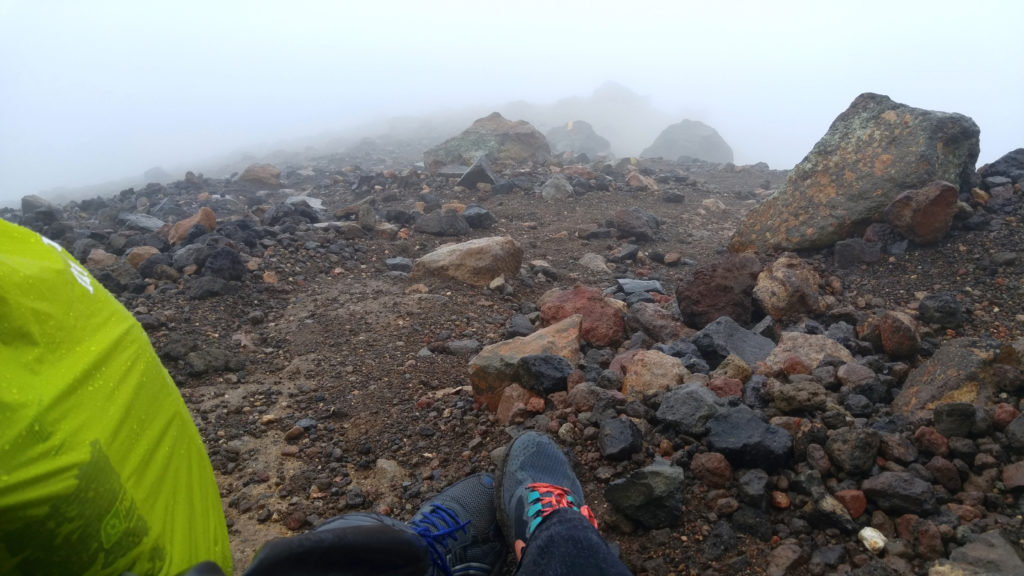 Taking a Rest Summiting Mount Asahidake
For the first 500 vertical feet or so, we had decent visibility because the mist hadn't closed over us, and we got a nice view of the fumaroles above and smelled the sulfurous air. But once the fog closed in, it was like a steel trap: visibility dropped to 30 to 90 feet, the temperature dropped, the rain began, and the wind picked up. All of these variables only worsened as we gained altitude. Eventually the rain was pouring, the wind was lashing, the visibility was minimal, and it was in the 50s. We were hiking up a volcano in a typhoon, so bad weather comes with the territory. We pressed on to the final ascent.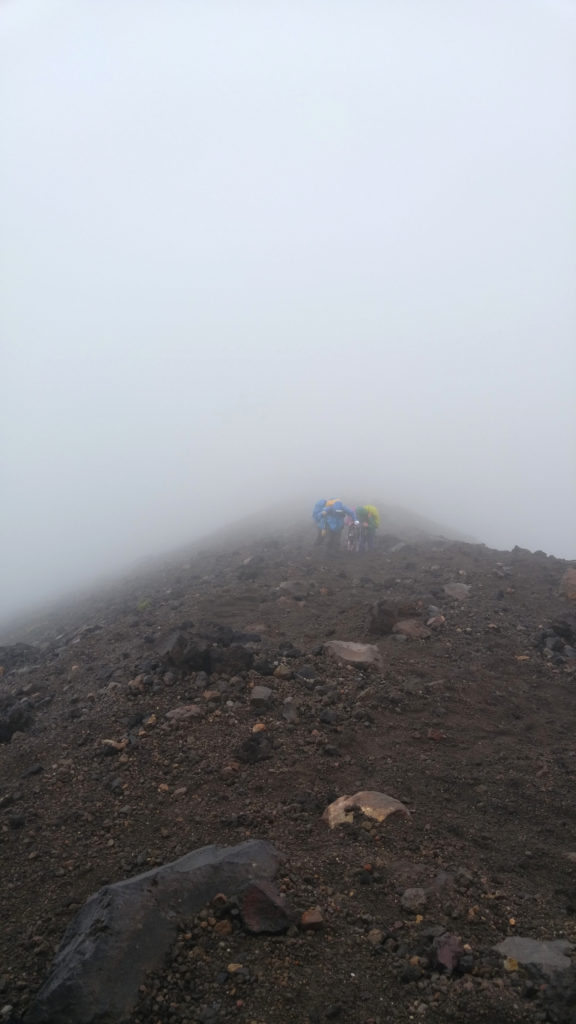 A Group of Japanese Hikers Behind Us On the Trail
Near the top, the trail veers left and increases to an even steeper pitch. The wind also intensified to low-level hurricane force. We were cold and wet but resolute on making it to the summit. At last, we did!
Corey and me at the Mount Asahidake Summit
Naturally there was no view, but we braved the conditions for a bit. Up there, the wind was blowing at around 30-40 mph, with gusts around 60 mph. Because you start to rapidly lose heat in those conditions, we headed down soon.
Prepare for the Weather – What Gear You Need and How to Dress
As you can see, summiting Mount Asahidake is tough, so it's important to prepare for the terrain and all kinds of weather outcomes. I've put together a list of gear that would be useful on the trail.
Trail Map of North Daisetsuzan National Park (you can find this at the ranger station in Asahidake Onsen)
Hiking boots and socks
Day hike backpack with rain cover
Rain gear (preferably Gore-Tex pants and jacket)
Layered clothing (it gets colder at altitude, so you want layers you can take on and off)
Hat and gloves
Hiking poles (this helps with stability; there are a lot of loose rocks and the ascent/descent is quite steep in places)
Snacks
Safety blanket
First-aid kit
Cell phone in case you need to call for help in the event of an emergency
Water
Camera (optional)
Binoculars (optional, but nice if you spot a fox or pika and want to take a closer look)
Whistle
Small flashlight
And with any kind of hiking, always tell someone your itinerary, so they know when you'll be back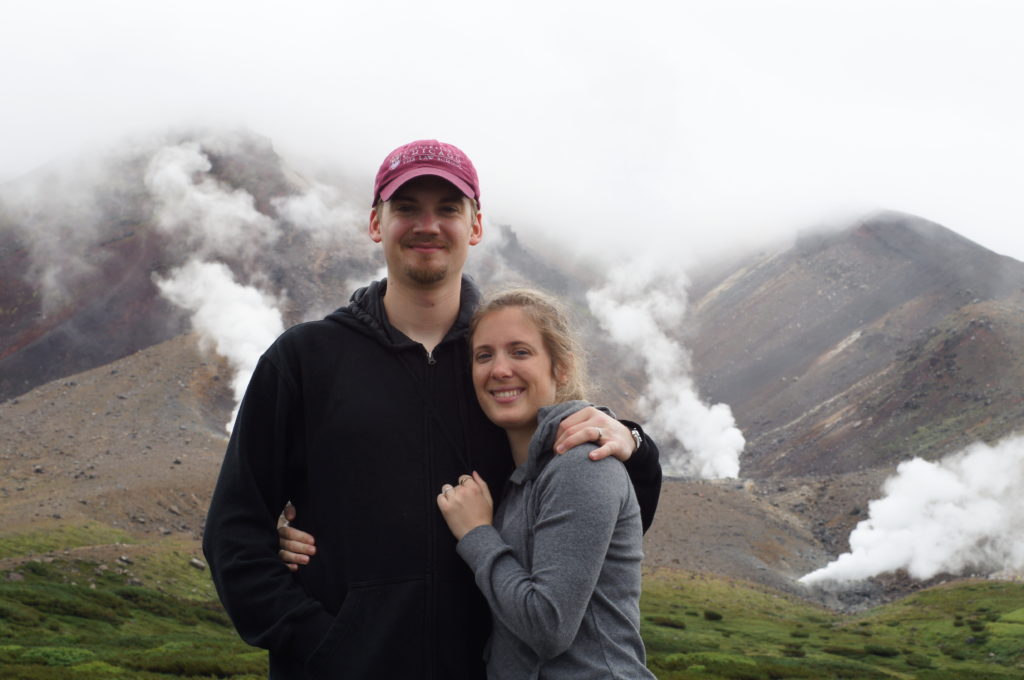 Corey and I at the Sugatmi Pond Observation Point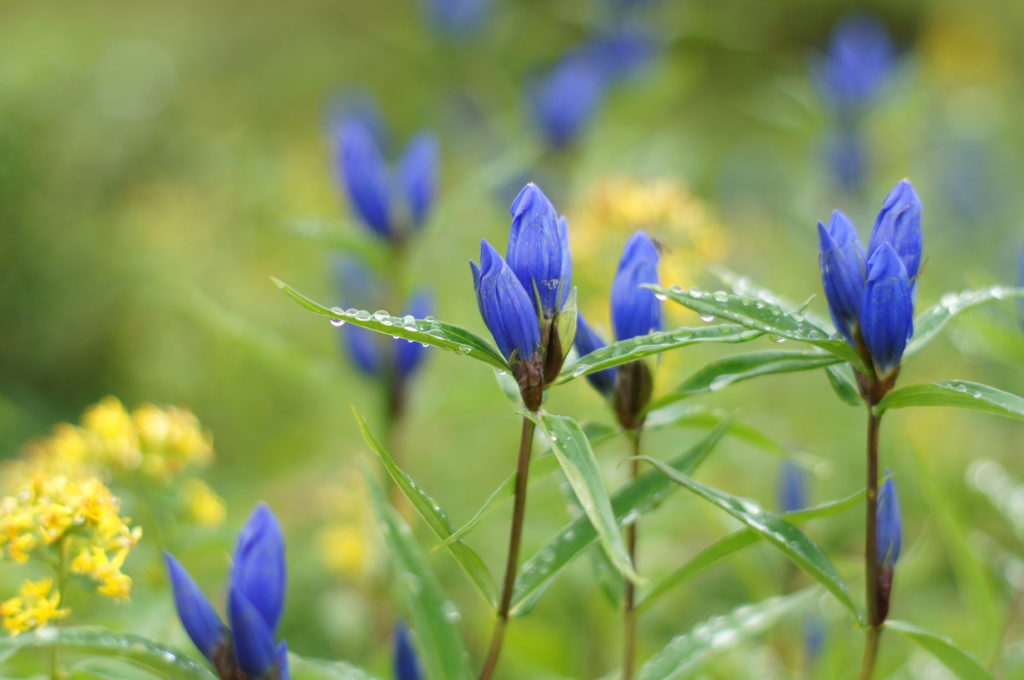 Beautiful Alpine Flowers Seen From the Path Around Asahidara
Despite the bad weather we experienced, hiking in Hokkaido and relaxing in the onsen at La Vista Daisetsuzan was one of our favorite parts of our trip to Japan. Summiting Mount Asahidake was a fun and crazy adventure we won't soon forget.
If you're planning on visiting Hokkaido, make a stop at Daisetsuzan National Park. Explore the wild side of Japan! Hiking season is July through September. Then it becomes a destination for skiers from mid-December to early May.
If you enjoyed reading this post, like my Facebook page and subscribe to my blog to follow my cooking adventures and flavorful journeys!