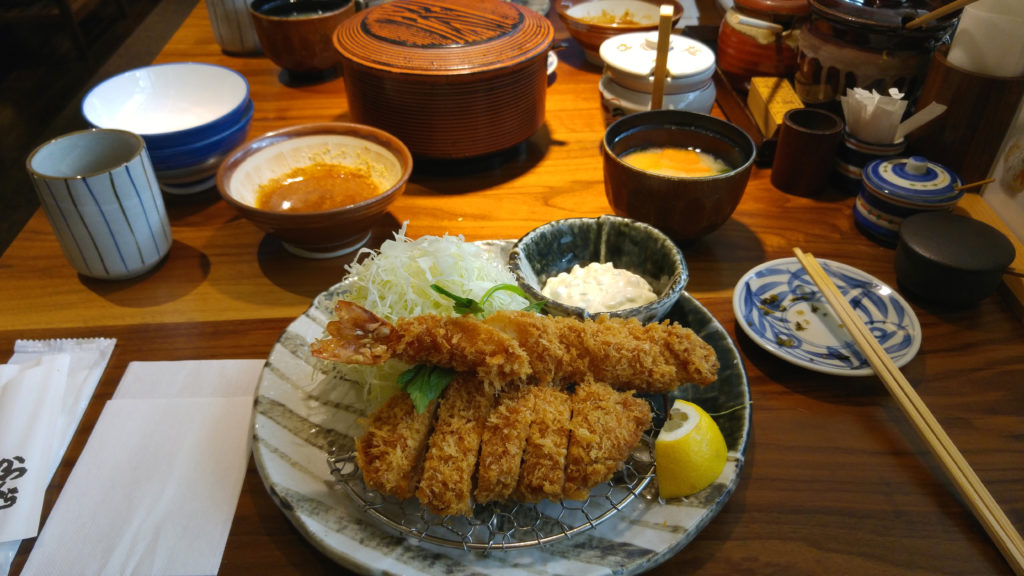 Tonkatsu Pork Filet and Prawn at Katsukura Shinjuku
Katsukura Restaurant is located on the 14th floor of the Takashimaya Mall in Shinjuku, a short walk from Shinjuku Gyoen National Gardens.  Katsukura specializes in tonkatsu—a Japanese dish consisting of pork that has been coated in flour, egg, and panko breadcrumbs, and then deep fried. This preparation produces delicately airy pork with a crispy exterior. If you visit Japan, you must try tonkatsu at least once!
Katsukura is a tourist-friendly restaurant. Upon arrival, they brought us cold barley tea (commonly served in the summertime in Japan) and offered us English menus. Fans of Japanese whiskey will be happy to see that you can order a high-ball of Yamazaki or Hakushu for around ¥650 (~$5-$6 USD). This is not bad at all given the price of Japanese whiskey in the States!