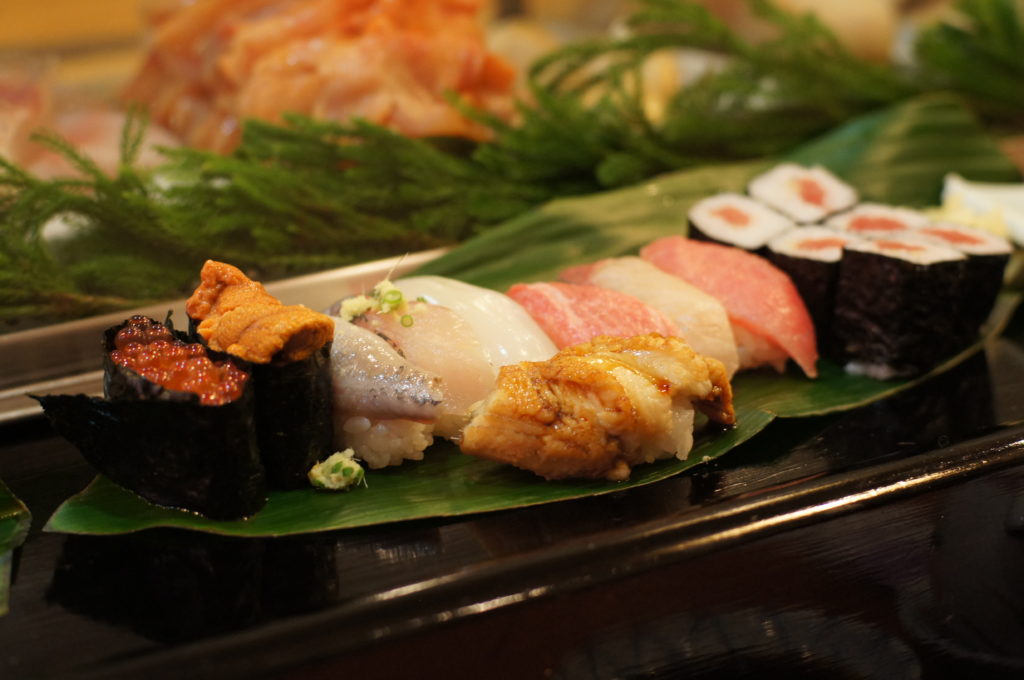 Omakase Set at Iwasa Sushi
If you're a foodie traveling in Tokyo, you must visit Tsukiji Market—the world's largest seafood market. It's a mad rush of activity, especially in the early morning when most of the commercial purchasing takes place. Forklifts and small trucks whiz back and forth, workers stack enormous piles of empty Styrofoam containers for recycling, and every type of seafood imaginable is on display. The sheer volume of seafood sold daily is astounding—over 5 million pounds!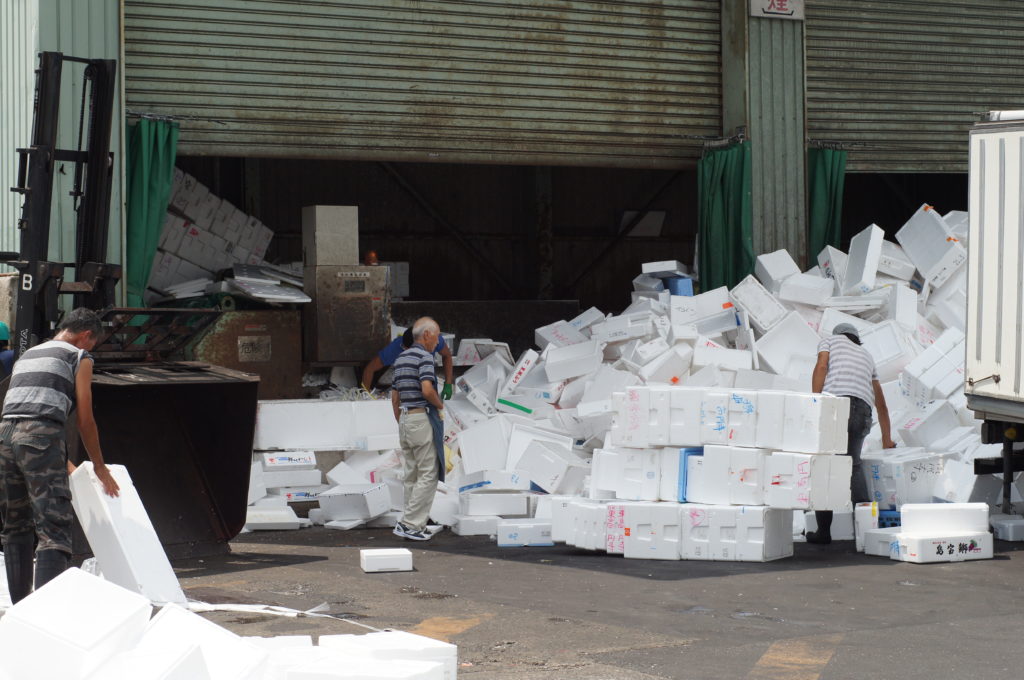 Workers Recycling Styrofoam Containers at Tsukiji Market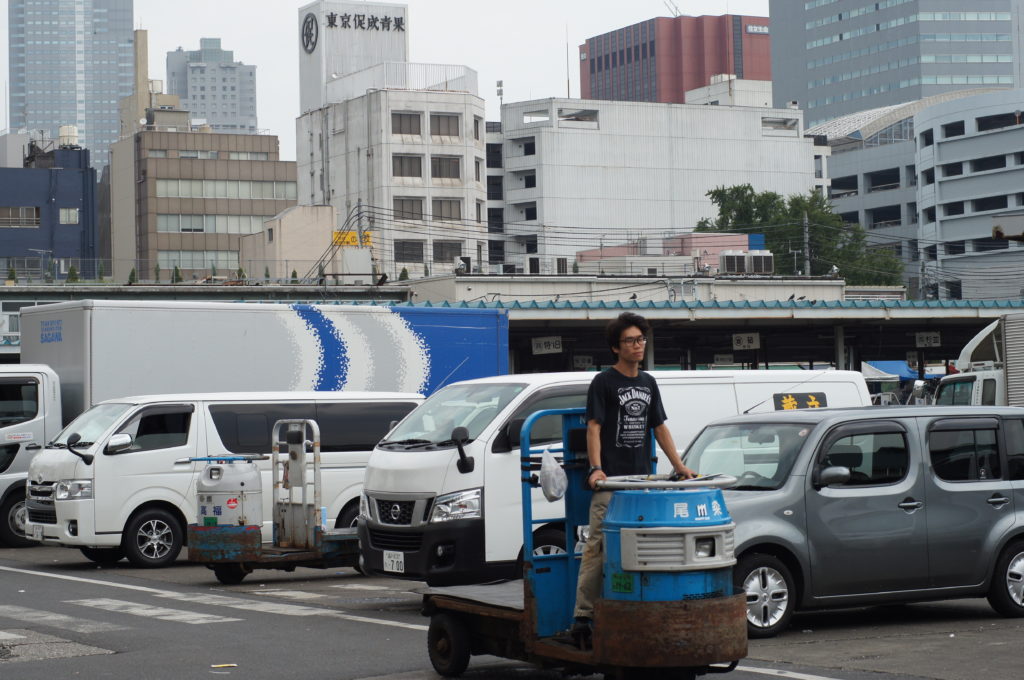 Worker on Small Truck in Tsukiji Market
Tsukiji Market consists of an inner and outer market. The inner market is where most of the commercial purchasing takes place—including the famous bluefin tuna auction that starts at 5:30 a.m. In the inner market, rows of wholesalers line a large warehouse, where they display and sell seafood to restaurant suppliers and chefs. Tourists have limited access to this area so as to keep business humming, but it's opened to the public at 10 a.m. (the last hour or so).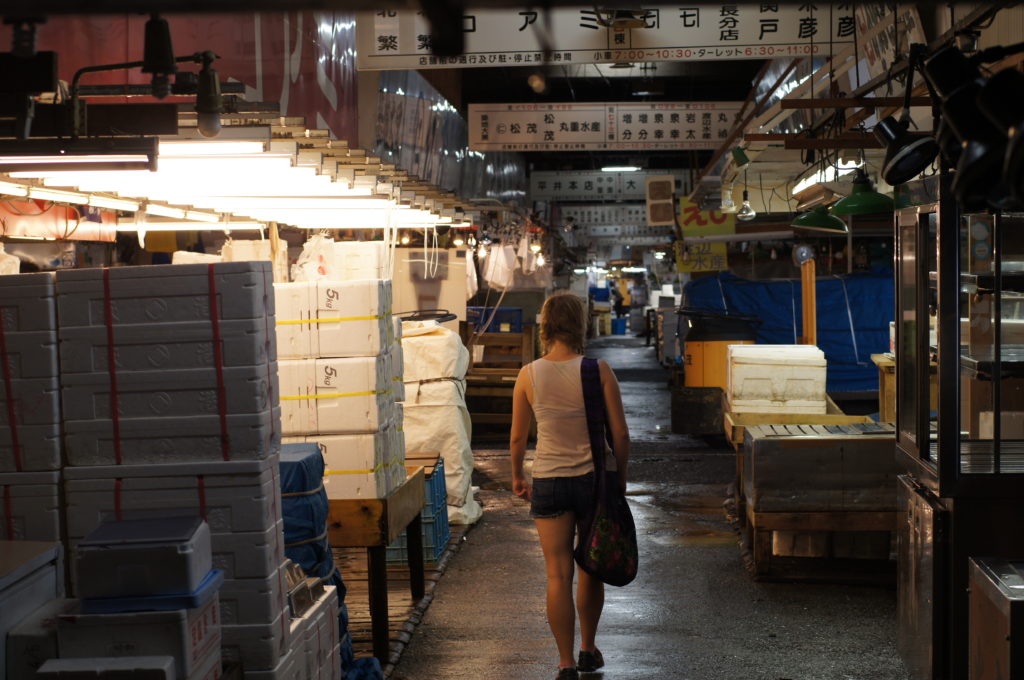 Me Walking in the Tsukiji Inner Market Near Closing
We made it to Tsukiji market around 11 a.m., when most of the inner market vendors were packed up for the day. A few merchants remained in their stalls, tallying up their sales or cleaning their stations. At this time of day, the warehouse had an eerie stillness to it—a stark contrast to its usual hustle and bustle. Walking through the seemingly endless and dimly lit aisles and seeing the closed stands felt surreal and mysterious, almost like a ghost town.
Tsukiji Market Merchant Closing His Stand for the Day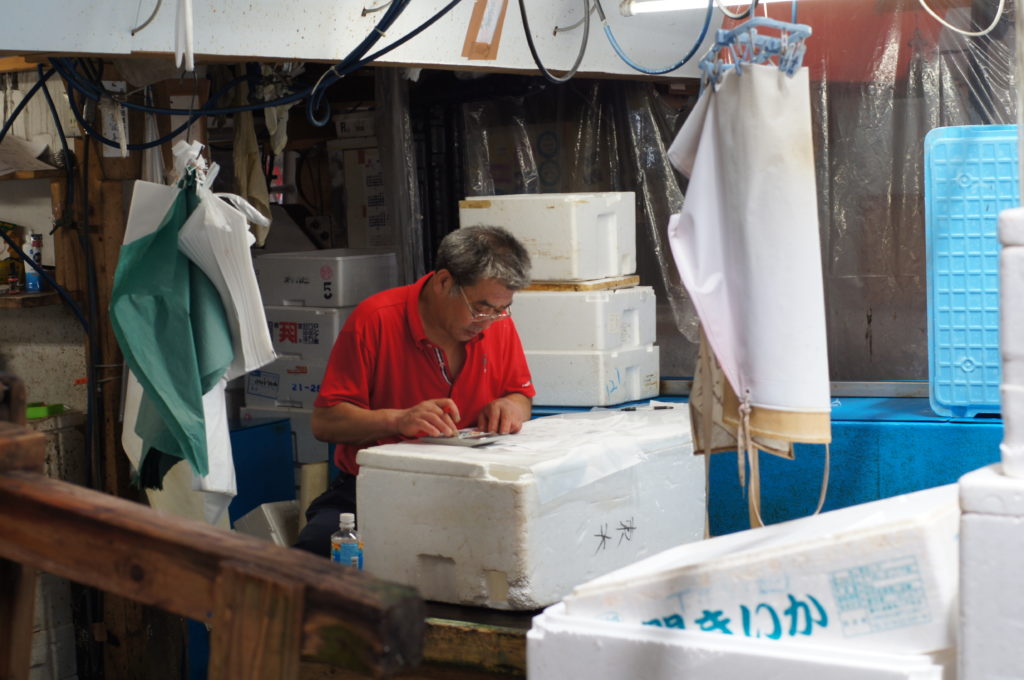 Tsukiji Market Wholesaler Calculating the Sales for the Day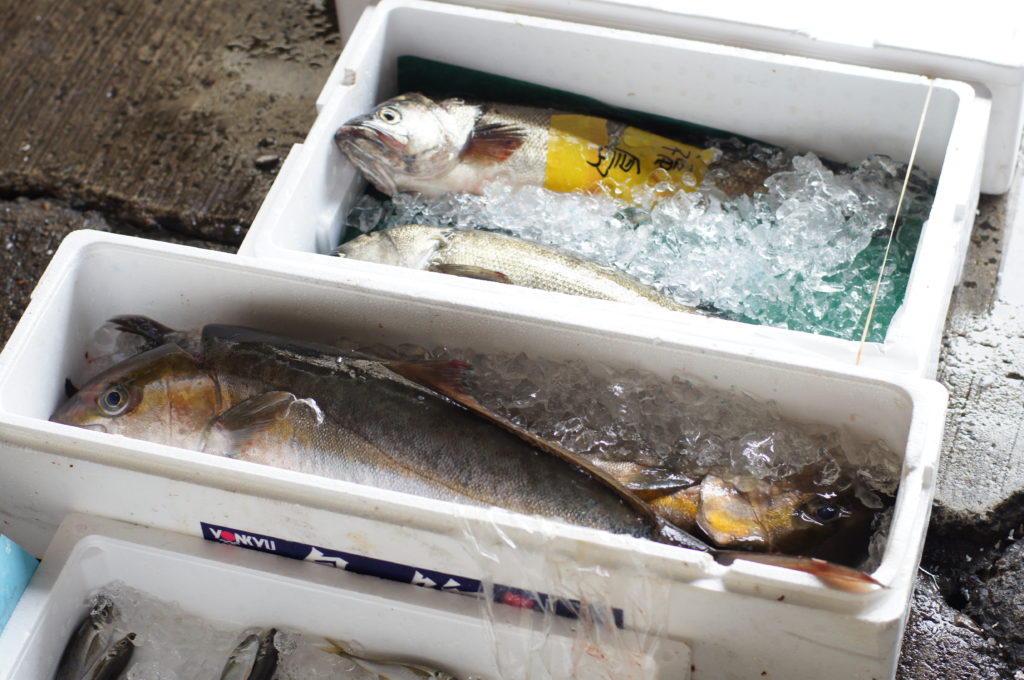 Fresh Fish for Sale at Tsukiji Market
While it's fascinating to see the vast array of seafood on display and experience the bustling atmosphere of Tsukiji's inner market, the outer market is where to head if you want to eat fresh sushi and other prepared delicacies or shop. Tsukiji's outer marker appeals more to tourists and visitors looking for a meal, souvenirs, or kitchen and food supplies. The outer market is a vast, densely packed warren of open-air shops, small restaurants, food stands, and bakeries. Not to mention the vending machines that sell beer and plum wine! There are no open-container laws in Japan—this may have something to do with their amazing public transportation system—so you can walk around the outer market with a drink in hand.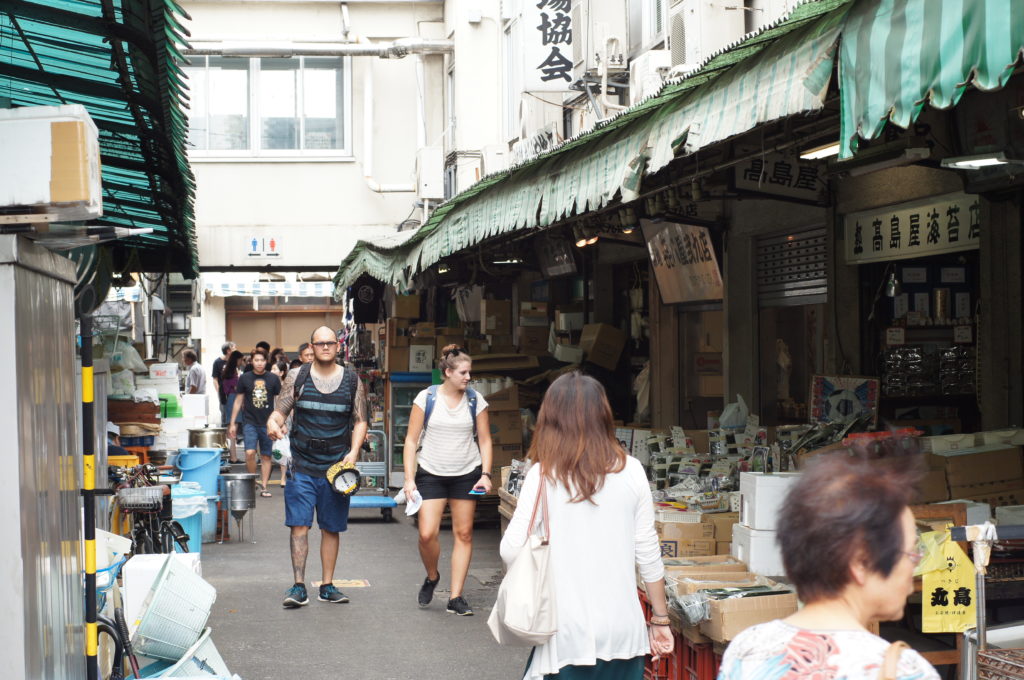 Shops and Restaurants in Tsukiji's Outer Market
We found some pretty chopsticks and cute pufferfish plates browsing the market. If you have a foodie friend or someone who likes unique dishware, this is a great place to shop for souvenirs.
Cute Wagashi (Traditional Japanese Sweets) in Tsukiji Market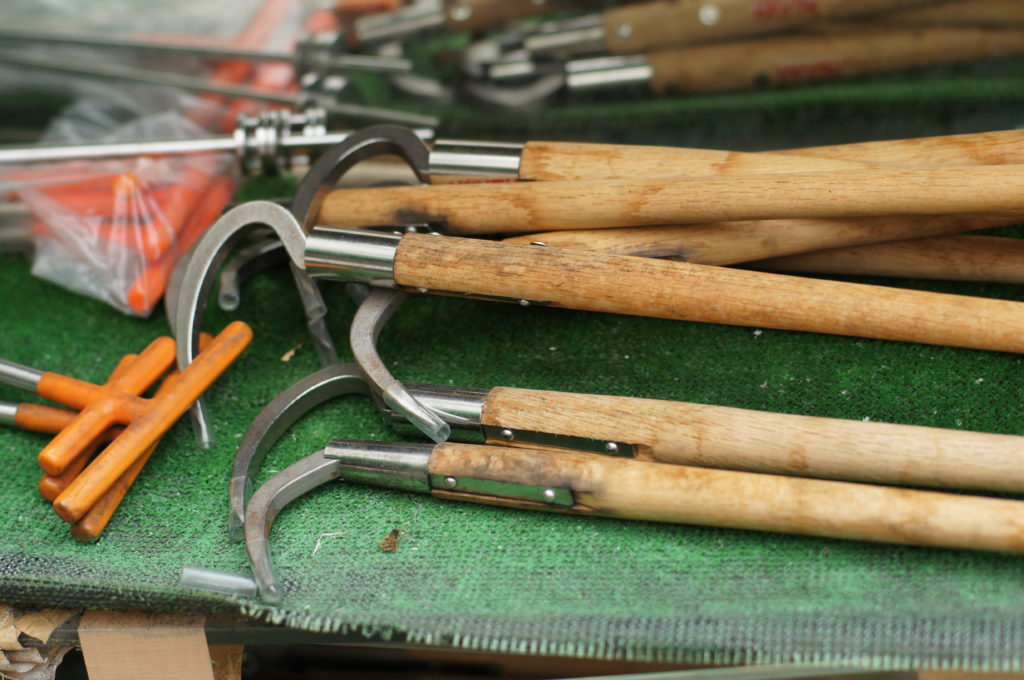 Fishmonger Tools at Tsukiji Market
Eating Sushi at Iwasa Sushi in Tsukiji Market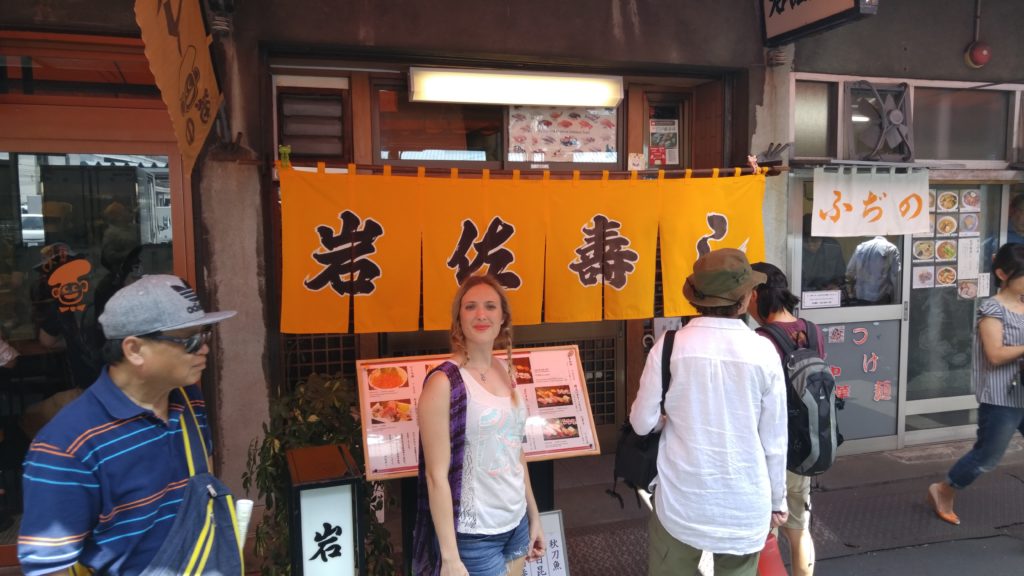 Me at the Entrance to Iwasa Sushi in Tsukiji Market
My favorite part of visiting Tsukiji Market was eating sushi at Iwasa Sushi! It's a small restaurant with bar-style seating capable of serving 12-14 guests at a time. There's a plaque outside the door with a menu, so if there's a line (like when we visited), you can figure out what to order as you wait.
Once seated, they'll serve you tea (we got hot barley tea) and bring you an English menu if needed. I ordered the omakase set—their largest sushi set—because I wanted to try everything this massive market had to offer!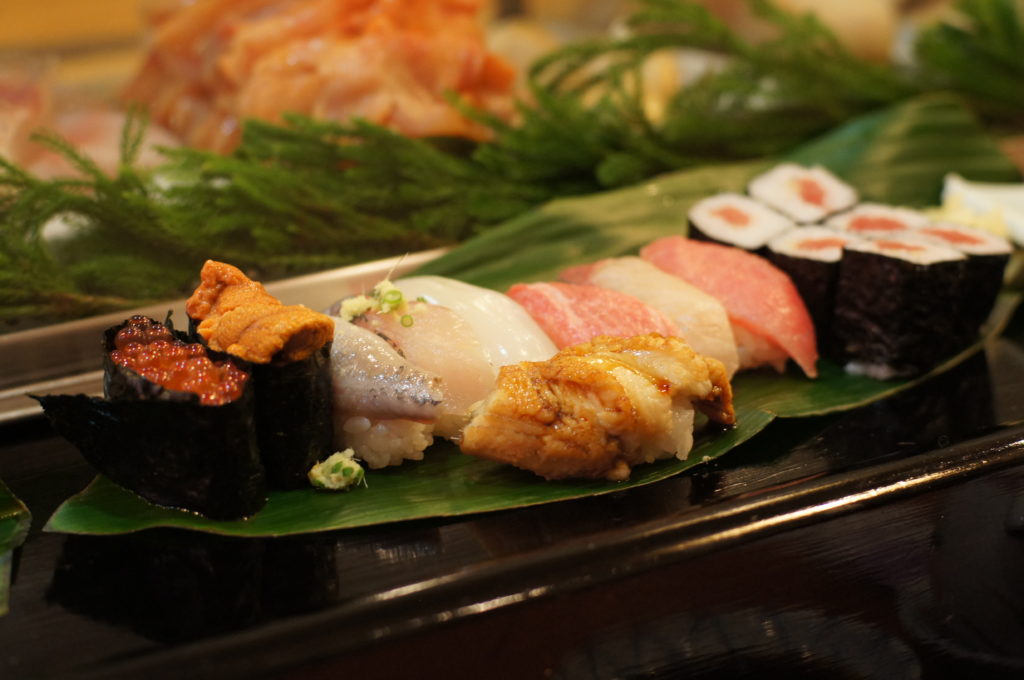 Omakase Set at Iwasa Sushi
The sushi at Iwasa Sushi is freshly made before your eyes; as soon as it's ready, the chefs reach over the bar and place the sushi on a bamboo leaf before you. They serve the day's freshest selection of fish and seafood—a rainbow of colors from the sea. I started with the nigiri first (sliced fish or other seafood draped over rice seasoned with rice vinegar, sugar, and salt). The texture and taste was incredible! I savored each piece, appreciating the unique flavors.
I then moved on to the salmon roe (ikura) and the sea urchin (uni) nigiri. These have a more heavy and intense taste. The salmon roe yields an intense burst of salty ocean flavor when it pops. I'd never had sea urchin before, and I think it may be an acquired taste—which I have not yet acquired. That said, I'm sure it would have been delicious and fresh to someone who appreciates uni.
I finished the meal with a maki sushi roll (fish and rice wrapped in seaweed). It was tasty, but ultimately the nigiri fish slices were my favorite. I think you can more truly appreciate the texture and taste of the fish when its served nigiri or sashimi style (sliced fish or seafood served alone without rice).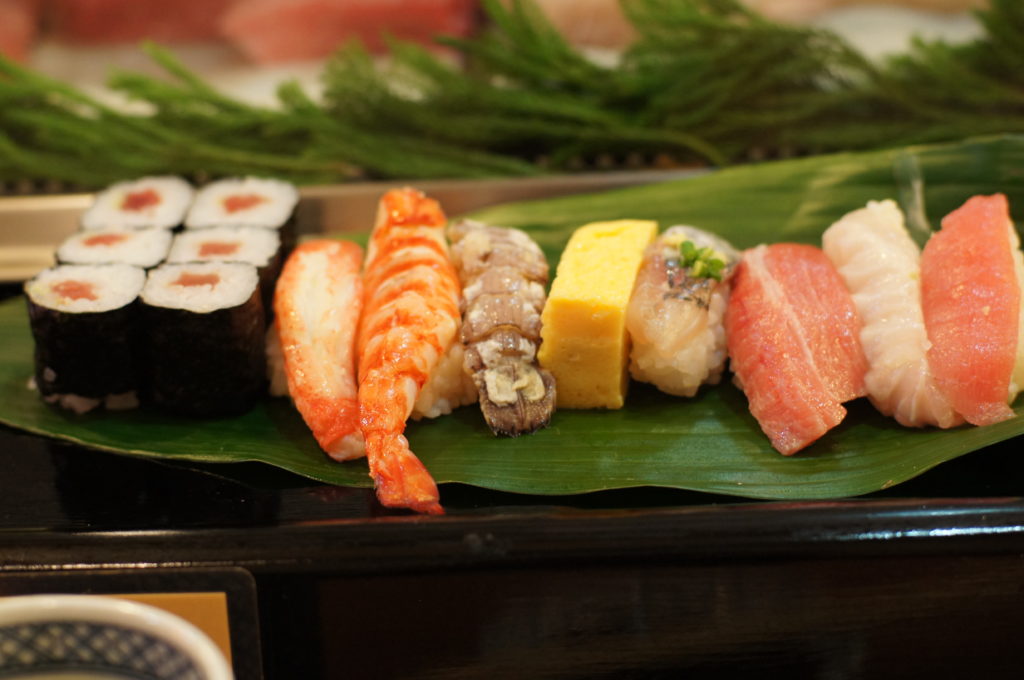 Iwasa Sushi Set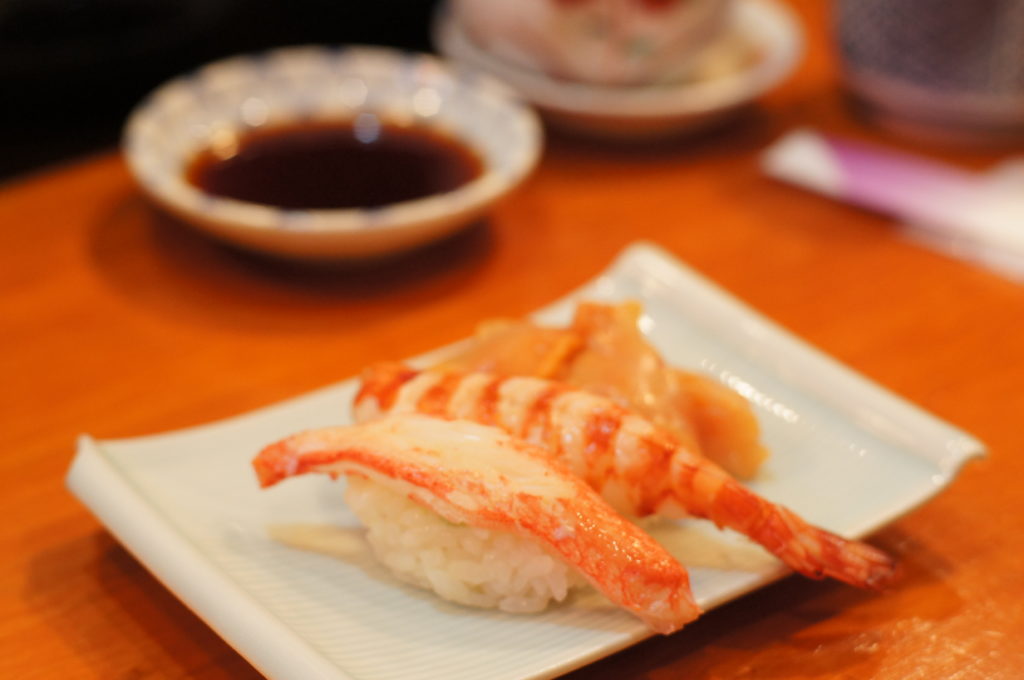 Crab (Kani) and Shrimp (Ebi) Nigiri at Iwasa Sushi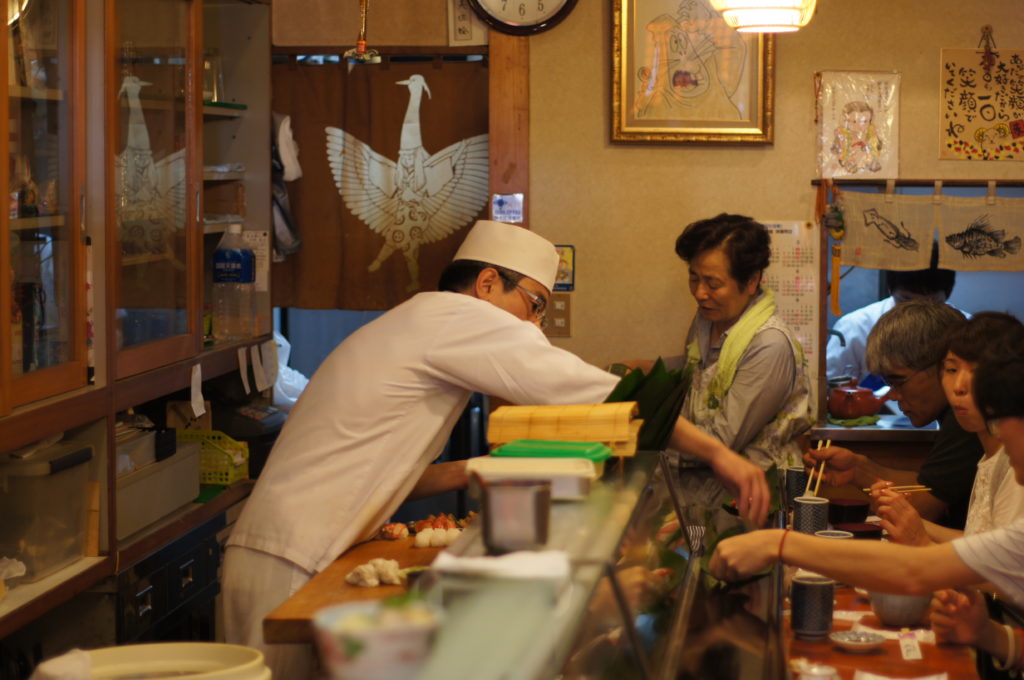 Interior of Iwasa Shushi in Tsukiji Market
We thoroughly enjoyed our visit to Tsukiji market and especially enjoyed eating at Iwasa Sushi. As we were leaving, they also gave us a jar of seasoned seaweed paste as a parting gift. It's meant to be eaten over rice and imparts an intense salty flavor. It was a nice way to end the meal.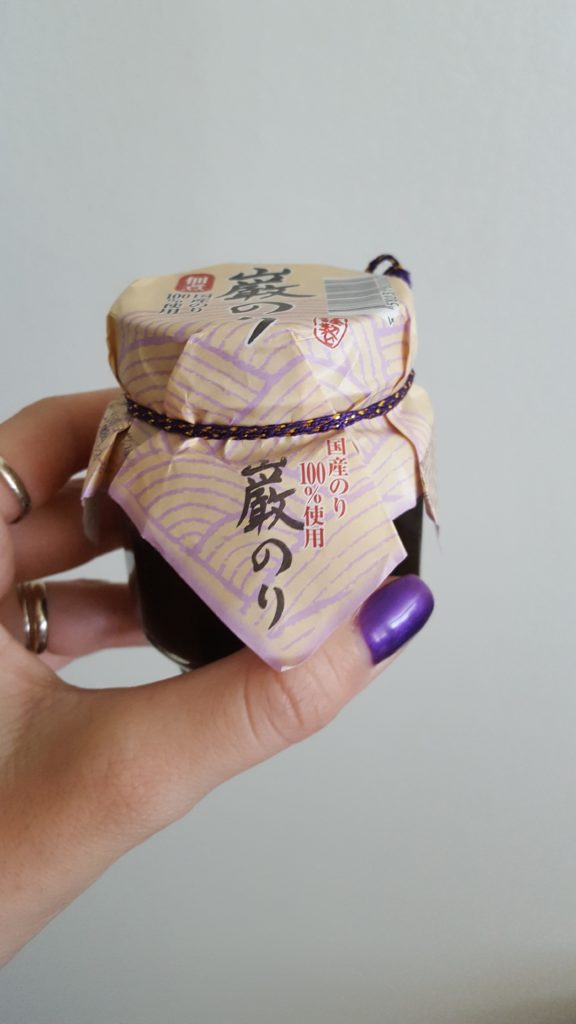 Jar of Seasoned Seaweed from Iwasa Sushi
Info about Eating at Iwasa Sushi
Hours: Monday – Friday: 6 AM – 2:30 PM, Saturday: 6 AM – 1 PM, Sunday: Closed
Address: 6 Chome-27-3 Tsukiji, Chuo, Tokyo 104-0045, Japan
Phone: +81 3-3544-1755
Notes: No reservations. Cash only.
See my general restaurant tips for eating out in Japan here.
Tips for Visiting Tsukiji Market
Check to make sure Tsukiji Market is open. The first day we went to Tsukiji Market, it was closed for a "fixed holiday," and we had to return the next day. This is the 2017 calendar (it's only in Japanese, but the red days indicate it's closed).
Wear close-toed shoes. You won't be able to enter the inner market otherwise.
Bring cash. Most restaurants in Japan are cash-only, and Iwasa Sushi is no exception.
Eat sushi—it doesn't get any fresher than this!
Arrive early. How early depends on what you want to do. If you're trying to get into the tuna auction, they start taking reservations at 5 a.m. on a first-come, first-served basis and they only let in 120 visitors each day, so you might need to arrive at 3 a.m. or earlier. If you just want to enter the inner market, it opens to the public at 10 a.m.; by 11 a.m. most of the inner market businesses are closed. However, most of the outer market restaurants and shops stay open until 2 p.m.
Be respectful. The inner market is a wholesale business. Don't go into restricted areas and be careful of your surroundings. It's fine to look and explore, you just don't want to get in the way. Also, most restaurants in Tsukiji Market are small with limited seating, and they may have long lines. So it's important to respect their policies, order quickly, and not linger too long after you're finished. For example, Iwasa Sushi doesn't allow you to share sushi sets, so each person must purchase their own (as stated on the menu). Another party who was dining there tried to split a set, and the waitress told them it wasn't allowed. One woman in the party responded rudely and the proceeded to complain about it throughout the entire meal. Try to know the policies before you go so you have a better time.
Note: Tsukiji Market is moving to a new location in the near future; the earliest projection for the move is June 2018, so check out the current location while you can!
If you enjoyed reading this post, like my Facebook page and subscribe to my blog to follow my cooking adventures and flavorful journeys!