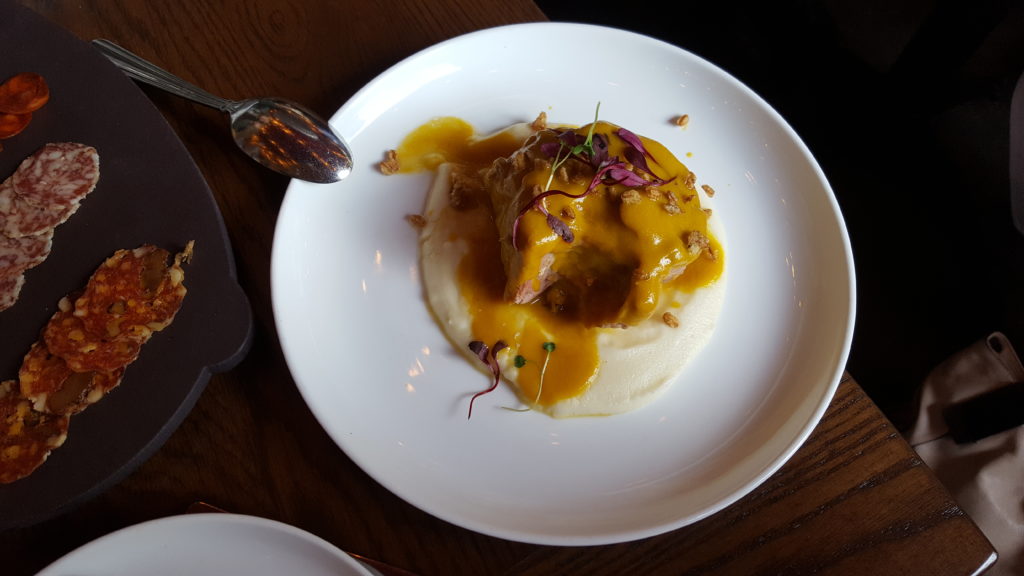 Milk-Braised Pork Shoulder at the Purple Pig
I lived in Chicago for three years, and while I don't miss the brutal, unrelenting winters, I certainly do miss the food scene. Chicago houses some of the nation's best restaurants and markets. Whether you're seeking a magically creative fine-dining experience or delicious craft beer and food in a fun, urban environment, you can easily find a restaurant (or three) to suit your mood.
I recently had the chance to travel with my sister to Chicago and revisit some of my old haunts, but only for a few hours between flights. It was a mad rush, so we had to come up with a game plan that would allow us to hit as many eateries as possible. This was my version of Anthony Bourdain's The Layover, only much, much shorter.
Here goes . . .
It's 9:00 AM, our flight has just landed, and we decide the best idea is to get dessert, of course! We knew Mercat a la Planxa was open and were hoping they would serve us their swoon-worthy chocolate croquettes bathed in banana marshmallow cream and olive oil, caramel, and black pepper. Yes, it's unusual, it's creative, but it's also one of the best desserts. Unfortunately, it's no longer on the menu! We were a tad heartbroken as we'd been dreaming about that dessert for the last hour. But on we went!
10:00 AM. First (successful) stop: we walked around Millennium Park and visited The Bean and other iconic Chicago sites. We wanted to stretch out our legs from the flight and couldn't resist the beautiful spring weather. Plus, we knew we had some serious feasting ahead of us.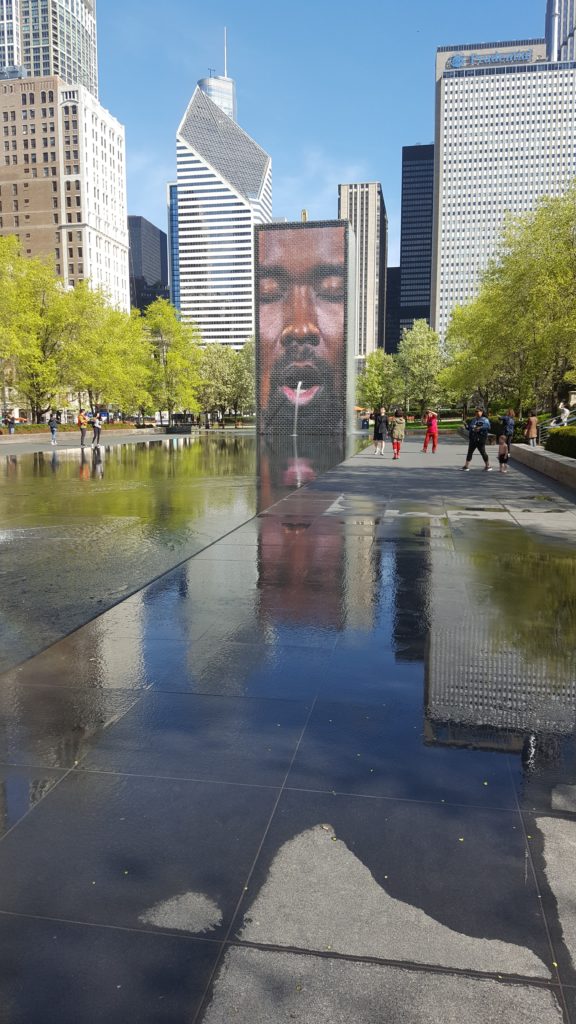 Crown Fountain in Millennium Park, Chicago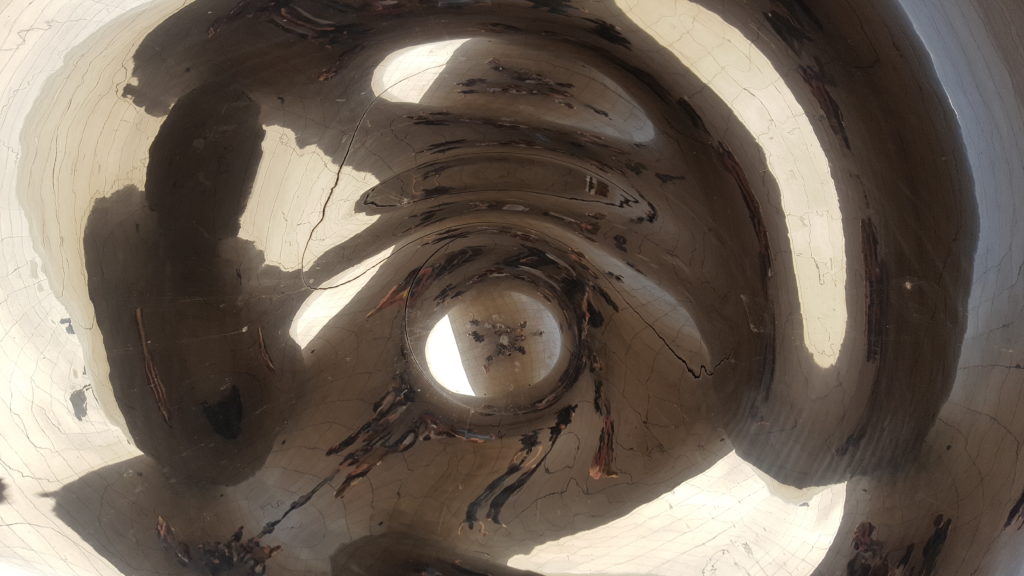 View from Underneath the Chicago Bean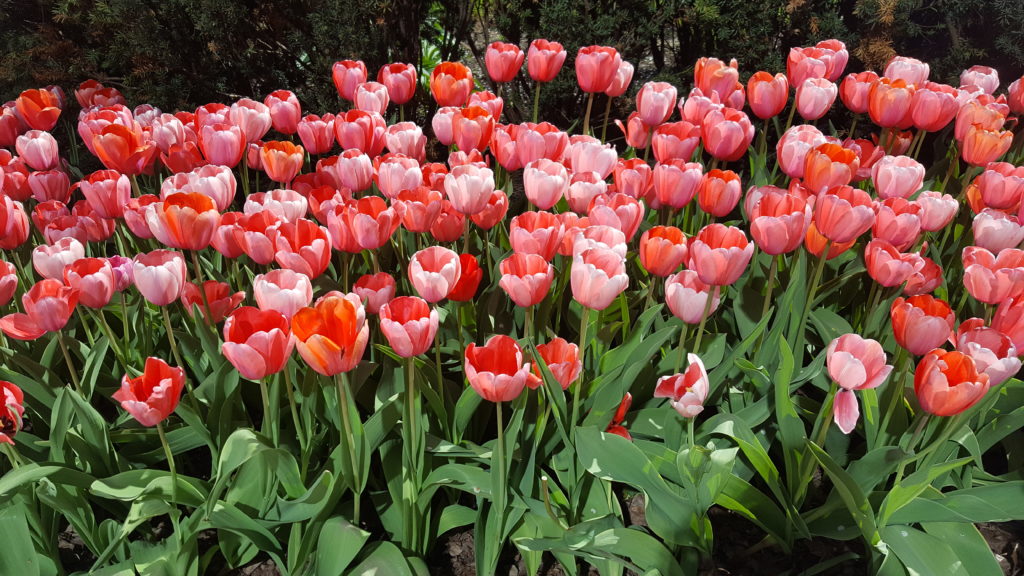 Tulips in Millennium Park
10:45 AM. Shop at Little Eataly. We realized that we could extend our Chicago food experience by bringing home food from Little Eataly. It's a huge Italian grocery store featuring a vast assortment of fresh and dried pastas, olive oils, fresh breads, charcuterie, cheeses, sauces, and all kinds of other Italian goodies. They also have food stalls and a microbrewery.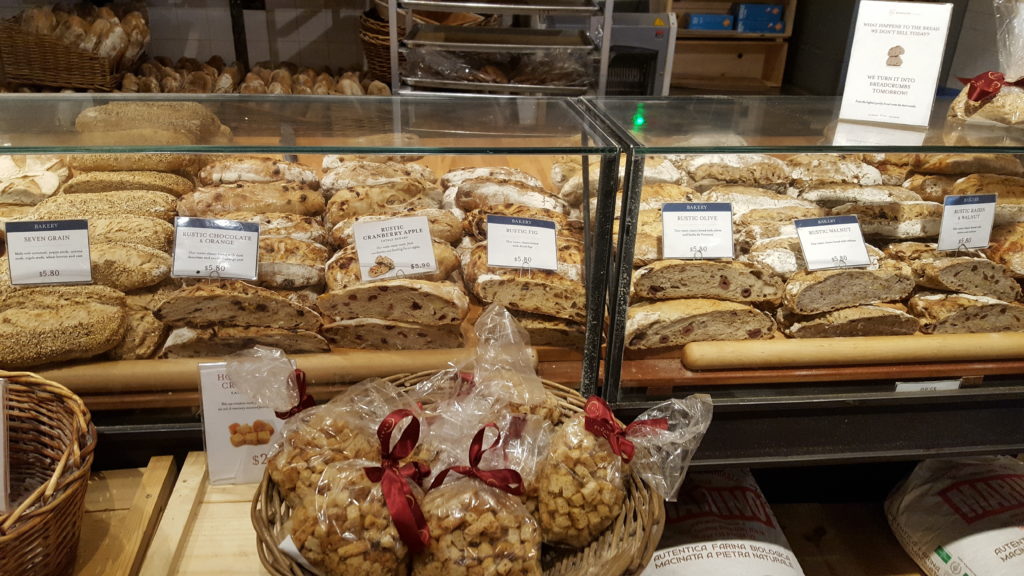 The Bakery at Little Eataly in Chicago
We bought fresh olive bread and goat cheese to enjoy on the return flight home. That beats airport food any day!
11:30 AM. Eat dumplings at Lao Sze Chuan. I was thrilled that Tony Hu opened a Lao Sze Chuan location on Michigan Avenue, because we didn't have time to hop over to China Town. We ordered the Xiao Long Bao (soup dumplings) and the Peking Dumplings. When you eat a good soup dumpling, the flavorful broth bursts out as soon as the delicate skin breaks. We savored each one.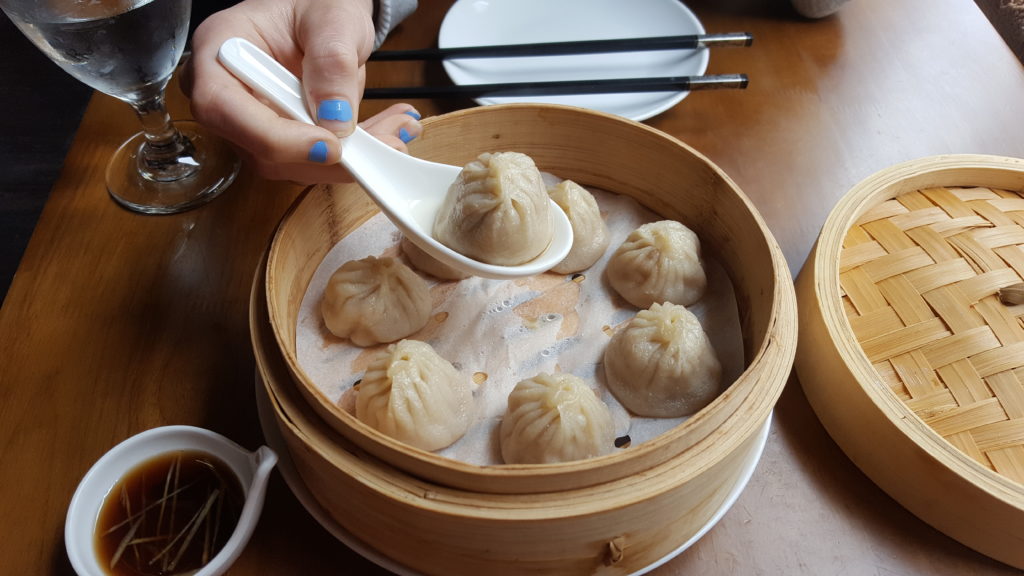 Xiao Long Bao at Lao Sze Chuan, Chicago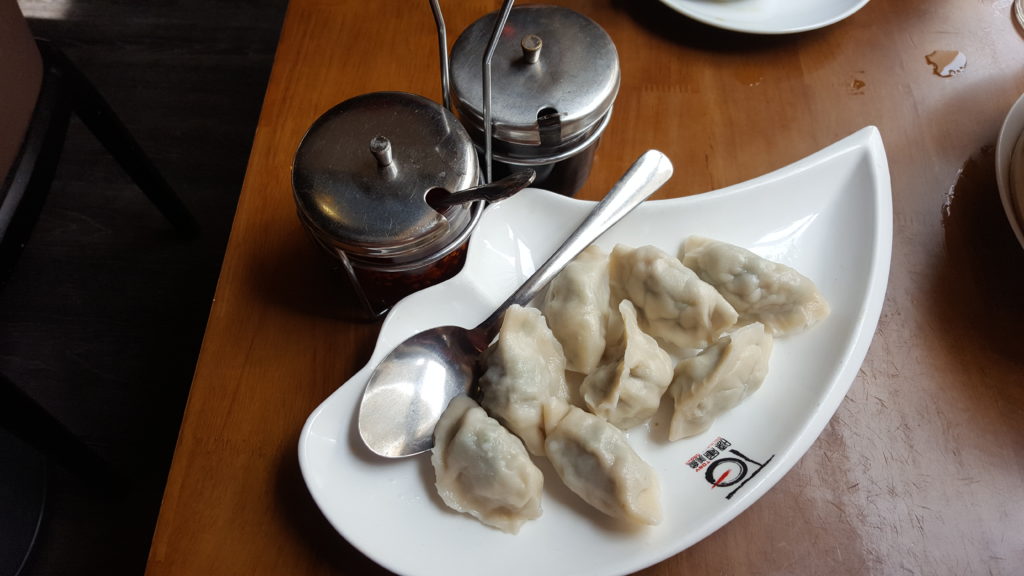 Peking Dumplings at Lao Sze Chuan
Peking Dumplings were new to me, and they were different than what I'd imagined. Based on the name, I'd envisioned a Peking duck-style dumpling, with a crispy duck filling and a sweet dipping sauce. This was not that—the prominent taste was vegetal. It wasn't bad, but felt kind of bland after eating the magnificent soup dumplings.
Also, if you like spicy food, the Dry-Chile Chicken (or fish) is amazing –if we weren't going to another restaurant right after this, I would've ordered it too. Also try the Mapo Tofu, which will give you that spicy, numbing feeling that Szechuan peppercorns are known for.
12:15 PM. Dine at the Purple Pig. Right next door to Lao Sze Chuan is the Purple Pig, one of my favorite Chicago restaurants and arguably the best place in town for pork.
Note: the Purple Pig does not take reservations, and often has a considerable wait. Now you might be wondering why I would select it for this list, if it takes so long to get into.  Here's what you can do if you're pressed for time: put your name and number in at the Purple Pig, and then wander along Michigan Ave., stopping somewhere else close by (Lao Sze Chuan is right next door, and Little Eataly is a few blocks away). The purple pig will call or text when your table is nearly ready, and they'll hold it for the time it takes you to walk back.  Or you can always just wait and drink their wonderful wine.
We started off the meal with the pig platter, which features a variety of house-made and imported cured meats served with pickles and Parmesan crisps. Everything sits atop a cute pig cutting board.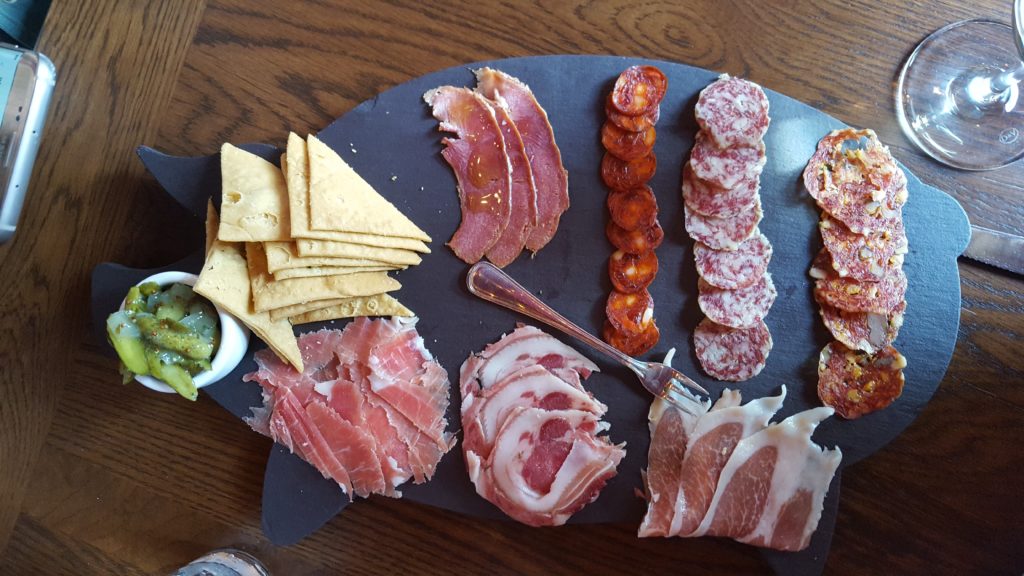 The Pig Platter at the Purple Pig, Chicago
The Purple Pig is a tapas-style restaurant, so go with the flow and enjoy the epicurean delicacies as they're brought out to you. We certainly did!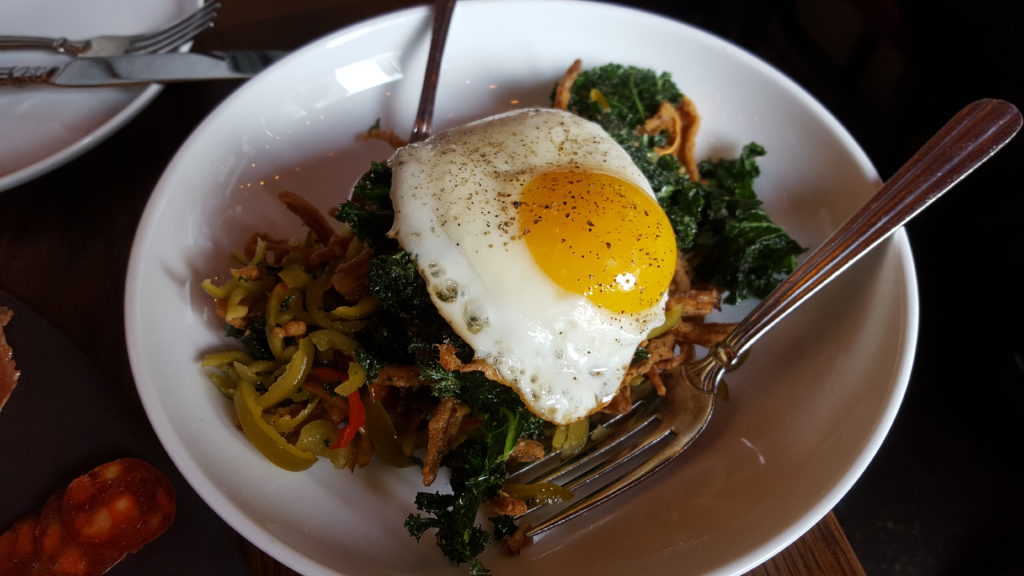 Pig Ear with Crispy Kale, Pickled Cherry Peppers, and Fried Egg
The first time I ordered pig ear, I was a little intimidated—it didn't sound very appealing—but that changed as soon as I took my first bite. The pig ear is finely julienned (making it unrecognizable as, well, an ear), fried until crispy, and served with crispy kale, sliced pickled cherry peppers, and a fried egg. Before you dig in, break the yolk and mix the egg into the dish. The ingredients work together to produce a salty, crunchy, creamy, and totally satisfying dish. The red and green cherry peppers cut through the richness of the fried food and provide a subtle heat and tartness.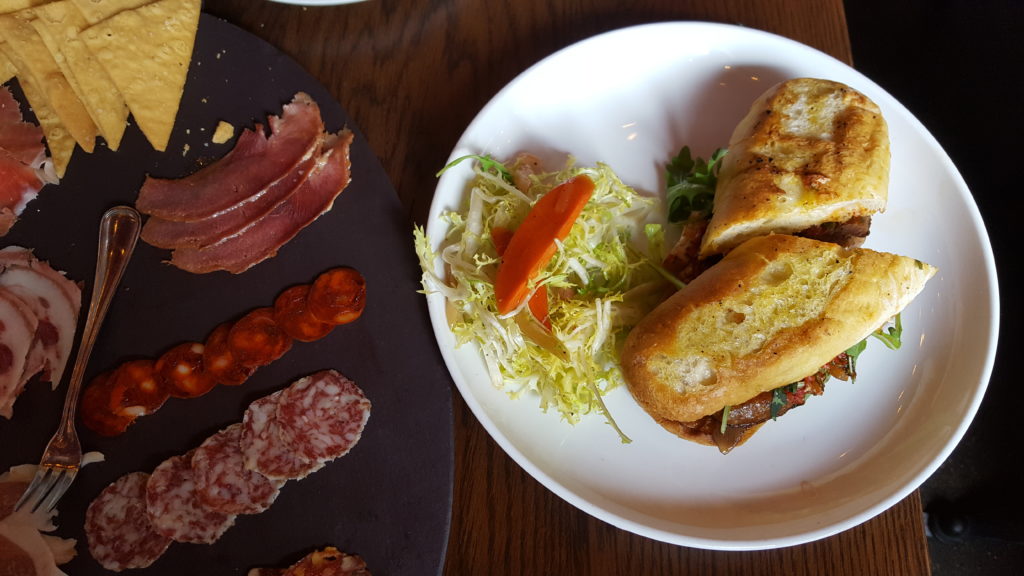 "Choripan" Panini at the Purple Pig
I'm a big fan of chorizo, and my sister loves sandwiches, so we didn't need much convincing to order this house-made chorizo panini with piquillo pepper jam and caramelized onions.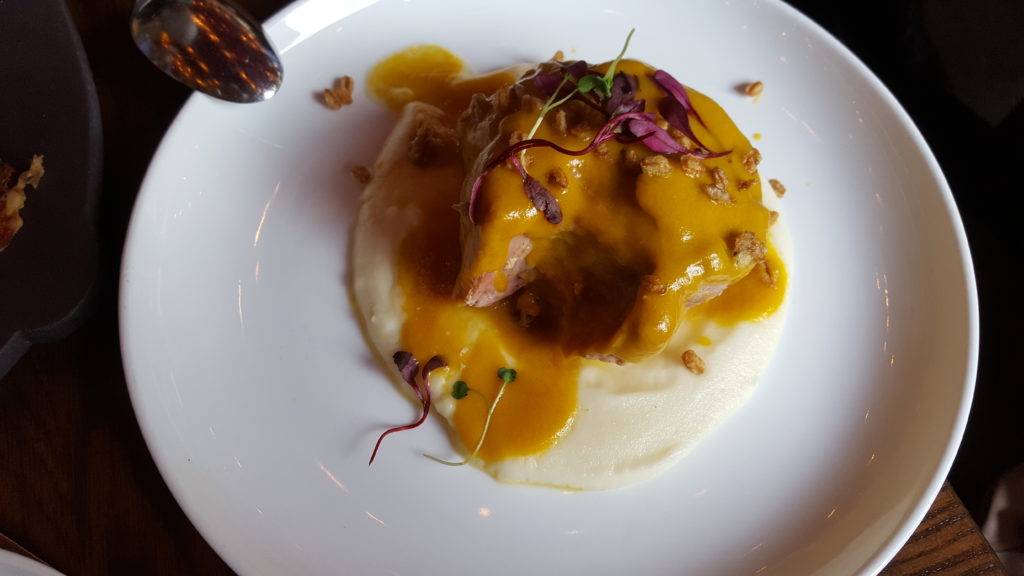 Milk-Braised Pork Shoulder with Mashed Potatoes
This is my favorite dish at the Purple Pig, and has been their signature for years. The pork is melt-in-your-mouth tender. The potatoes are a creamy dream. If you could only order one thing off the menu, this should be it.
As you can imagine, we didn't have room for dessert!
If you're in Chicago and have limited time, try visiting Little Eataly, Lao Sze Chuan, and/or the Purple Pig. They're nearby each other and offer a varied glimpse into the Chicago food scene. Not to mention that they serve some seriously good eats.
If you enjoyed reading this post, like my Facebook page and subscribe to my blog to follow my cooking adventures and flavorful journeys!