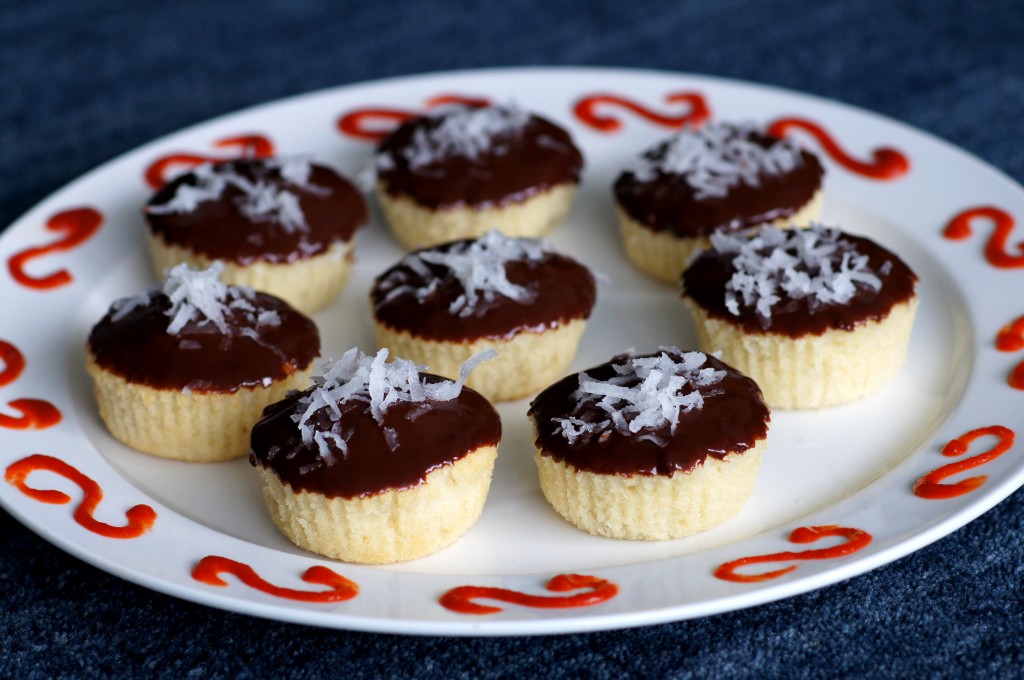 Coconut Cupcakes with Chocolate-Sriracha Ganache
I love cupcakes, but not as much as my sister Sadie. She's a cupcake fiend! She visited me in Miami over the Fourth of July weekend, and there were two things that she absolutely had to do before leaving Miami: go jet-skiing and make cupcakes.
Jet skiing was an adventure—at some points I wasn't sure that we were going to survive! I'd never driven a jet ski before, and at first it was scary. It's easier to steer at high speeds, but to go that fast is intimidating. So I started out really slow, which made my steering horrendous.
But Sadie egged me on. I found this quite hilarious, as I'm partly to blame for her adventurous nature—I took her on an inverted rollercoaster when she was 5 years old. She loved it and laughed the whole time!
My sister's fearless nature inspired me to go fast. I summoned the inner Klingon in me and said, "Today is a good day to die." I squeezed the gas and we flew. It was smooth sailing from there. Sometimes you have to embrace adventure!
Our cupcakes, while not as adrenaline-packed, were an adventure in and of themselves. It can be challenging to create recipes, but never let fear get in the way of your creativity. Sadie wanted to make a cupcake that had an unexpected ingredient or unusual flavor, and so our chocolate-Sriracha ganache was born. But what kind of cupcake would go well with this?
We didn't want to make chocolate cupcake base because the ganache needed to stand out from the cupcake itself. So we decided on sweet coconut cupcakes as a cool counterpoint to Sriracha's mild heat.
The coconut cupcakes are moist and sweet. We used coconut milk, instead of water or regular milk, to enhance the coconut flavor. We also added sweetened coconut in the batter. For the ganache, we used Ghirardelli's 60% cacao bittersweet chocolate. This resulted in a dark chocolate bittersweet taste accented with a hint of warmth from the Sriracha.
If you're up for the adventure, try out these coconut cupcakes with chocolate-srircaha ganache. They're out of the ordinary but very good.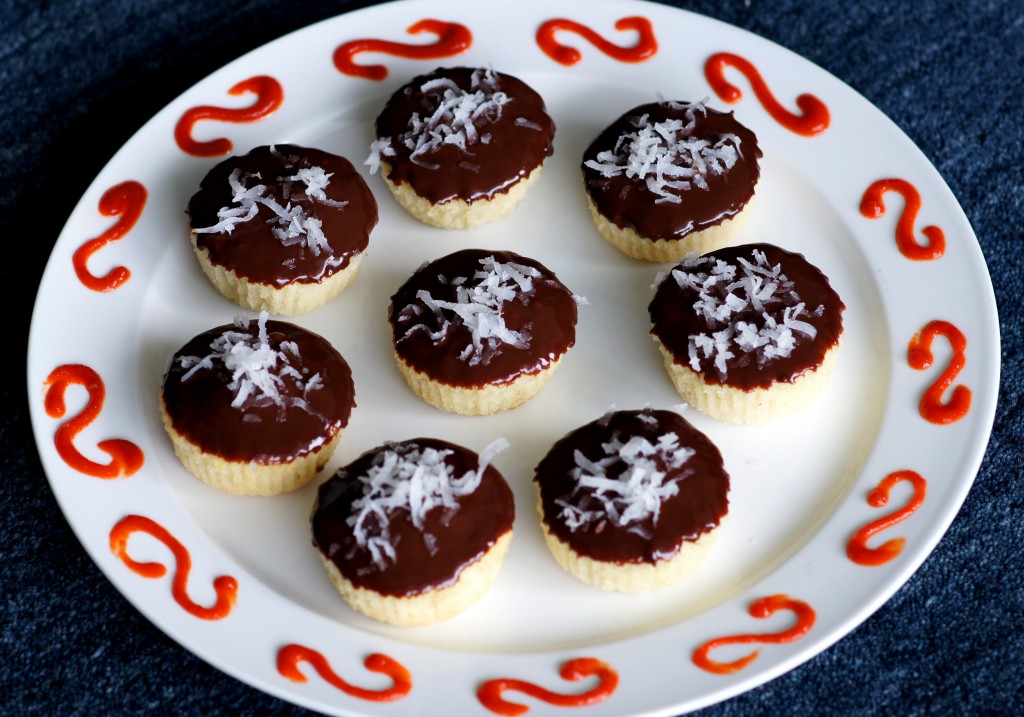 Coconut Cupcakes with Chocolate-Sriracha Ganache Topped with Sweetened Coconut Flakes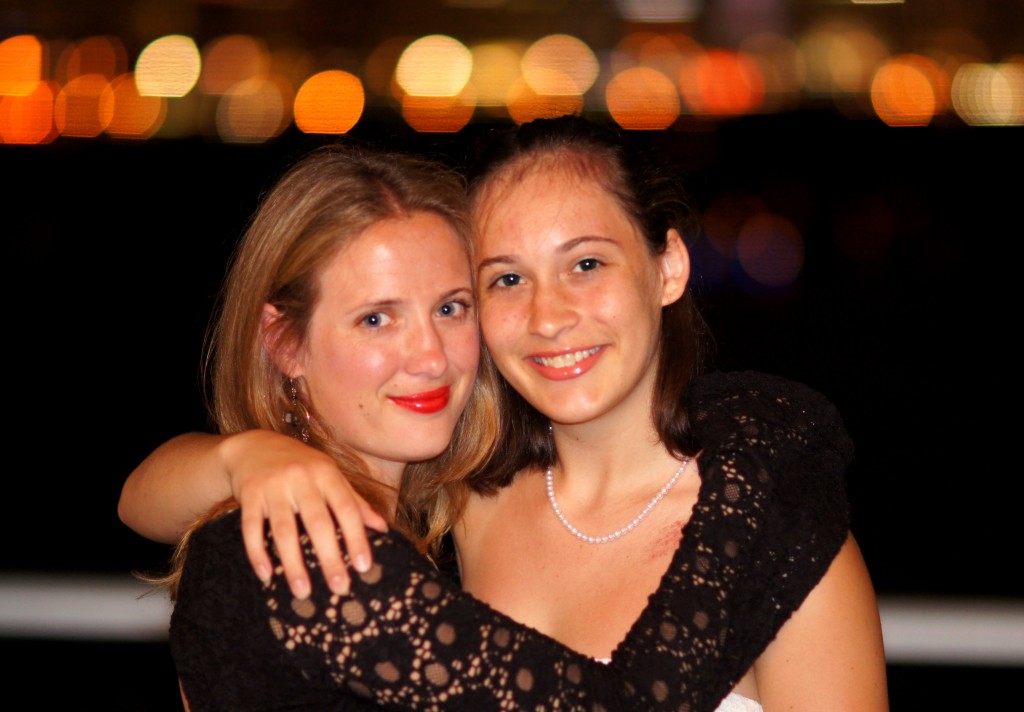 If you enjoyed reading this post, like my Facebook page and subscribe to my blog. That way, you'll never miss a post!
Coconut Cupcakes with Chocolate-Sriracha Ganache

Print recipe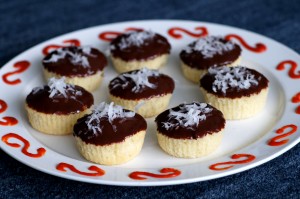 These coconut cupcakes with chocolate-sriracha ganache are deliciously sweet with a hint of warmth. Be adventurous and try these coconut cupcakes!
Ingredients
cupcakes
1 stick butter (room temperature)
1 cup sugar
2 eggs (room temperature)
1 1/4 Cups all-purpose flour
1/2 teaspoon baking soda
1 1/4 Teaspoons baking powder
1/4 teaspoon salt
1 cup coconut milk
1 cup sweetened coconut flakes (plus additional for garnish)
ganache
3/4 cups heavy cream
1/2 cup bittersweet chocolate (such as Ghirardelli's 60% cacao bittersweet chocolate)
ganache (Optional)
Directions
Cupcakes
Step 1
Preheat the oven to 350 °F. Line a 12-cup muffin tin with baking cups.
Step 2
In a large bowl, cream the butter and sugar using an electric beater over medium-high speed, for 3 to 4 minutes. Beat in the eggs, 1 at a time, until fully incorporated. Mix in the coconut milk.
Step 3
In a separate bowl, mix the flour, baking soda, baking powder, and salt.
Step 4
Slowly beat in the flour mixture into the wet mixture. Fold in the shredded coconut flakes.
Step 5
Spoon batter into cupcake tins.
Step 6
Bake cupcakes, rotating the pans halfway through, 20-24 minutes or until a toothpick inserted in the center comes out clean. Transfer the cupcakes to a wire rack. Allow cupcakes to cool to room temperature.
Ganache
Step 7
While the cupcakes are cooling, make the ganache: bring the cream to a boil, remove from heat and add the chocolate. Let the chocolate sit in the cream for 2 minutes, then whisk until smooth. Add the Sriracha, if using. Let the ganache cool to room temperature.
Step 8
Dip the tops of the cupcakes into the ganache; if you want to, you can remove the cupcake wrappers before doing this. Turn the cupcakes right side up, sprinkle with coconut flakes if desired, and let the ganache cool for at least 5 minutes. Serve!