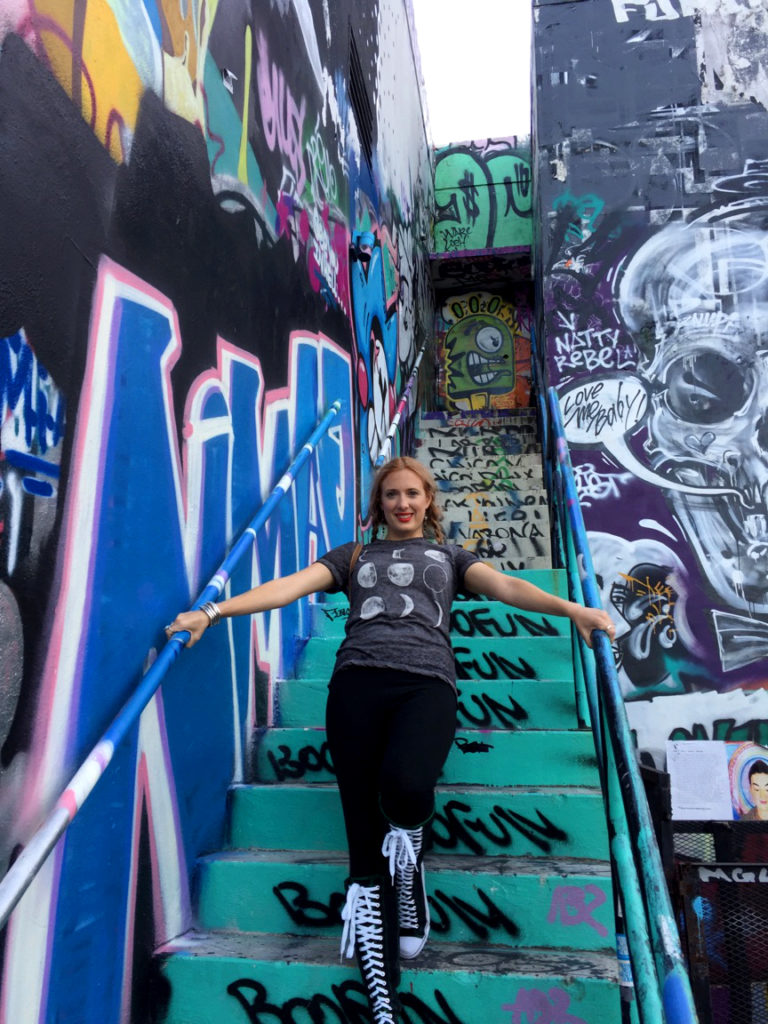 Me on Graffiti Staircase Surrounded by Art in Wynwood
Wynwood—a neighborhood in Miami known for its street art—stimulates your senses and taps into your creative energy. It's an exciting place with larger-than-life murals, bold imagery, and eye-catching designs. Everywhere you look, art surrounds you; it covers the walls, sidewalks, stairs, and railings, and it's constantly changing and metamorphosing into something new.
One of the beautiful things about street art is its ephemeral nature. It's made for people to appreciate in the moment, knowing that it will not last, much like a chef prepares a meal; it's designed to evoke feelings that people will remember long after the mural is gone. This constant regeneration of art and ideas invigorates Wynwood, challenging artists to keep producing and engaging with their art. This atmosphere draws innovators and fosters their creativity. It's why Wynwood has some of the best art, restaurants, and breweries in Miami—this continual push to take risks and produce something unique and different.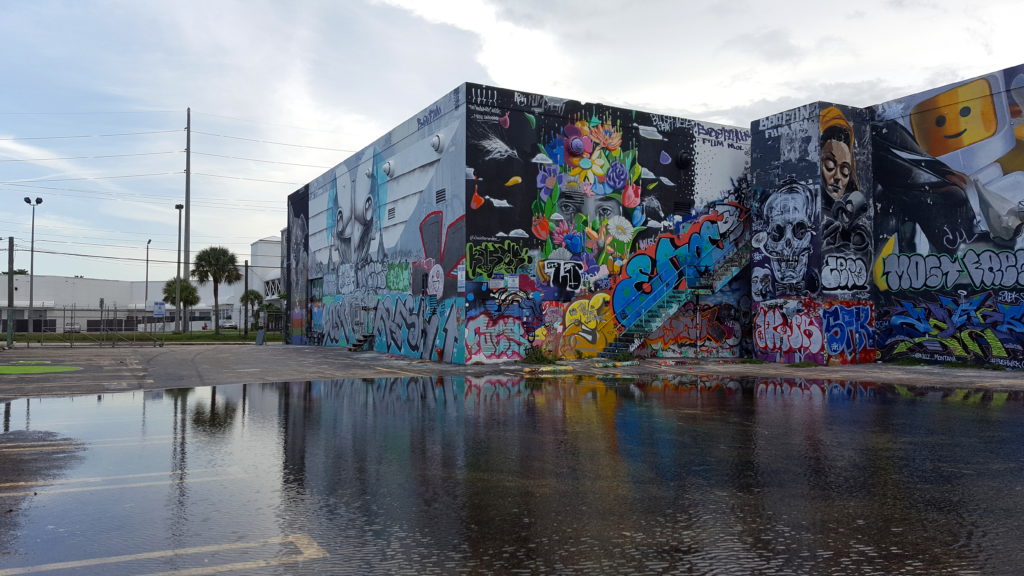 Building Covered in Street Art and Graffiti in Wynwood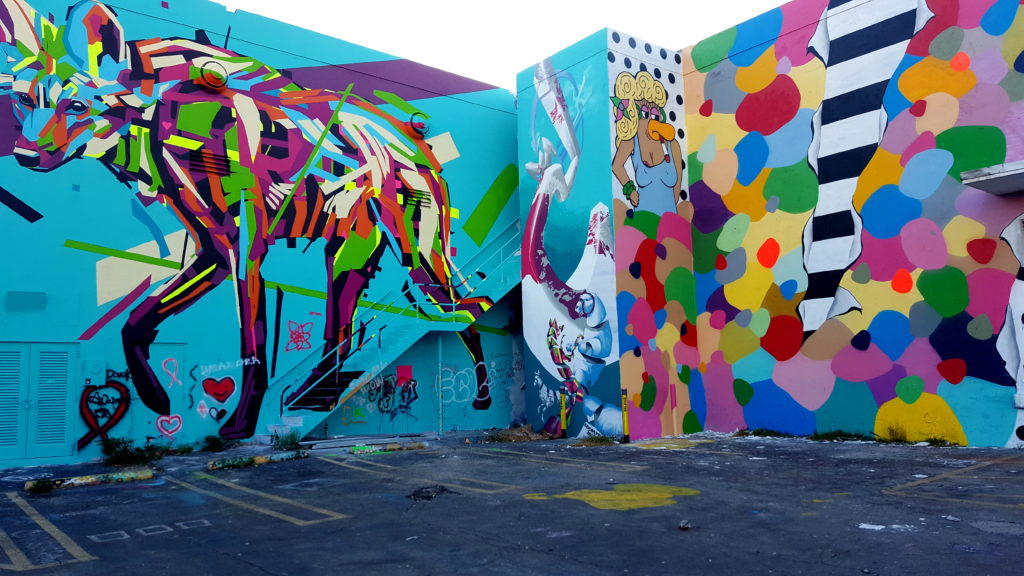 Same Building and View 4 Months Later
As you can see, these murals reflect a totally different style and feel from one another. The first evokes a dark and brooding atmosphere, while the second one is playful and child-like.
What to do in Wynwood – Creative Spaces to Explore
Walk Around Wynwood – I suggest aimlessly walking up and down the streets of Wynwood; that way you get a feel of the place, the magnitude and scope of the art, and the diverse art styles. I have discovered many of my favorite murals this way. The spontaneity adds to the adventure. It's unbelievable the level of detail and realism these artists achieve given the rough, uneven surface they're working with and the large-scale nature of their murals.
Eel, Squid, and Barracuda Mural in Wynwood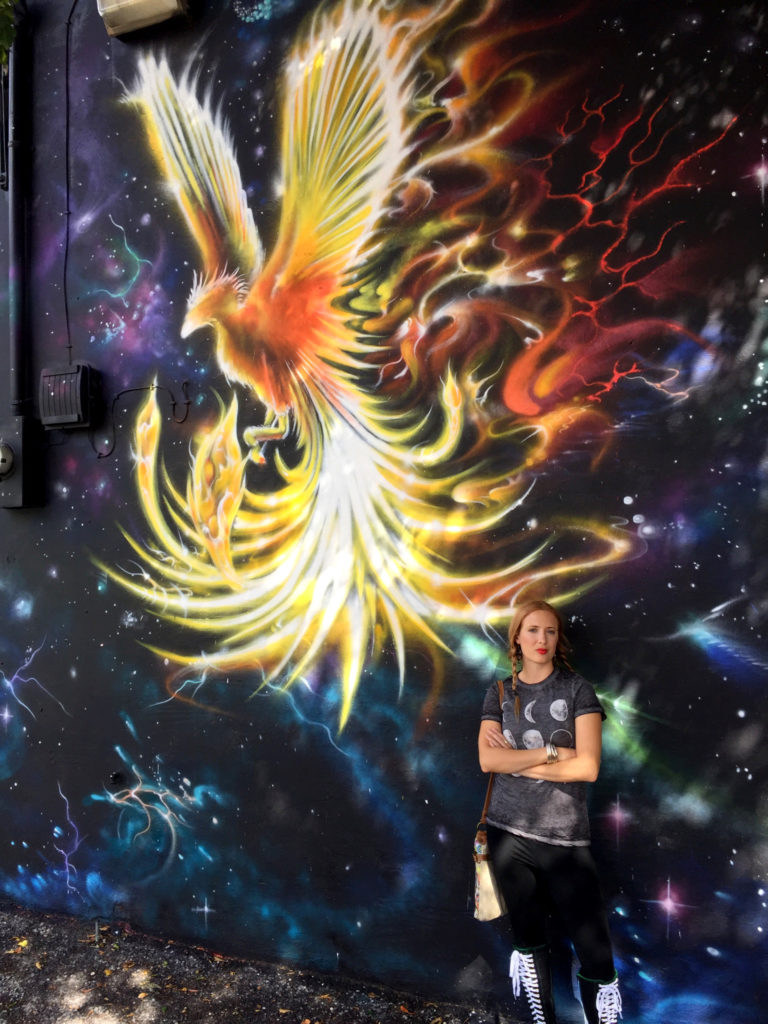 Wynwood Fiery Phoenix Mural by NY Graffiti Artist @nmeoner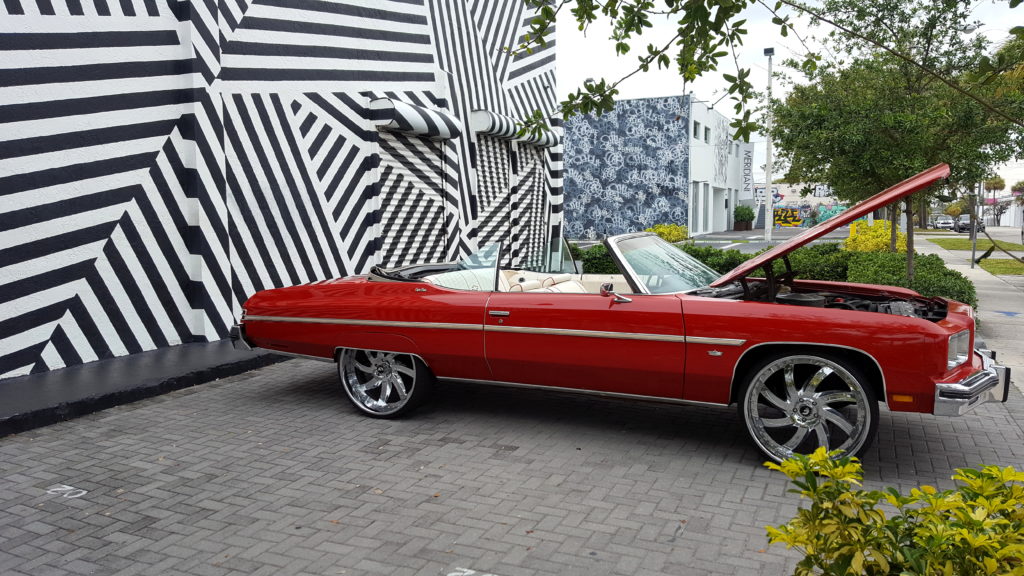 Red Convertible in Front of The Wynwood Building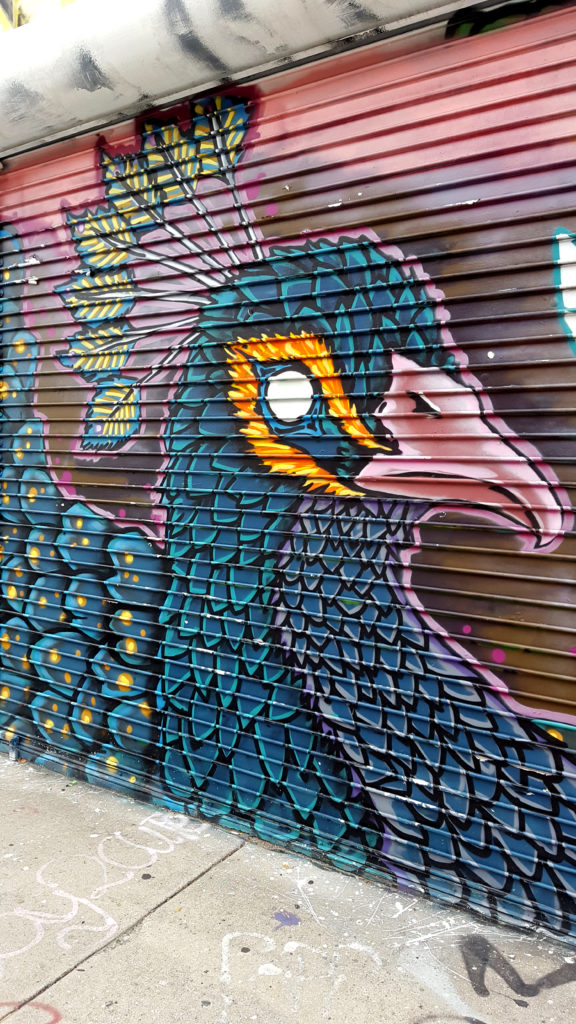 Peacock Mural on Wynwood Garage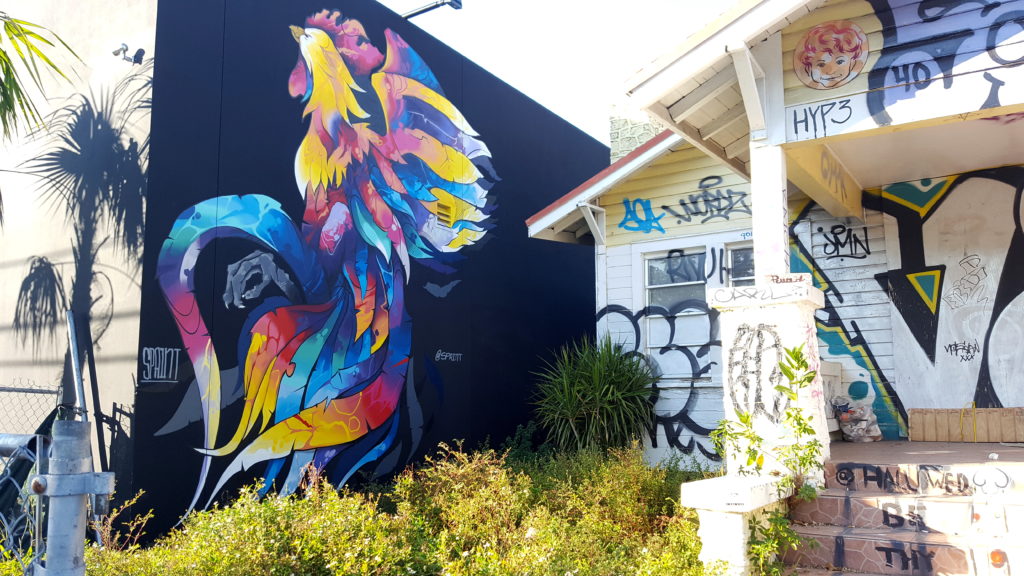 Colorful Phoenix by Guatemalan Artist Javier España @spaint
Graffiti Mural with Skeleton in Convertible in Wynwood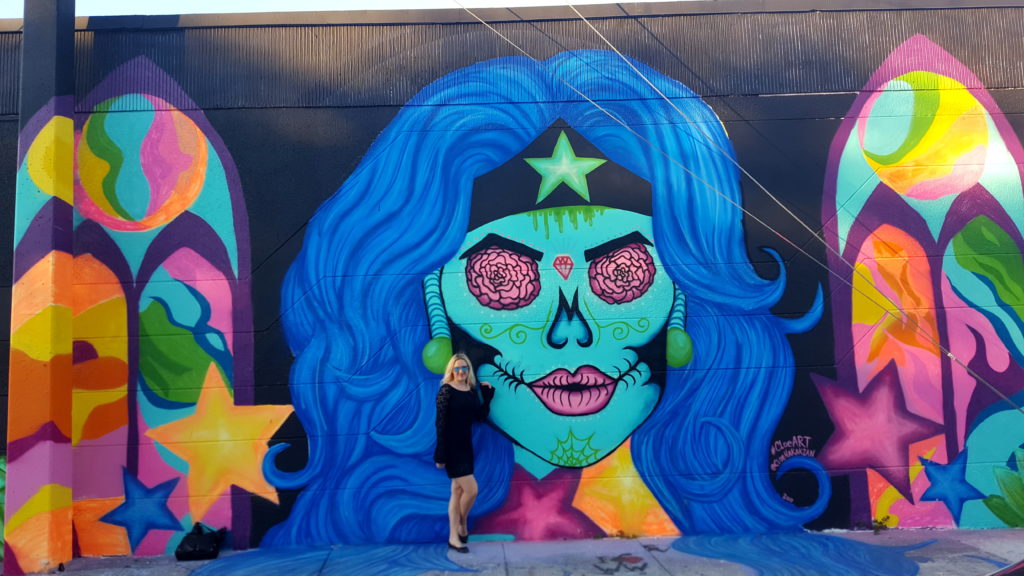 Wonder Woman Sugar Skull Mural by LA Artist Cloe Hakakian @cloehakakian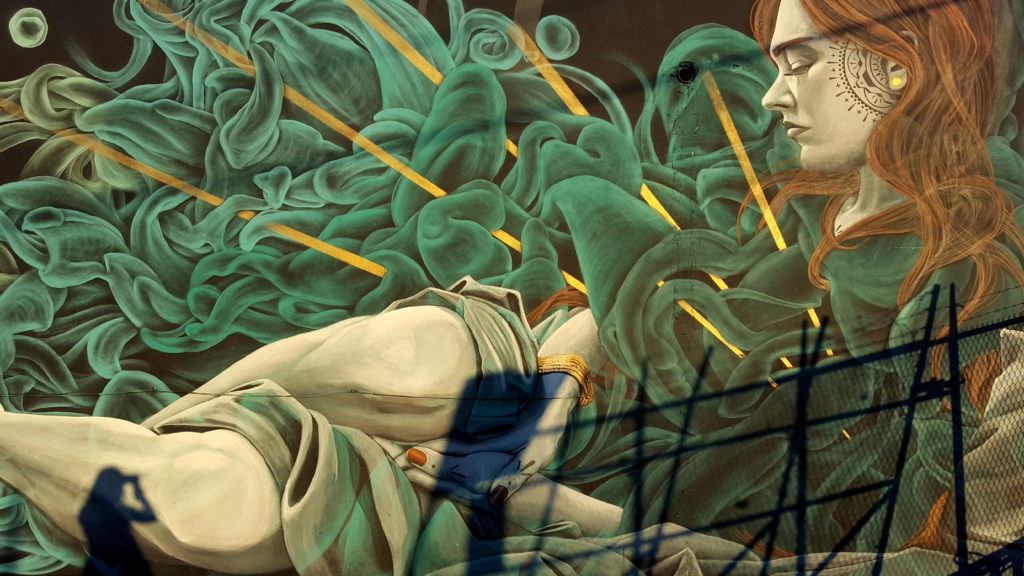 Mural of a Woman Lying in Contemplation with Rays Radiating from Her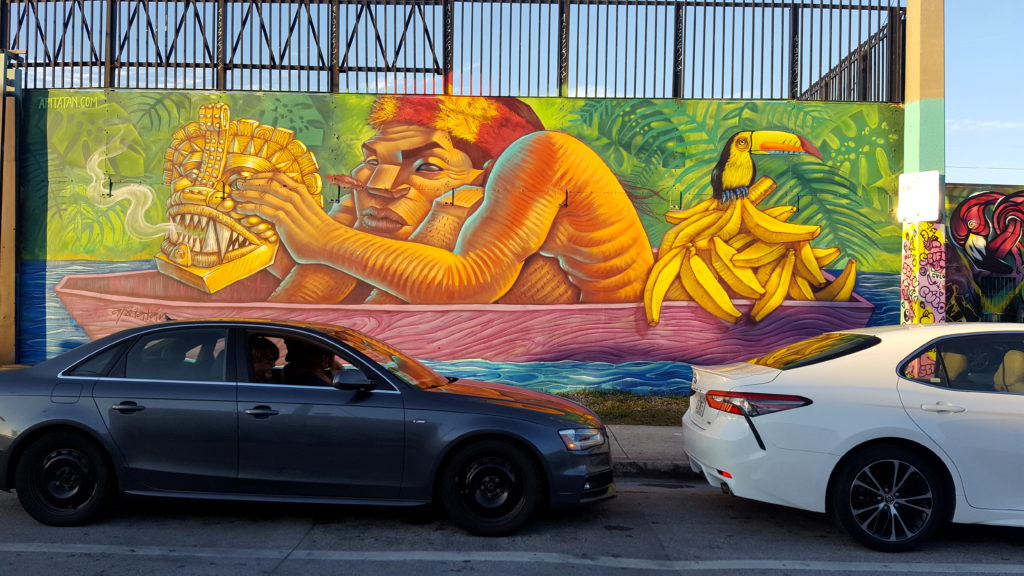 Colorful Street Art in Wynwood
Visit Wynwood Walls – Wynwood Walls is an outdoor mural gallery consisting of famous graffiti artists from around the world. It's distinct from the rest of Wynwood as these works stay up for long periods of time and have enhanced security to protect them from vandals. Wynwood Walls has a corresponding gallery indoors where, if you have thousands of dollars to spare, you can buy artwork from the featured artists. Even if you're not buying a piece, it's nice to see more art from the individual artists to get a broader sense of their style.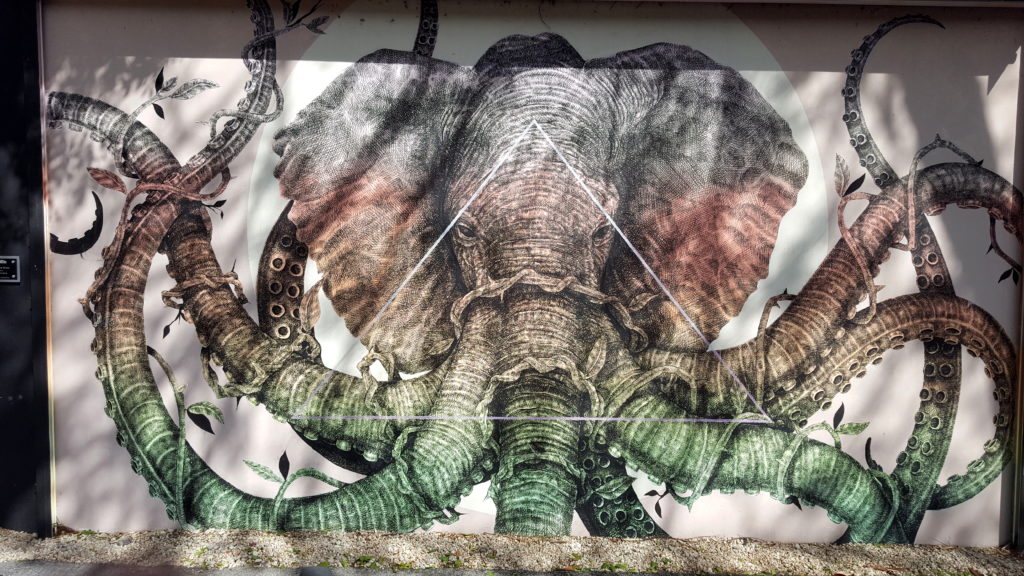 Mural by Puerto Rican Artist Alexis Diaz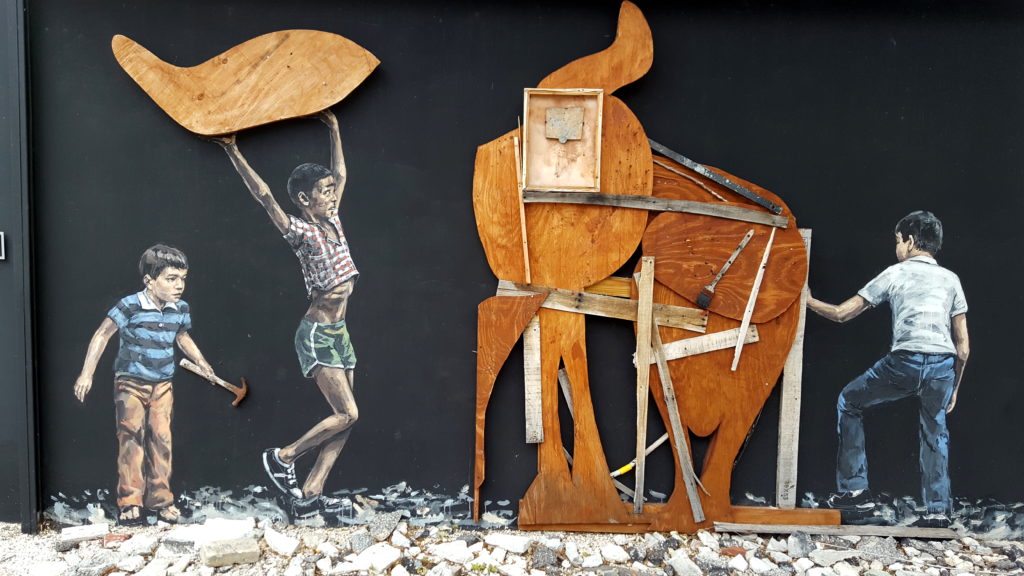 Ernest Zacharevic's Wynwood Walls Mural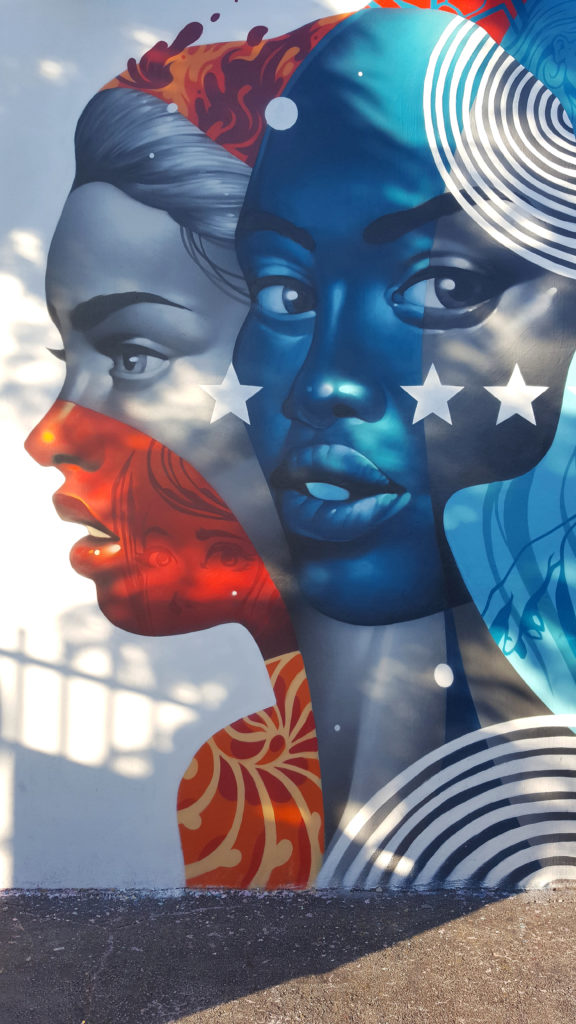 Tristan Eaton's Mural Wynwood Walls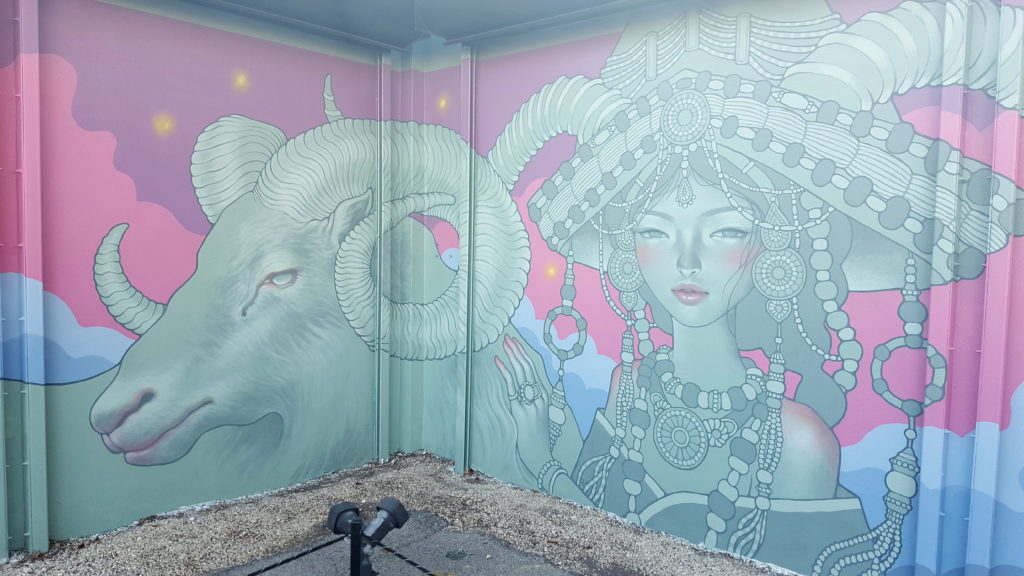 'Dawa' Wynwood Mural by Audrey Kawasaki
Chiseled Mural Created by VHILS (Alexandre Farto)
Eat Donuts at the Salty Donut – A trip to Wynwood isn't complete without visiting The Salty Donut. It's usually the first place I go, because they sell out fast! Trust me, you don't want to miss out; they make the best donuts in Miami.

The Salty Donut Classic Maple Bacon Donut and Cold Brew Palmer

They have a core group of classic donuts that they serve year-long, like the maple bacon donut and the white chocolate tres leche donut, as well as a rotating seasonal menu that highlights unique flavor combinations, like cherry and thyme and peaches and brie. Plus, they always have a vegan donut, so vegans can indulge as well.
You can't go wrong with maple and bacon. Now, put that into donut form and you have a perfectly baked, sinfully delicious treat! There's no surprise that this donut is a crowd favorite.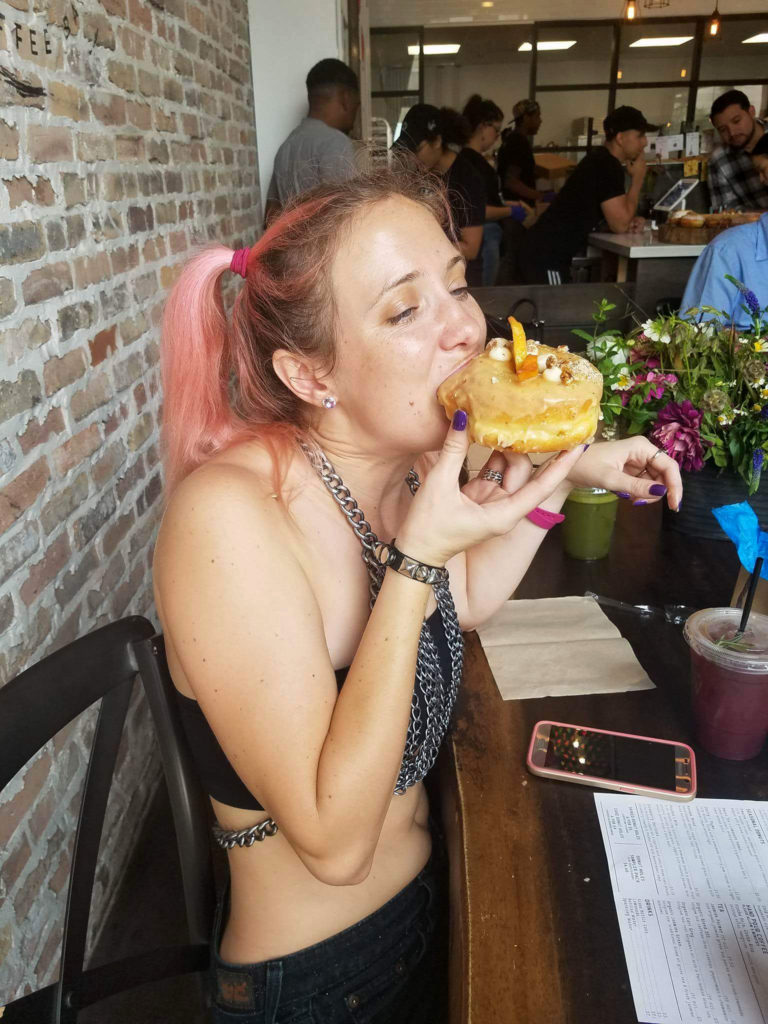 Me Chowing Down on the Peaches + Brie Donut at The Salty Donut
If pressed, this might be my favorite donut from The Salty Donut! I hope they feature it again sometime soon.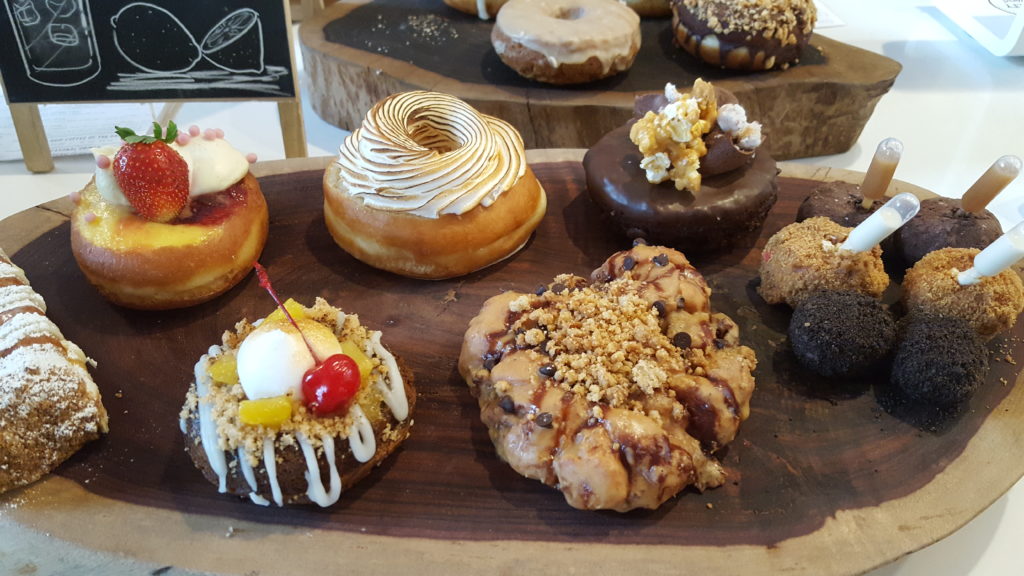 An Assortment of Donuts at The Salty Donut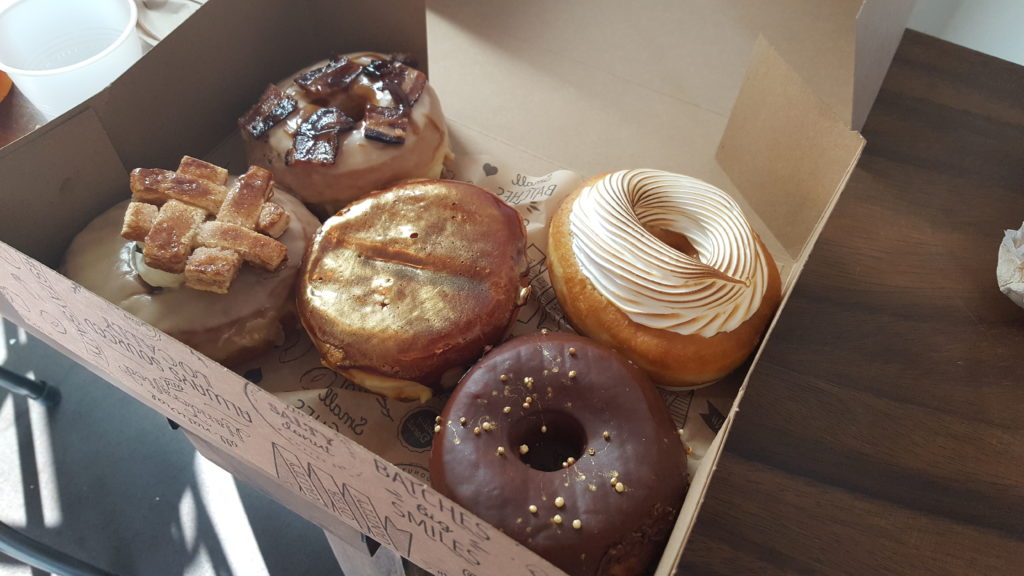 A Box of Donuts from the Salty Donut
I recommend ordering enough donuts, so you have some for the next morning. I have never managed to do this (I always eat them too quickly), but one can aspire.
Drink Craft Beer at Wynwood Breweries – Wynwood's excellent craft beer scene highlights some of the breweries in Miami. It's always fun to walk around Wynwood looking at the art and then hit the breweries afterward or better yet, you could brewery hop and look at the art in between.

Concrete Beach Brewery's Outdoor Venue

Concrete Beach Brewery has the best venue in Wynwood with a large outdoor seating area and tables to play games on. If you're meeting with a group of friends or if you want to bring your dog, this is the brewery to pick. They take pride in their beers and view their craft as art; they display this prominently on their glassware with their slogan—Drink Art Make Beer—as well by serving their beer flights on a tray shaped like an artist palate. Like the art in Wynwood, they too are constantly refreshing their menu with new flavors, like the Plantain Picaro or the Lychee Gose.

Drink Art Make Beer Glass at Concrete Beach Brewery

Flights are the best way to go if you want to sample a brewery's offerings. Plus, it cuts down on the decision process, which always helps me.

Concrete Beach Brewery Flight of Beers on Artist Palate

My favorite beers are rich, creamy decadent stouts or fruity, tart lambics (very different beers I know, but inevitably I will pick one of these if they're on the menu). J. Wakefield Brewing has a beast of a stout that is luscious, strong, and absolutely wonderful. If you're a stout lover, go there and order the La Nada. It's 13% ABV, so pace yourself. Also, if you like IPAs, my husband tells me the Hops 4 Teacher IPA is a solid choice.

J. Wakefield serves empanadas, which is life saver when you get hungry. Plus, they have food trucks on the weekend. If you like games, every other Wednesday night at J. Wakefield there's a Meetup for people who want to play board games and drink beer. Unbelievably, I have not taken any photos from J. Wakefield, despite frequenting it the most, so you'll just have to check it out for yourself.
Wynwood's vibrant energy and dedication to showcasing creative, artistic endeavors make it a special place. We need more places in the world like this, neighborhoods and communities that celebrate the arts. I hope you get to visit Wynwood soon and experience its magic. If you do, let me know some of your favorite artists and murals.
If you enjoyed reading this post, like my Facebook page and subscribe to my blog to follow my cooking adventures and flavorful journeys!